Great White Egret coming in for a fish. We normally see these guys wading in the shallows vs diving for food.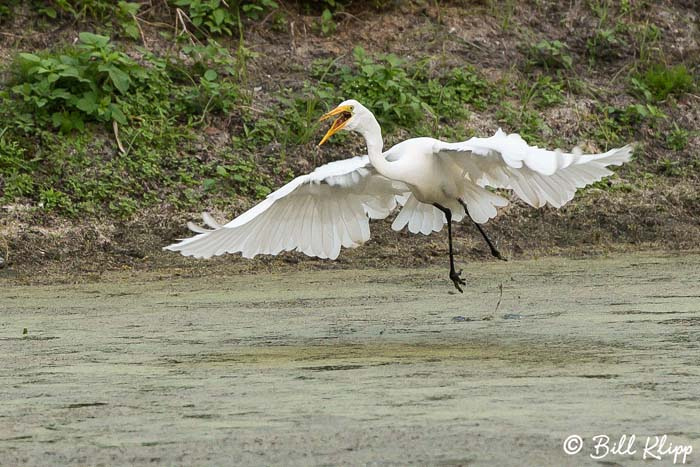 Great White Egret
We had to stop the car as this Gopher Tortoise scurried across the road on Honeymoon Island
Little Blue Heron
Red-shouldered Hawks
Red-shouldered Hawk
Nesting Ospreys along the Osprey Trail on Honeymoon Island
Great White Egret closely watching an Osprey and its catch
Egret crashing thru tree trying to steal a meal from an Osprey. Who would of thunk!
Osprey escaped with his fish
Crystal River --- Florida's "Nature Coast"
As you approach the cities of Homosassa and Crystal River its clear this place is all about the Manatees, as all the stores and shops seem to have either Manatee in their name or have Manatee logos and statues. Situated around the magnificent Kings Bay with its many shallow rivers, waterways and natural fresh water springs, Crystal River is one of the few places where you can swim with manatees. With the springs spewing clear fresh water at a constant temperature of 72 degrees, hundreds of Florida / West Indian Manatees migrate here to escape the cooler winter waters of the Gulf of Mexico. Our home base was the Plantation on Crystal River a small resort on the water catering to the area's many water activities including, boating, kayaking, fishing, scalloping and of course Manatee viewing. We arranged for two days of private Manatee tours with Andy and Cindy, owners of Majestic Manatees Tours a small local boat tour operator we would highly recommend.
Florida / West Indian Manatee in the crystal clear Three Sisters Spring
Florida Manatee Calf
Manatees seem to pop up everywhere
A surreal foggy morning along Crystal River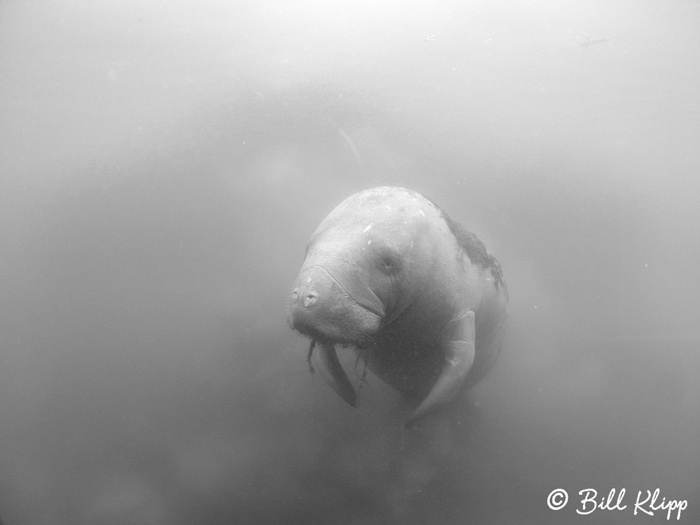 Click Below to See Video
Young Manatee Calf
Linda swimming with a pregnant female Manatee. Kind of looks like a giant sperm
Selfie of the Great White Manatee Hunters
Florida Manatees have no natural predators, although their biggest threat are boat props
Yellow-crowned Night Heron coming in with some nesting materials
Red Cardinal
Monkey Island, Homosassa Florida
Monkey Island home to 5 Spider Monkeys is only 100 feet from where we had lunch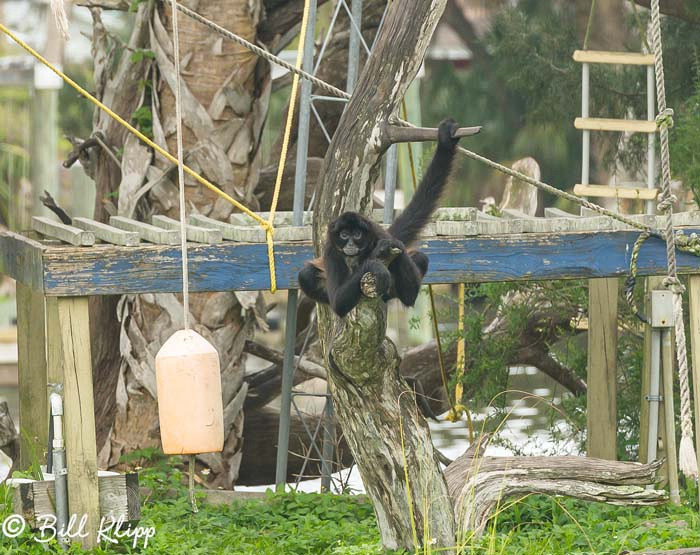 Resident Spider Monkey
One of the many canals near the Plantations Crystal River Resort
Star Trails
Manatee Background info
Source: Florida Fish and Wildlife Conservation Commission
Florida manatees are large, aquatic mammals that are native to Florida. Adult manatees are typically 9-10 feet long and weigh around 1,000 pounds; however, they may grow to over 13 feet long and weigh more than 3,500 pounds. Manatees have two fore limb flippers that they use for steering movements and to hold vegetation while eating. A large, round, flattened paddle-shaped tail is used for swimming. Manatees have finely-wrinkled, leathery looking thick skin that continuously flakes off. Algae often grows on the backs and tails of manatees, which makes their skin color appear green or brown. Barnacles (found mostly on coastal dwelling manatees) often leave round scars from attachment sites; movement from saltwater to freshwater habitats clears the animals of these saltwater hitchhikers. The manatee's flaky skin adaptation also helps keep the algae and barnacles from building up on the animals.
Habitat:
The West Indian manatee's range is from the southern United States throughout the Caribbean Islands, Central America, and to northern South America.In the United States, the Florida manatee, a sub-species of the West Indian manatee, inhabits the state's coastal waters, rivers and springs. Some Florida manatee are known to travel up the eastern coastline into Georgia, the Carolinas, and a few travel as far north as Massachusetts during warm months. In the Gulf, Florida manatees can be found west through coastal Louisiana and are occasionally sighted as far west as Texas. Prior to winter's coldest months, manatees migrate to warm water habitats in Florida. These warm-water sites include artesian springs and power plant discharge canals. Florida is at the northern end of the manatee's winter range and these warm-water habitats play an important role in their survival during the winter months.
Behavior:
Manatees are aquatic herbivores (plant-eaters). Also known as "sea cows," these herbivores usually spend up to eight hours a day grazing on seagrasses and other aquatic plants. A manatee can consume from 4 to 9 percent of its body weight in aquatic vegetation daily. Manatees use their tails in an up and down motion to propel themselves forward. Strong swimmers, they are capable of reaching speeds of 15 miles per hour in short bursts. Manatees rest from 2 to 12 hours a day either suspended near the water's surface or lying on the bottom, usually for several hours at a time.
Like other mammals, manatees breathe air. When active, manatees must surface every 3-5 minutes to breathe, but can hold their breath for as long as twenty minutes when resting. The manatee's snout is often the only part of its body that comes out of the water when it breathes. While most people tend to see many manatees gathered together at winter warm-water sites, during the rest of the year these animals are semi-social as they travel around the state's waterways in search of food, mates or places to rest. Except for cow/calf pairs and small mating herds, manatees do not need to travel together although they do socialize when other manatees are encountered. Manatees reach sexual maturity in 3-5 years (females) and 5-7 years (males) and may live over 65 years in captivity. Gestation is approximately 13 months and usually one calf is born. The calf may stay with its mother (cow) for up to 2 years. Male manatees (bulls) are not part of the family unit. Bulls will leave a cow alone after her breeding period is over. Of the wild manatees that reach adulthood, only about half are expected to survive into their early 20s.
For more photos visit Bill's Discovery Bay & Delta website: http://KeyWestPhotos.me
© Bill Klipp 2016
Check out my online Photo Website at: http://www.KeyWestPhotos.me or http://www.wkimages.net
http://www.videos.wkimages.net / All Rights Reserved Bill Klipp
* Any use of these images requires the prior written permission of Bill Klipp the photographer, no other uses of any kind including print or electronic are permitted without the prior written permission of the photographer.
<script>
(function(i,s,o,g,r,a,m){i['GoogleAnalyticsObject']=r;i[r]=i[r]||function(){
(i[r].q=i[r].q||[]).push(arguments)},i[r].l=1*new Date();a=s.createElement(o),
m=s.getElementsByTagName(o)[0];a.async=1;a.src=g;m.parentNode.insertBefore(a,m)
})(window,document,'script','https://www.google-analytics.com/analytics.js','ga');
ga('create', 'UA-78277381-1', 'auto');
ga('send', 'pageview');
</script>