Part I of a two Part Series of our recent trip to Brazil's remote Pantanal region
Over the past year or so our wildlife photography travels have taken us from the diverse ecosystems of Australia and Tasmania to the jungles and deserts of Madagascar to the savannahs of East Africa to the remote islands of the Galapagos (with our 2 eldest granddaughters) and more recently the Pantanal in central Brazil home to the largest contiguous wetland on the planet. A place with an amazing diversity of Flora and Fauna.
A large Yacare Caiman aka South American Alligator
Jaguar hunting Caiman and Capybara along river's edge
Giant River Otters, no where near as cute as our North American Otters
Black-Collared Hawk
The Pantanal covers an area of about 75,000 square miles and is composed of tropical savannah, forest, rivers and lagoons. It is sometimes described as the largest fresh water marsh on earth and is akin to a huge Delta that empties to no-where, as most of the water is trapped until the dry season. The Pantanal has two very distinct seasons, the rainy season during which roughly 80% of the Pantanal floodplains are submerged, nurturing a biologically diverse collection of aquatic plants and helping to support a dense array of animal species. In the dry season the waters recede creating a new life cycle of vast grass lands with scattered lakes and lagoons. As you would suspect this radical shift in seasons creates an environment rich in biological diversity with over 650 bird species as well as many other unique creatures such as Jaguars, Capybaras, Giant Anteaters, Sloths, Tapirs, Anacondas, Caimans, Giant River Otters, Coatis, Deer, Wolves and many species of Bats. In addition the region has many species of freshwater tropical fish including Pacu and Piranhas.
Jaguar lounging on a river beach
Capybara an aquatic mammal and the largest living rodent on the Planet
Giant River Otter with fish
Jaguar preparing to cross the river
A stealthy Yacare Caiman swims past our boat
Our main objective of this trip was to explore the Cuiaba and surrounding rivers deep in the interior of the wetlands of central Brazil in search of Jaguars (our target species) the third largest cat on the planet. To get there we flew into Sao Paulo Brazil and then onto Cuiaba where we began a 6+ hour drive to Porto Jofre along the Transpantaneira Highway. I designed our custom photo expedition with Ged Caddick the owner of Terra Incognita Ecotours (www.ecotours.com ) one of our preferred and highly recommended boutique Eco-Tour Operators. We designed the trip for us and two other photography obsessed couples that we have traveled with a number of times. In addition to our traveling photography friends Chris and Tamar we were joined by Alyson Melo our local guide and naturalist for the first segment of the trip.
Great Egret. As we got closer to Pousada Piuval we stopped a few times to photograph some of the wildlife along the road. Sometimes we would come across a very small creek that would have maybe 2 dozen different species poking around fishing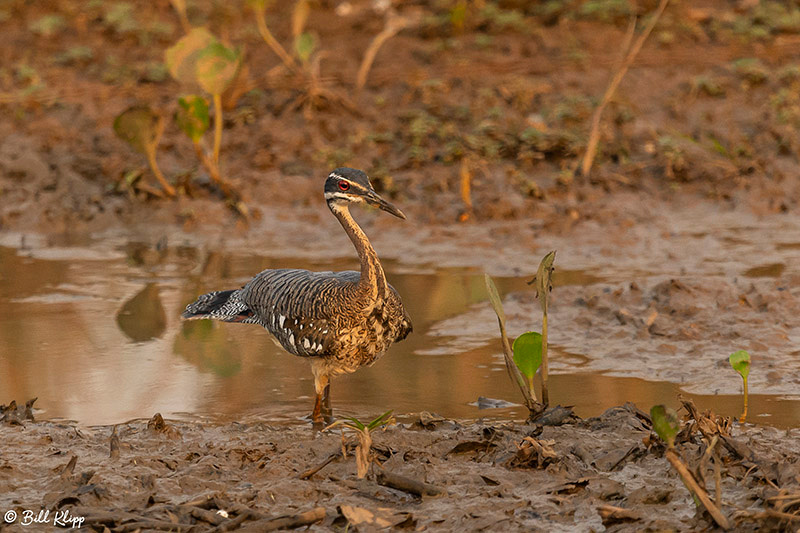 Sunbittern in appearance they are something like a cross between a Rail and a small Heron but when they spread their wings you will see spectacular sunburst pattern on the wing feathers
A baby Yacare Caiman. It seemed like almost every body of water we came across there were Caiman of various sizes

Southern Caracara eating a Crab-eating Fox roadkill. Common to agricultural land, grasslands, marshes and open forests of Central and South America this large raptor feeds on a large variety of items, but particularly carrion, reptiles, and arthropods (crabs, spiders, millipedes).
Why did the Rhea cross the road? Take a guess. The Rhea is a large flightless bird native to South America and distantly related to the Ostrich and Emu.
Campo Flicker a fairly common bird found in South America in the Woodpecker family. Though it frequently can be seen in trees or bushes, it is among the very few woodpeckers that spends a significant portion of its life on the ground
Amazon Kingfisher on a post overlooking a small pond along the road and filled with catfish
To break up the long road trip and explore some additional ecosystems we spent a few days each direction at a couple of large wildlife rich private ranches; Pousada Piuval and Araras Ecolodge. In these dryer savannah regions of the northern Pantanal we found a diverse array of mammals and birds.
Throughout the property there were very friendly Blue & Yellow Macaws often munching on Palm nuts
Crab-eating Fox tends to be a similar size and shape to most foxes and found mostly in the savannahs and woodlands of Central and South America. Mainly nocturnal they are also active during dusk, spending the day in a den dug by other animals. The Crab-eating fox is an omnivore, mainly feeding on crabs, fish, reptiles, rodents, birds, insects, eggs and fruit.
Crane Hawk -- Their long, orange, "double-jointed" legs are used to reach into crevices and cavities to obtain snakes, nestling birds, bats, and other food items.
A few hours south of Cuiaba our first stop was at Pousada Piuval for a couple of nights. In the wet season much of the ranch is under water but during the dry season we were able to explore this 17,000+ acre private ranch via safari type vehicle and by foot in search of Capybara, Caiman, Coati, Anteaters, Deer, Monkeys and a myriad of bird species that are all found on this working ranch. The 20+ air conditioned rooms were very comfortable and wildlife seemed to wander everywhere mostly unafraid of us.
In the wet season the waters almost consume Pousada Piuval
Pousada Piuval is still an operating ranch and we would occasionally come across a Gaucho or Vaqueiro (Brazilian Cowboy) as we explored the ranch

Agouti -- a tailless rodent from Central and South America rain forests that looks a bit like a really large guinea pig
Black-White Tegu is a large lizard that grows up to 4 feet long. Tegus eat fruits, vegetables, eggs, insects and small animals like lizards and rodents. In Florida, invasive Tegus (released from pets) have dug into alligator and turtle nests and eaten the eggs. A growing and spreading Tegu population in Florida is a threat to native wildlife such as Alligators, Crocodiles, Sea Turtles, ground-nesting birds, and small mammals.
Tiger Heron with a fish. They often forages in the open (like above) and feed both on aquatic animals like fish and frogs as well as terrestrial rodents.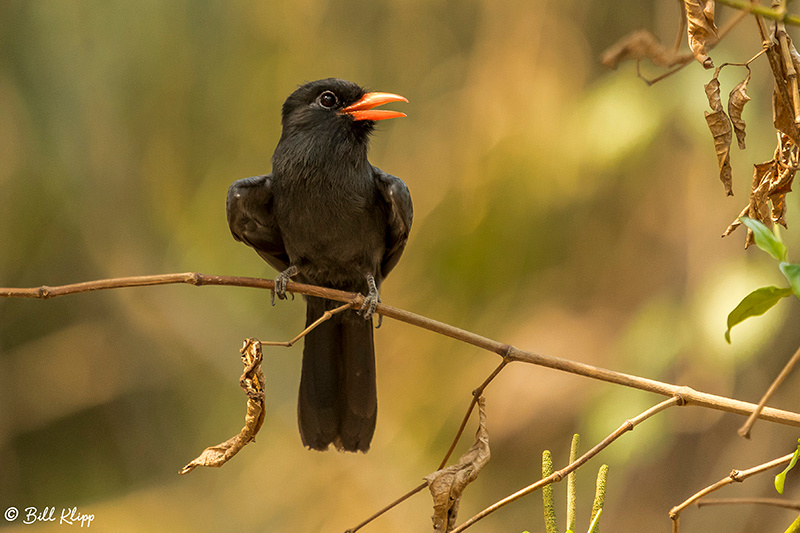 Black-fronted Nunbird

We found a small pond with a few birds so we decided to hang out to see what else might show up. Before we knew it a "Troop" of Hooded Capuchin Monkeys showed up to drink followed by "Band" of Coatis.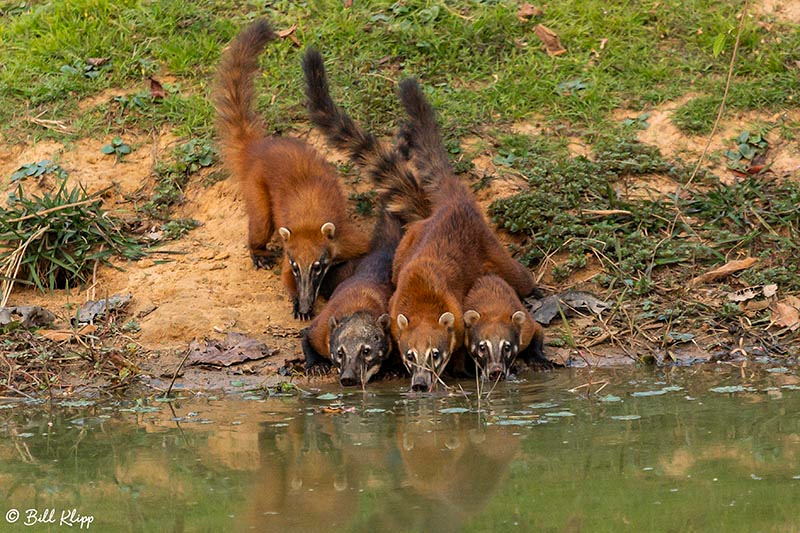 Coatis also called Coatimundis are related to raccoons and are found from the southwestern US all through South America. Primarily omnivorous, Coatis usually forage for fruits and invertebrates and like to eat palms, eggs, larval beetles, scorpions, centipedes, spiders, ants, termites, lizards and small mammals
Bat Falcon eating, guess what? A bat.
Yacare Caiman hunting for fish
Bare-Faced Curassow forage on the ground in forest and forest edge and are easiest to detect in early morning and late evening, when individuals or pairs wander into clearings or deliver their deep, booming songs.
A pair of Hyacinth Macaw. They are the largest of the Macaws and the largest flying Parrot species
Jabiru Stork in nest with chick very high up in the crown of a large canopy tree. The nests are often used for consecutive years growing in size each year and can reach over 6 feet in diameter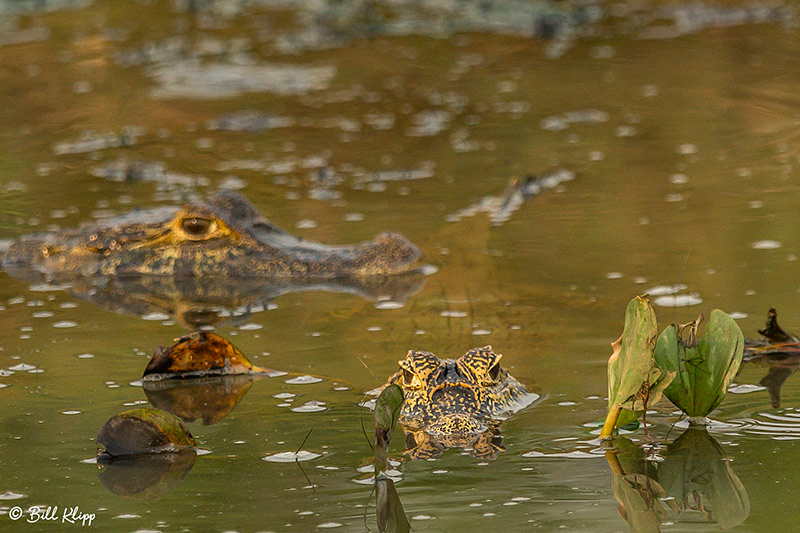 Yacare Caimans or South American Alligators.
Hyacinth Macaw nesting in a tree hole
Red-legged Seriema known for loud barking sounds are very capable predators and opportunistic feeders with a varied diet, taking a wide range of foods including arthropods, lizards, snakes, small rodents, eggs, corn and other grains, and wild fruit. They kind of remind me of the tall African Secretary Bird
Southern Caracaras came in for drink only to be chased off by a noisy troop of Hooded Capuchin Moneys and Coatis
As the Hooded Capuchin Monkeys cautiously approached the pond I envisioned them each lining up to take a drink simultaneous ever so wary
Capuchins are the most intelligent New World monkeys – perhaps as intelligent as chimpanzees. They are noted for their ability to fashion and use tools. For instance, they have been observed using rocks to crack open nuts.
While the Monkey was drinking the Coati wandered up behind him startling him
It's obvious when White-Eyed Parakeets show up as they are very noisy
Just as we were about to leave Pousada Piuval someone spotted a Ferruginous Pygmy-Owl up in a tree They prey on large insects and small vertebrates, including small birds that may be almost as large as the owl.
Great Horned Owl
On our last morning it had started to rain so with our rain gear on we headed out for a pre-dawn game drive after which we packed as we waited for our last 2 travel partners Bud & Trina two of our globe trotting photography traveling friends. Then our little group of 6 along with a driver and Alyson Melo our trusty and highly experienced Guide we headed out by van in the morning on the 4 hour drive to Porto Jofre at the end of the Transpantaneira Highway. It had started to rain the night before so we we were warned that drive will be a bit challenging and that turned out to be an understatement as the early unseasonal rain storm caused havoc to the road. Our hope was to arrive at Porto Jofre for lunch and then a late afternoon boat excursion looking for Jaguars. But that didn't happen as our road trip took 6+ hours and frankly we were lucky we didn't have to turn around and try the next day.
The beginning of the Transpantaneira Highway the Pantanal National Park


Calling the Transpantaneira Highway an actual highway at any time is a bit of a misnomer as it is a bumpy 1-2 lane dirt road with 122 poorly maintained and scary wooden bridges. The unexpected rains made the drive pretty treacherous as our vehicle slid back and forth and even sideways across the road even at very slow speeds. In spite of having an excellent driver we almost had to abort the trip as several bridges were out and the so called highway was blocked by a large bus of drunken fishermen that skidded across the road trapping them inside and blocking all passage for hours. Our guide was about to hike the remaining 8 miles to the lodge to seek help when a 4x4 vehicle came by and was able to take him to our lodge to get help. Every time our van tried to squeeze by the stranded bus it would start sliding into it, so our guide and others slipped between the vehicles pushing them apart. Luckily no one was crushed and we finally squeezed by and was pulled through by winch. I guess that's what makes for an adventure, we sure were lucky having some pretty dedicated staff.
With only 8 miles to go we came across a stranded bus blocking the road.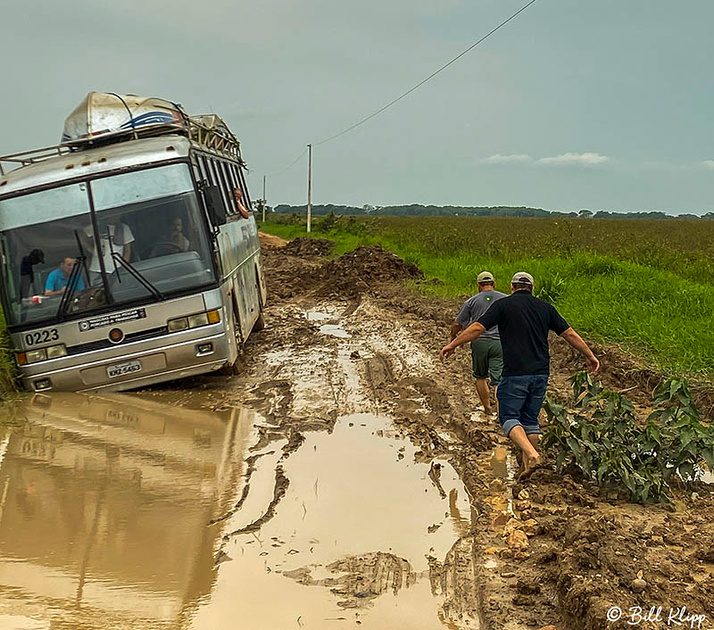 This was not looking good, our Guide and Driver took off their shoes and slipped and slided up the road to check things out. We had no cell or radio signals here or for many miles, so calling for help was not an option.
The bus rested up against the embankment trapping the passengers inside, although a few climbed out the window.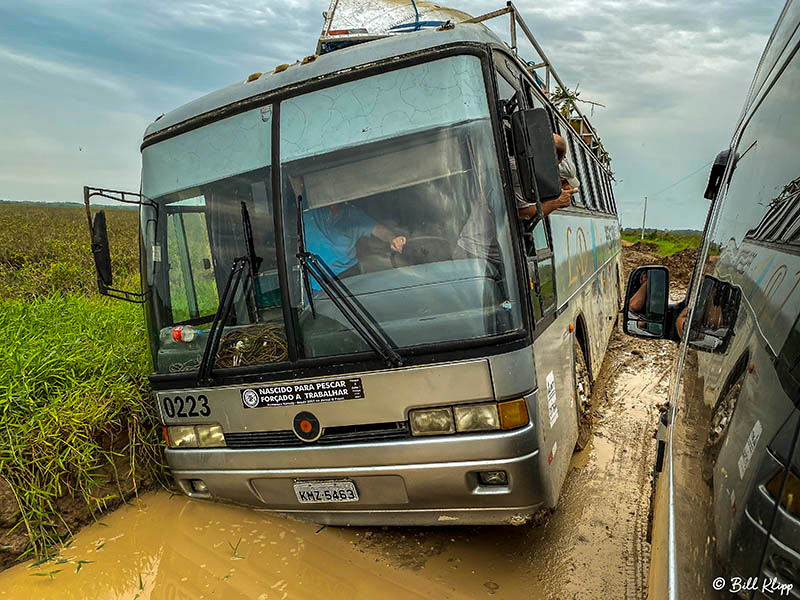 Each time we tried to slowly squeeze between the bus and the swamp our van would slide sideways into the bus.
Ultimately with human cushions we squeezed by the bus and we were towed out by winch. Check out video below.
We made it through so our journey continues to the Cuiaba River and to our lodge the Porto Jofre Hotel at the end of the road

Click above photo for our video: "A Wild Journey on Brazil's Transpantaneira Highway"
The Transpantaneira Highway was originally supposed to connect the remote northern and southern regions of the Pantanal but it was never completed as the road now comes to an abrupt end at the edge of the Cuiaba River. It is here at the Porto Jofre Hotel, an old fishing lodge, more recently converted to an eco-lodge, we would be based for our daily river excursions in search of Jaguars and other local wildlife.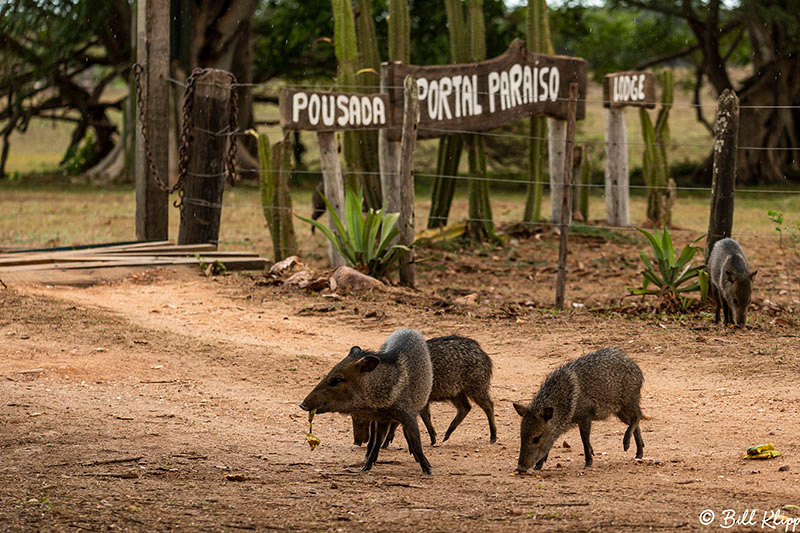 Collared Peccaries wandering just off the roadway. Collared Peccaries can grow up to a meter long and weigh over 60. A very social animal, they can be very nosey -- barking, grunting, purring, woofing and coughing -- because they have strong hearing but poor vision they rely on vocalizations to communicate with each other.
Collared Peccarys also called Javelinas, look a lot like pigs but they actually belong to a different family of mammals.
The elusive and strange Tapir which is related to Horses and Rhinos is a large primative herbivorous mammal, similar in shape to a pig that inhabit jungle and forest regions of South America. Tapirs are a bit of a hodge-podge of animal parts. They are about the size of a donkey have round bodies, short legs and stubby tails, sort of like a hippo. Their eyes and ears are small and they have four toes on each front foot and three toes on each back foot.

Marsh Deer the largest of the South American Deer species. They are found in the marsh and lagoon zones of Argentina, Bolivia, Peru, Brazil, and Paraguay.

Rhea with Chicks
Some of our group near the docks of Porto Jofre
When we finally got to Porto Jofre and had lunch we didn't have much light left so we explored the property around the Lodge. There were lots of noisy Hyacinth Macaws munching on Palm nuts

Toco Toucan, probably the most recognizable tropical bird in the Americas. Toco Toucans feed extensively on figs and other fruit, and also occasionally prey on insects and nestling birds.
There was a large lagoon behind the Lodge with some Giant Water Lily pads that were 4 plus feet across. The giant water Lily's leaves may grow as large as 8 to 9 feet in diameter, and a very large pad is capable of supporting up to 100 pounds of weight.
On one of the Lily Pads there was a Striated Heron who was moving from Lily to Lily hunting for fish
Striated Heron, a small Heron pretty common across the globe. Normally solitary, found standing quietly around wetland habitats such as marshes, agricultural fields, rivers, and lakes.

Red-crested Cardinal native to South America, you may have seen these guys in Hawaii also as they were introduced in the 1930s
Monk Parakeet native to South America but long popular in the pet trade, established wild populations in several US Cities in the 1960s. They are the only parakeets to nest communally; dozens live together year-round in large, multifamily stick nests built in trees and on power poles.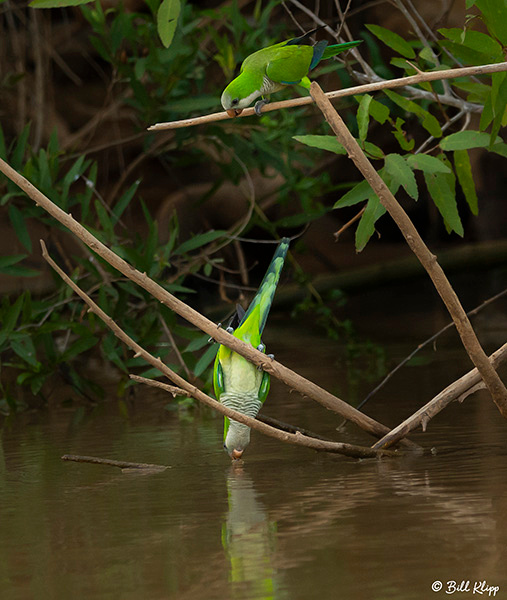 Monk Parakeets
Chestnut-eared Aracari
Boat-billed Heron
Green Kingfisher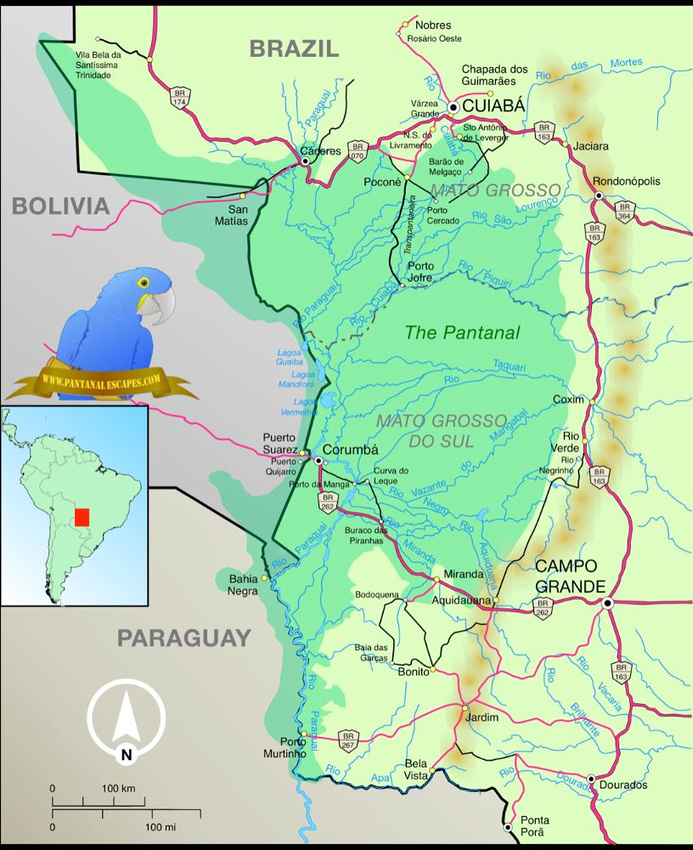 Stay tuned for Part II of "Pantanal Wanderings" -- -- Land of the Big Cats

Part II of "Pantanal Wanderings" takes us to Porto Jofre where we hit the Cuiaba River each day in search of the elusive Jaguar the 3rd largest Cat on the Planet


For more photos visit Bill & Linda's Wildlife website at: "Wildlife Photos"
© Bill Klipp 2019
All Rights Reserved Bill Klipp
* Any use of these images requires the prior written permission of Bill & Linda Klipp the photographers, no other uses of any kind including print or electronic are permitted without the prior written permission of the photographer.