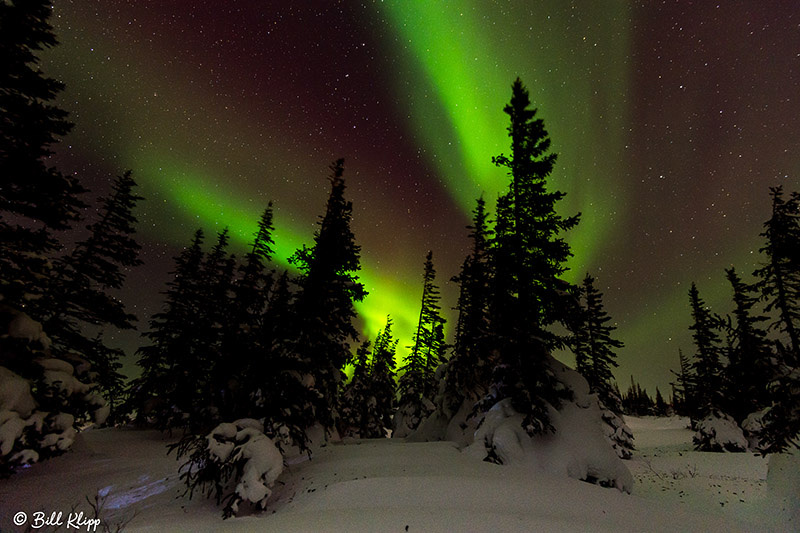 A Two Part Journey to see the Polar Lights
Like many people I have always been intrigued by the photos and videos of the Aurora Borealis or Northern Lights but in spite of our many trips into the high Arctic and even Antarctica they have eluded us. I have attributed that to bad luck and the fact it has been mostly daylight in the extreme latitudes during the times of year we have been there. So we did some research on where and when is the best opportunity to see Aurora activity. There are lots of good Aurora viewing spots in Alaska, Canada, Iceland, Sweden, Norway and Finland but Churchill Canada stood out as one of the best inhabited spots on the planet to see the Aurora consistently.
So this past February we headed north to Churchill Manitoba in Canada's sub-arctic to join a photography workshop organized by Natural Habitat Adventures ( www.NatHab.com ). As remote as it is, getting to Churchill on the north eastern side of Canada is relatively easy. Step one fly into and overnight in Winnipeg Canada where we stayed at the historic Fort Garry Hotel, an iconic old landmark hotel built in 1913 as one of Canada's grand railway hotels.
Our plane being de-iced in Winnipeg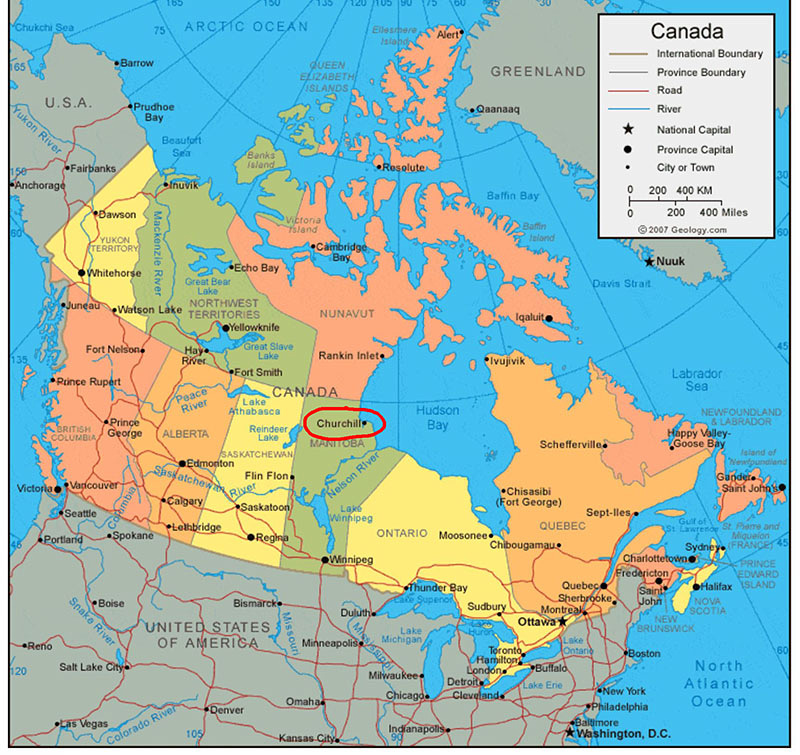 Notice how large Hudson Bay is. It essentially stretches the distance from Washington DC to Kansas City

There are no roads paved or otherwise to Churchill so to get there you have three choices; train, plane or boat. No boats in the winter of course, the train when it runs takes 2 days to cover the 650 mile journey and is incredibly unreliable, so Nat Hab arranges a charter flight for it's groups. They also offer any empty seats on the plane for free to Churchill locals to help them get back to / from civilization. Nice way to give back and support the local community.
Natural Habitat Adventures 2 hour charter flight Winnipeg to Churchill.

Welcome to winter in Churchill

Churchill train station. The train tracks and bridges were heavily damaged in May 2017 by flooding and service didn't resume till Dec 2018. During this 18 month period the only way in or out of Churchill in the winter was by plane.

Wandering down to ice covered Hudson Bay, the second largest Bay on earth at 850 miles long.
In the far north of Manitoba Canada nestled between the mouth of the Churchill River and the western shores of the Hudson Bay sits the town of Churchill at 58' North Latitude. The Aurora Borealis or Northern Lights circle the globe in an irregularly shaped elliptical "oval" band which passes right over Churchill making it a sweet spot for Aurora activity with over 300 days of Aurora each year. As this oval band of Aurora activity circles the earth most of it passes over the waters of the high arctic. In fact it passes well north of Iceland making it only visible there on cloudless nights when there is heavy Aurora activity as measured on the Aurora KP index (0-10). Churchill on the other hand sits right under the "oval" of Aurora activity enabling viewing at even the lowest KP index values. We used an app called "My Aurora Forecast" to predict the timing, location and intensity of any expected Aurora activity. It was surprisingly accurate.

Note how the sweet spot of the Aurora oval passes over some of the most remote and inaccessable areas of the planet. With heavy Aurora activity however the Northern Lights can be seen much further south around the oval, but Churchill gets it 300 days per year.
The bright dancing lights of the Aurora are actually collisions between electrically charged particles from the sun that enter the earth's atmosphere. The lights are seen above the magnetic poles of the northern and southern hemispheres. They are known as 'Aurora Borealis' in the north and 'Aurora Australis' in the south.
Auroral displays appear in many colors although pale green and pink are the most common. Shades of red, yellow, green, blue, and violet have been reported. The lights appear in many forms from patches or scattered clouds of light to streamers, arcs, rippling curtains or shooting rays that light up the sky with an eerie glow.
The key is seeing these Dancing Lights in the Sky is to have a dark cloudless night where the stars are visually prominent, and this is best done in the dead of winter. Mid February is a good time in Churchill with little light pollution and temperatures ranging from -20'F to -40'F. At these extremely low temperatures there is little chance of precipitation or clouds.
Winters in Churchill are all about extreme sub zero temperatures and heavy winds. We regularly had 30-40 mph winds when we were there.

During the day the weather can sometimes be deceiving. Above the ground layer of wind-borne snow and ice is actually a clear blue sky.
So in mid February 2020 we headed to Churchill, into the blowing snow and windchill of -49'F and guess what we saw on 3 of our 4 nights? We saw the Skies on Fire in unearthly and surreal colors, We saw Dancing Lights gyrating from horizon to horizon, We saw slow moving dull green bands take shape and quickly twist, turn and vibrate across the sky moving from the horizon to straight over our heads, We saw the sky go crazy with painted movements and then like a light switch it would be gone only to pop up again in another direction. We were lucky to get 3 nights of very active Aurora Borealis because as our trip was ending the temperatures were headed above zero increasing the chances of cloud coverage and blocked skies. We definitely had good karma.
Click above photo to see winter in Churchill
"Our Nightly Aurora Routine" -- Natural Habitat Adventures has been guiding tours to Churchill for many years and has developed some custom Aurora viewing stations outside of the town's ambient lights. Each night after dinner (3 restaurant choices) we would head back to our hotel to gear up for a long evening of frigid outdoor photography. Once we are all bundled up our group of 10 would head out usually after 9pm to one of Nat Hab's Aurora cabin's which provided a spot to escape the cold and warm up or to grab a snack or drink. I must say though we spent very little time inside as even with lots of viewing windows, outside was a must for photography.


"Aurora Pod" -- Custom-built for Nat Hab clients the Pod offers a spot to warm up and have a snack while still being able to have 360-degree views of the night sky through its glass top and sides. Conditions were ideal for our first night out in search of the Northern Lights in Churchill Canada. The skies were clear with no moon or clouds in sight. The ambient air temperature was -21'F with 30 knot winds treating us to a -48'F evening, yes it was cold but we headed out to the Boreal Forest, set up our tripods and had non-stop action of dancing polar lights till we called it quits after midnight. And this was only night 1. What a way to start our adventure.
My selfie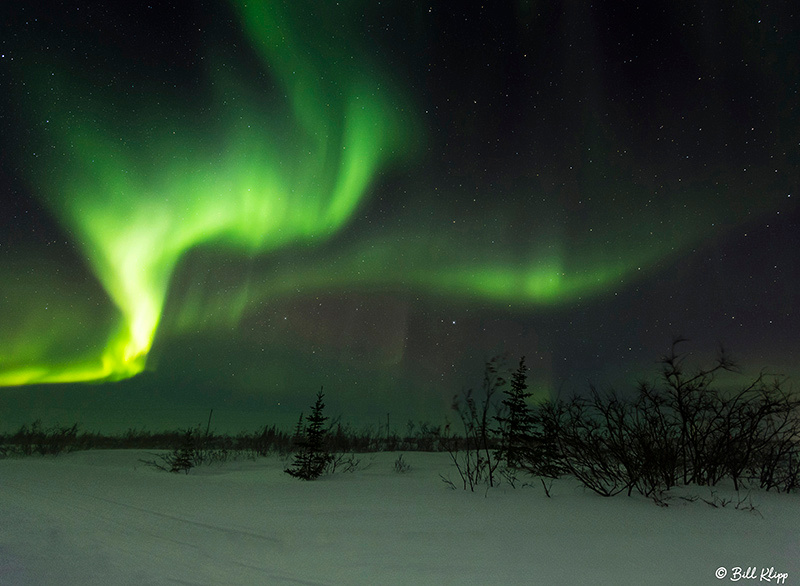 We braved the extreme cold, standing in the snow as the winds whipped tiny ice particles in every direction. We got stiff necks from staring at the skies from 9pm till 2am. But it was simply amazing, unearthly, almost alien like. We took many pictures which depict the Aurora at a moment in time but the Northern Lights are constantly changing, sometimes slow and sometimes fast.
Still images just can't covey the motion in the sky we experienced as surreal colors and shapes moved about skies so I set up my camera to take a variety of short time lapses which I blended together in a 1 minute video. Welcome an alien world.
Click Above Photo to see Aurora video
Our main trip objective was photographing the Northern Lights which kept us out after midnight each night so we usually slept in starting our day after a late breakfast before heading out for some local daytime activities
Using hand saws we cut blocks of snow for a traditional Igloo
"Igloo Building" -- One day we visited the Churchill Northern Studies Center which is a non-profit field station focused on scientific research and education in the subarctic. After a tour of the facility we joined some of the staff to learn how to build an authentic Igloo.

The Igloo is actually built from the inside.
Using a machete to shape the snow blocks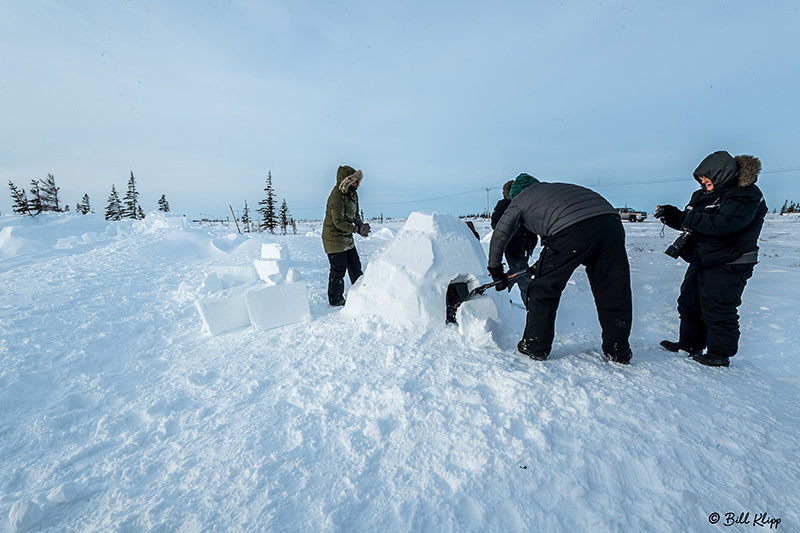 When done the builder is locked inside and a door needs to be cut in the snow dome
Viola!, all done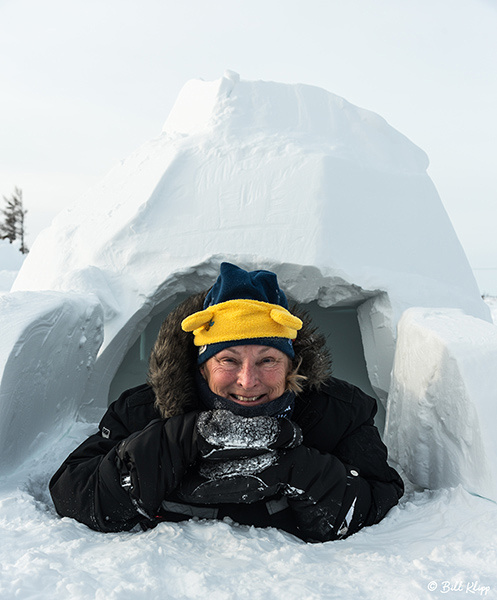 A ready made shelter from the elements

While we were learning how to build an Igloo I set up a camera to create a time lapse of our Igloo building.
Click above photo to see the Igloo video
Churchill Northern Studies Center scientific research field station which hosts visiting scientists.
Sunset over the frozen Churchill River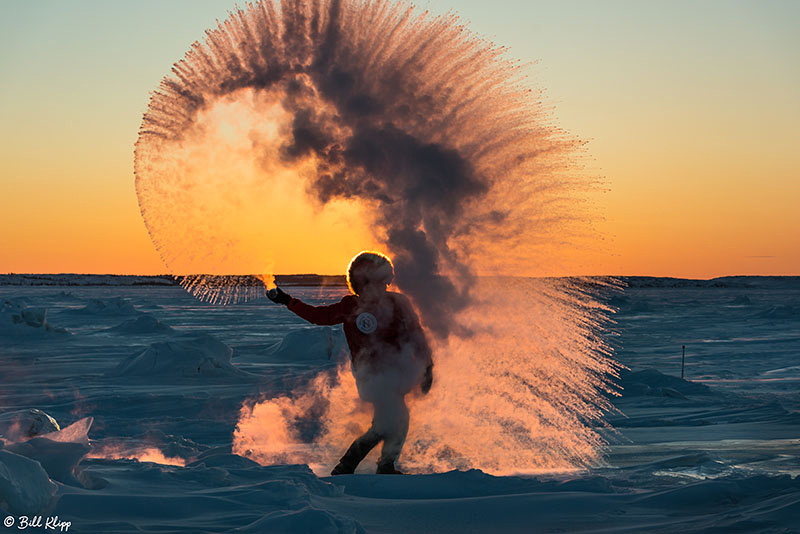 Snow Shower, ever wonder what happens when you fling a thermos of boiling water into -40F weather? Our most excellent Guide Eddy Savage shows how the boiling water immediately freezes into little ice / snow particles as it hits the frigid air
As we headed out to the Aurora Dome on our second night the sky lit up like it was on fire.
We all started yelling at the driver to pull over as the Northern Lights were dancing crazy all around us.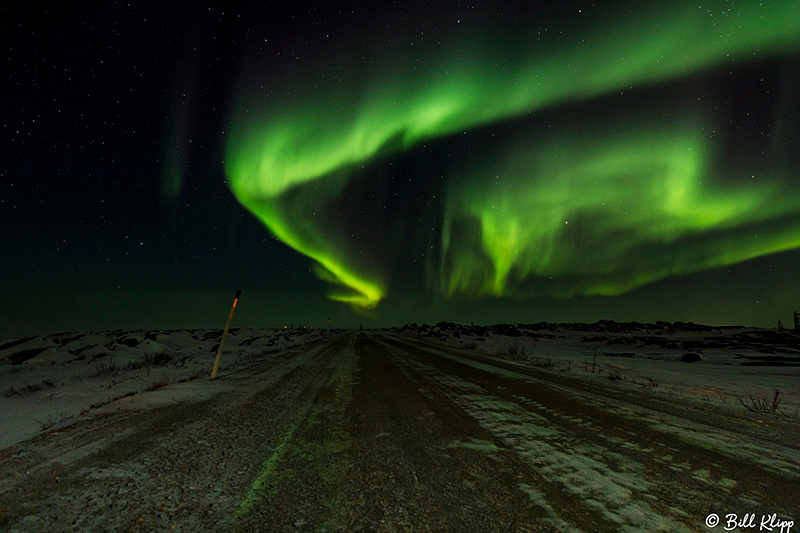 We jumped out of the van with our cameras and tripods and set up along the road. I stepped off the road to find a better composition only to sink up to my waist in deep snow, bad move, back to the road to set up.
The lights were moving across the sky very fast in every direction. sometimes in front of us sometimes directly overhead.
At one point I looked behind us back towards the town, they were everywhere, crazy

What a workout after a couple hours of non-stop action in the blowing -40F weather we climbed back into the van to continue onto our original destination, Nat Hab's Aurora Dome cabin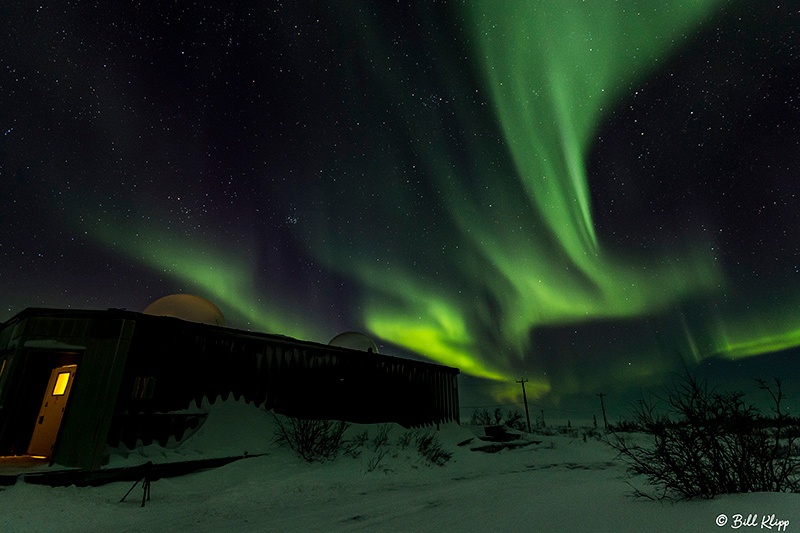 Aurora Dome cabin with its large dome roof ports for viewing the Aurora

"Aurora Dome" -- We scored again big time on our 2nd night in search of the Aurora Borealis. We headed out a little after 9pm at -20'F with windchill of -43'F, the makings of some excellent Aurora conditions. Our plan was to head out to the Aurora Dome, a small building designed with some large Dome viewing ports on the roof but we didn't get too far, as we drove down the road the skies became alive with bright green quickly moving Northern Lights. Not wanting to miss one of the better shows of the year we pulled over on the side of the road and set up our tripods and started shooting for about an hour and half before heading to the Aurora Dome for yet more action. What a night, didn't get to bed till close to 2am.

"Unearthly" -- Some say the Auroa Borealis can be unearthly or even "Alien" like. This one was a good example of Pareidolia, looks like an alien's head to me. What do you think?
PS. Pareidolia is a type of illusion or misperception involving a vague or obscure stimulus being perceived as something else. It causes people to see patterns like faces or images in everyday objects such as in cloud formations, rock faces or other inanimate objects.
"Historical Churchill" -- Located on the shores of the Hudson Bay, the Town of Churchill and the surrounding area are steeped in history as old as Canada. Archaeology in the area shows evidence of human presence dating back 4,000 years to the Pre-Dorset and Dorset people and for centuries, Churchill has been a meeting place for culture and trade being at the critical intersection of several ecosystems. The first European to explore "The Bay" was Henry Hudson in 1608 and in 1670 the Hudson's Bay Co. was formed to promote and service the exploding fur trade. In more recent times Churchill was a strategic spot for the Canadian and US Military being an easy flight to Europe and a good place to perform arctic weather training. After the Second World War, Canada and the US jointly sponsored a training and experimental rocket center which researched the possibility of harnessing the geomagnetic power of the Aurora Borealis as a potential weapon. The base was officially closed in 1980 but remnants remain today as when facilities are built in such remote areas they tend to be just abandoned vs removed when no longer in commission.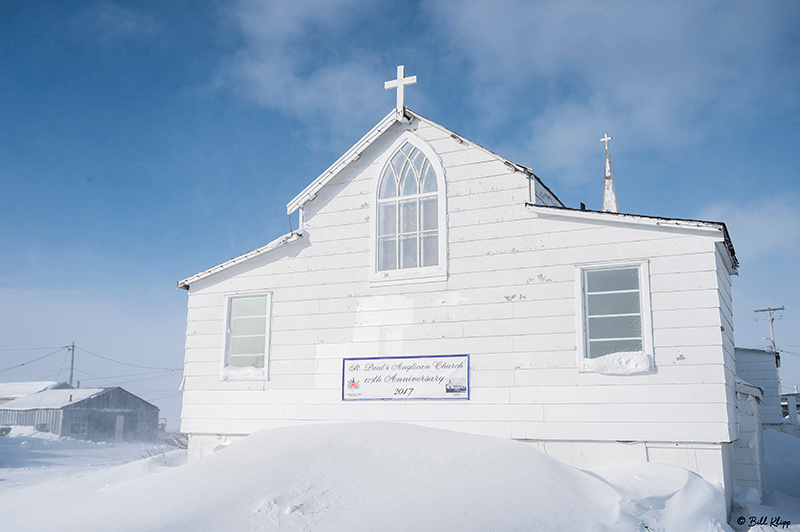 Churchill's St. Paul's Anglican Church dates back to 1892
A stained-glass window donated to the parish by the widow of Sir John Franklin, the famous Arctic explorer.
Polar Bear Jail. In the fall when many Polar Bears migrate through Churchill the town has a Polar Bear patrol to keep the locals and visitors safe. People are encouraged to keep their house doors unlocked so everyone has an easy escape from a potentially deadly Polar Bear encounter. Any Bears wandering into Town are darted and locked up for a while in unpleasant conditions hoping to discourage them from future visits.
Classic old General Store stocked with a little of everything. No Amazon Prime here.
When you go to the small supermarket in Churchill you can pick up a head of lettuce (maybe) or a Snowmobile

"Mushing" -- While our nights were busy staring at the skies during the day we had some fun activities. One morning we hit Kelly's Dog sled camp for some good old Mushing at Churchill River Mushing camp in 30 knot winds and sub zero temperatures.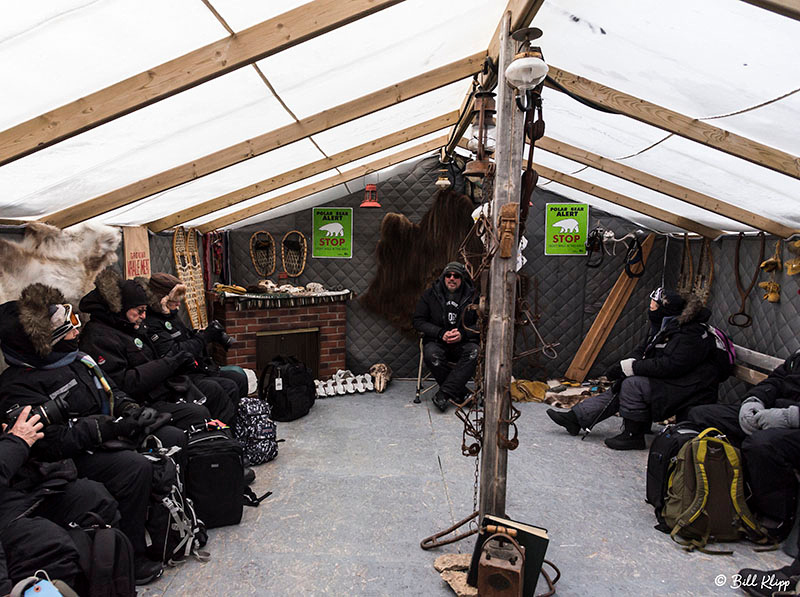 Getting briefed by Kelly about his Dogs and Mushing
The Dogs just love pulling the sleds
Off they go...
It was a frosty ride on the sled
Click above Photo for our Mushing Video
"Current Day Churchill" -- Although some fur trading still exists the hey days are long gone, the military has mostly left so today Churchill with its population of 900 is mostly supported by a seasonal tourist industry. In the fall it is known as the Polar Bear Capital of the world as roughly 1,000 Polar Bears migrate through the area on their way to the frozen sea ice covered hunting grounds of Hudson Bay. It is one of the few places in the world you can experience reliable land based Polar Bear encounters. The highlight of the winter of course is the Northern Lights and from June to September, approximately 3,000 uniquely white-colored Buluga Whales visit the Churchill River basin and approximately 60,000 come into the Hudson Bay area.
Churchill train station
Organized by the Panga Seed Foundation's Sea Walls project several muralists from around the world joined forces in Churchill to created 18 large-scale murals that promote ocean conservation

Star Wars anyone ! Now this has to be one of the more unique vehicles I have ever seen
"Aurora Cabin" -- On our third night we headed out by snow coach driving over a frozen creek to an Aurora Cabin in the Boreal Forest. The Cabin was specially designed to be mobile so once winter sets in they use a tundra vehicle to tow it up a frozen creek deep into the Boreal Forest. The Cabin owners don't need roads or own the land as they technically have the cabin sitting in the middle of a creek on frozen water. Before the Spring thaw they just tow the Cabin back to town so when they remove it after the season there is Zero environmental impact once the creek thaws. Unfortunately though it warmed up to a balmy -2'F which brought in some cloud cover blocking our view of the Northern Lights that night.
Clearing the snow off the ice covered creek
Snow cat clearing the creek of snow for us
On the way out to the Aurora Cabin we stopped for some sunset shots
While the clouds made for a nice sunset it wrecked our visibility for any Northern Lights viewing.
A cozy warming hut on skis sitting on top of a frozen creek, very cool idea
Tonight we had some homemade dinner in the Aurora cabin, but unfortunately no Aurora.
Aurora Cabin was in an awesome spot, deep in the Boreal Forest, but the cloud cover hid the Aurora from us.
Coming up one more night of crazy Northern Lights at Dave's Dog Sled Camp in Blog Part II
Check out Part II of my Northern Lights Blog as we head to "Dave's Dog Sled Camp" for our last night in Churchill. Click link: "Churchill Northern Lights Blog Part II"
For more photos visit Bill & Linda's Wildlife website at: "Wildlife Photos"
© Bill Klipp 2020
All Rights Reserved Bill Klipp
* Any use of these images requires the prior written permission of Bill & Linda Klipp the photographers, no other uses of any kind including print or electronic are permitted without the prior written permission of the photographer.