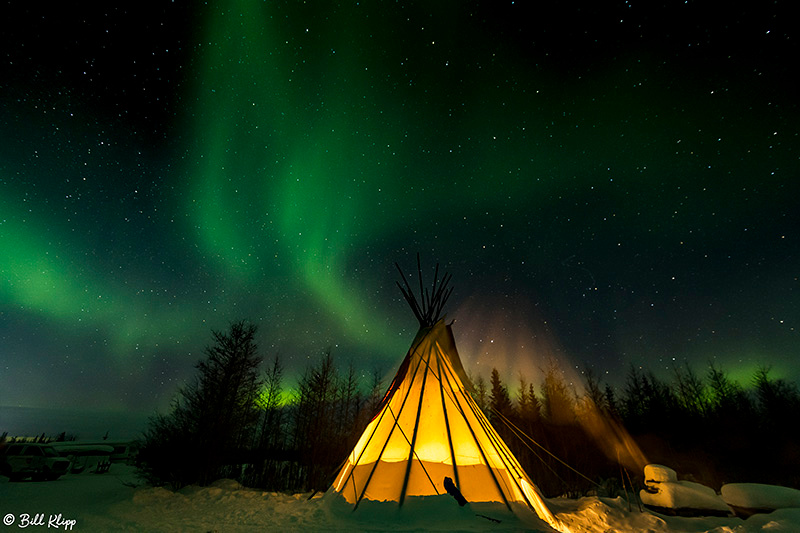 Part II of our Journey to see the Polar Lights
"Dave's Dog Sled Camp" -- On our last night it warmed up to a balmy 24'F but the cloudy daytime skies cleared for us right after dinner so we headed out to Dave's Dog Sled Camp for some crazy fast moving Aurora activity that moved from one end of the sky to the other. One minute the sky was on fire with dancing lights and the next it would be gone, only to pop up again in another spot. Dave has a number of sled trails thru the forest as well as a Teepee and a Trappers Tent which we lit up with a lantern as a foreground for our Aurora photography. Well after midnight we decided to call it quits but on the way back to town we spotted some Aurora activity out over Hudson Bay so we headed over to Churchill's famous Inuksuk rock sculpture for a couple of shots although the clouds were moving in on us so we headed back to our hotel a little after 2am.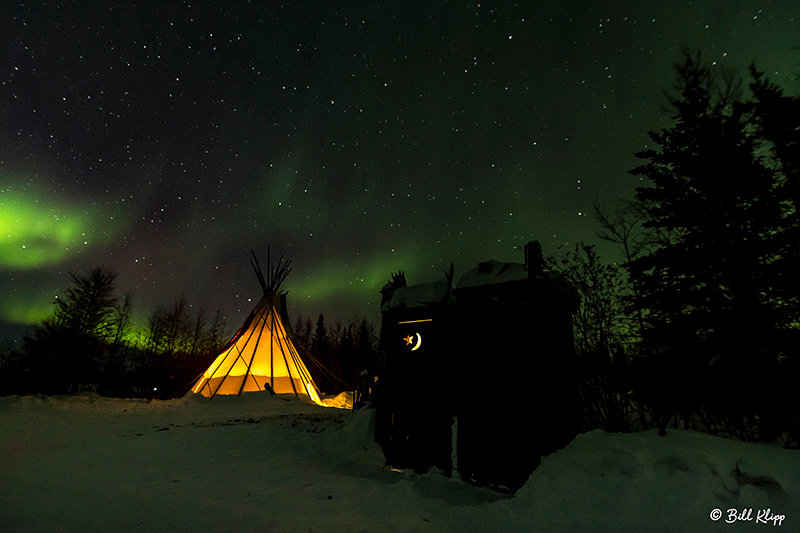 Northern Lights over a Trapper's Tent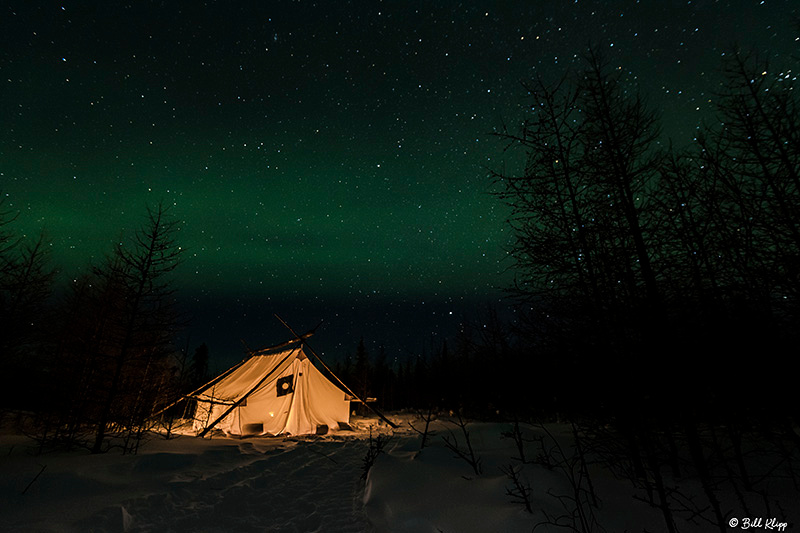 Northern Lights over the sled dog pens. Sometimes the lights would get the Dogs all worked up barking.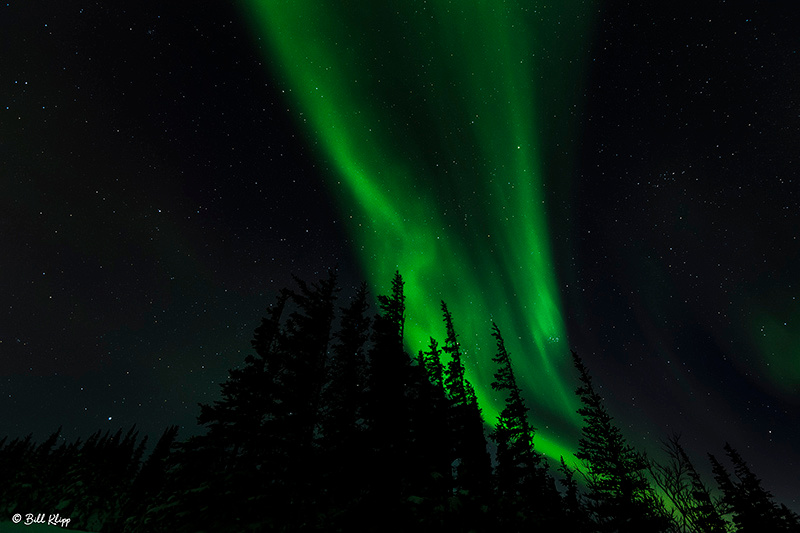 Wandering the Boreal Forest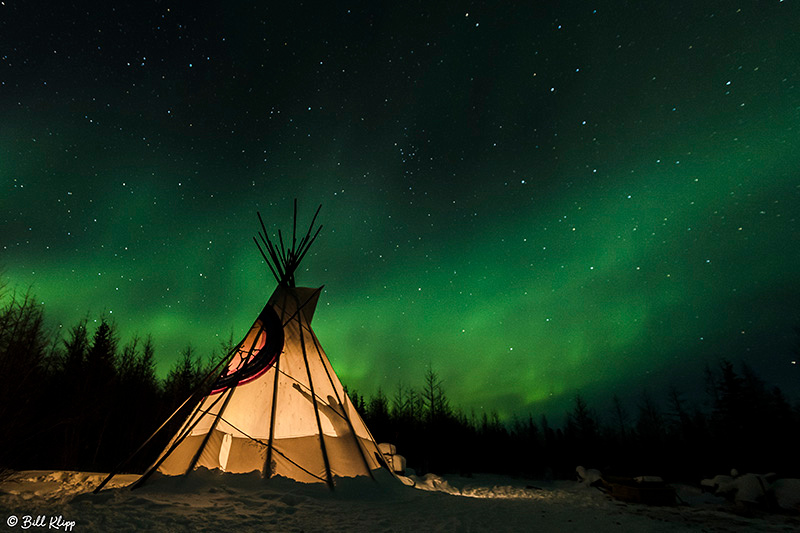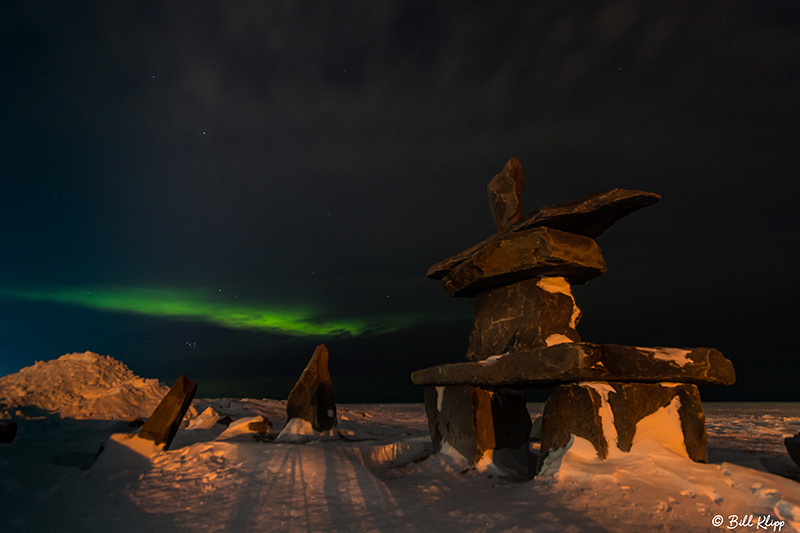 As clouds moved in we had our last glimpse of the Northern Lights over Churchill's famous Inuksuk rock sculpture

While you might think an ice covered bay is an endless flat plain, you would be wrong. As tide action raises and lowers the underlying sea the ice cracks and heaves up and down creating a pretty rough and dangerous landscape. Especially considering it's where the Polar Bears roam hunting for seals as they come up through breathing holes.

One day we came across a Canadian cold weather military training exercise as about 40 snowmobiles returned from a 150 mile trek through the winter wilderness.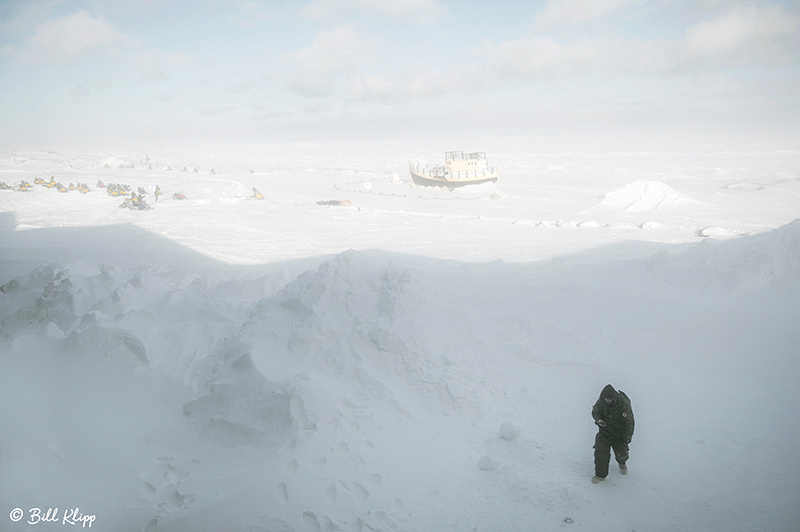 Just taking a short walk in Churchill's winter can be a chore.

What an awesome trip we had, thanks to Natural Habitat Adventures and specifically to our great Guide, Eddy Savage
If you missed Part I of our Churchill Northern Lights Photo Expedition click link: "Churchill Northern Lights Blog Part I"
For more photos visit Bill & Linda's Wildlife website at: "Wildlife Photos"
© Bill Klipp 2020, All Rights Reserved Bill Klipp
* Any use of these images requires the prior written permission of Bill & Linda Klipp the photographers, no other uses of any kind including print or electronic are permitted without the prior written permission of the photographer.