Part IV of "Antarctica Wanderings" continues with our exploration of South Georgia Island before we sail south to Antarctica
Fortuna Bay
A deeply cut valley filled with wildlife surrounded by tall majestic rugged mountains is what you see upon entering Fortuna Bay. This would be our 2nd visit to Fortuna Bay this trip, our first visit was to just drop off some hikers who wanted to experience the last leg of Shackleton's trek back to safety as he climbed over the mountain and glaciers to Stromness Harbor. It is described as 4 mile hike with 1,000 of elevation gain over a variety of surfaces such as tussac grass, gravel beds, boulders, snow and creeks over a glacier. On this visit we headed inland to a large King Penguin colony hiking over the relatively flat soft, spongie tundra which was covered in a layer of molted Penguin feathers. As we hiked in we stopped many times to photograph the many King Penguins as they headed back and forth from the Colony to the sea.
As we hiked in towards the Colony we were met by a near constant comings and goings of small groups of Kings. Note the white feathers everywhere.
Good stuffing for a down pillow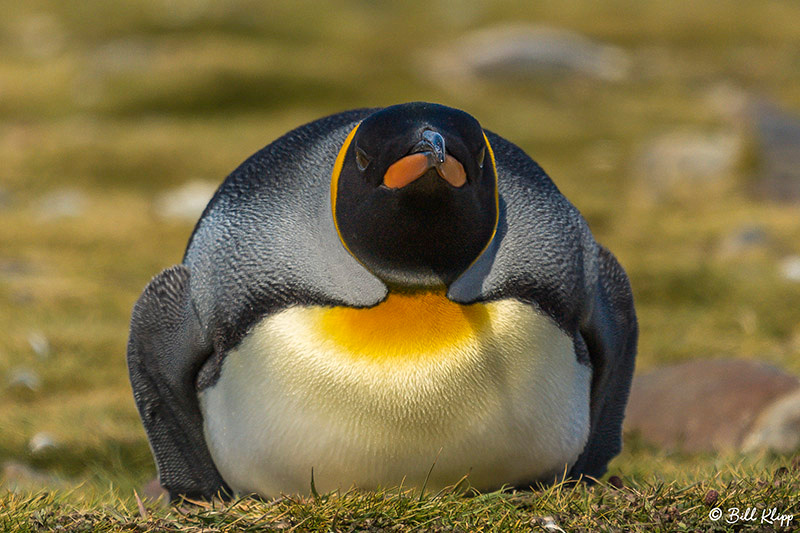 Three Kings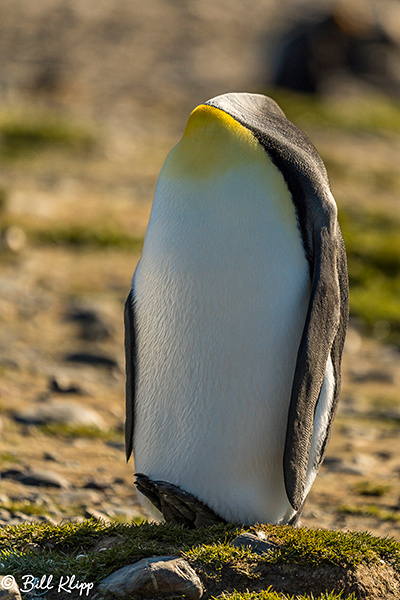 A rare headless King Penguin
Calling her chick
The adults returning from the sea with food for their chicks have to first find their own chick among the thousands of look alikes spread across miles.
They find their chicks by sound, hence a Penguin colony can be very noisy. When mom gets near with some food the chicks get very excited.
Fur Seal with some King Penguins
Click above photo for the sights and sounds of Fortuna Bay King Penguin Colony
Shackleton's Last Leg
In a life boat, Ernest Shackleton and two of his men left Elephant Island off the coast of Antarctica and traveled for 14 days and 800 miles ending up in South Georgia at Fortuna Bay. Knowing roughly where they were from past adventures they set out with minimal supplies and equipment up and over the mountains in hopes of finding the whaling station at Stromness Harbor. After a grueling 36 hour journey over the mountains and across South Georgia they finally heard the whistle blow at the whaling station where the whalers there initially thought they were an undiscovered species of apes due to their hairy, unshaven beat-up, un-human appearance. What a shock it was for the whalers at Stromness Harbor to learn these men were Sir Ernest Shackleton and some of his crew who were feared dead after no word of their whereabouts for over 15 months.
Stromness Harbor
As one enters the harbor you are struck by the sight of the many buildings and rusting remains of one of the larger old whaling stations. The Captain put the ship right up on the beach here making for a very short zodiac ride to shore. Due to the instability of the structures and the unpredictable high winds we were not allowed to wander too close to the buildings. As we landed on the beach we were greeted by quite a few male Fur Seals, some straggling Elephant Seals and of course Penguins. Most of the group headed inland to see a water fall and visit a Gentoo Penguin Colony, we opted to hang on the beach with the Elephant Seals and Fur Seals which were once hunted to near extinction.
Gentoo Penguins greeting our ship
Click above photo for time lapse video of zodiacs at Stromness Harbour
Elephant seals were aggressively hunted for their oil, and their numbers were once reduced to the brink of extinction. Fortunately, populations have rebounded under legal protections. It ironic to now see them breeding on the beach in front of the boilers once used to melt down their blubber.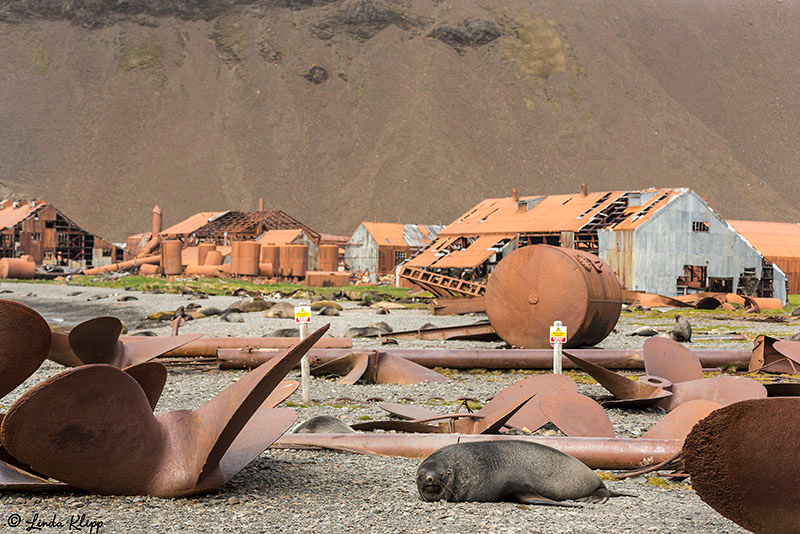 Male Fur Seal on the run. The name seal is a bit of a misnomer as he is more closely related to Sea Lions which have external ear flaps and the ability to walk on all 4 limbs. True Seals don't have external ear flaps and the rear limbs are positioned backwards so they don't use their rear limbs as legs and move on land more like an inchworm.
Beach master coming in full speed to stop an intruder looking to hit on his harem
Sex on the beach
Old whaling ship propellers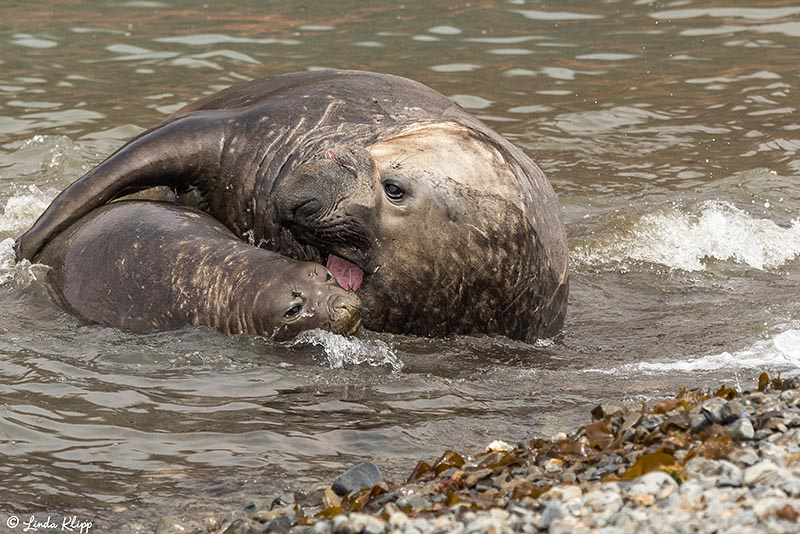 Like I said earlier these guys have one main goal when on the beach
Blue-Eyed Shag coming in for a landing
Precision Photography -- We were on the beach at Stromness Harbor on South Georgia Island and Linda challenged me to get a shot of a fast flying Antarctic Tern inside the National Geographic Yellow Box logo. Bingo, nailed it in a few minutes, got to love my Nikon D5
Sleeping Fur Seal up close
Click above photo for Elephant Seal Video at Stromness Harbour
Grytviken
Grytviken is the only place on South Georgia Island where anyone lives. It was the main whaling station on the island established in 1904 and closed in 1965. There is an active British Research Station here along with a little church, small museum, post office, several old partially sunken whaling vessels and maze of rusting structures and wooden buildings previously used (now abandoned) in the processing of whale meat, blubber and whale oil. There are about 2 dozen people who work and live here on a temporary contract basis.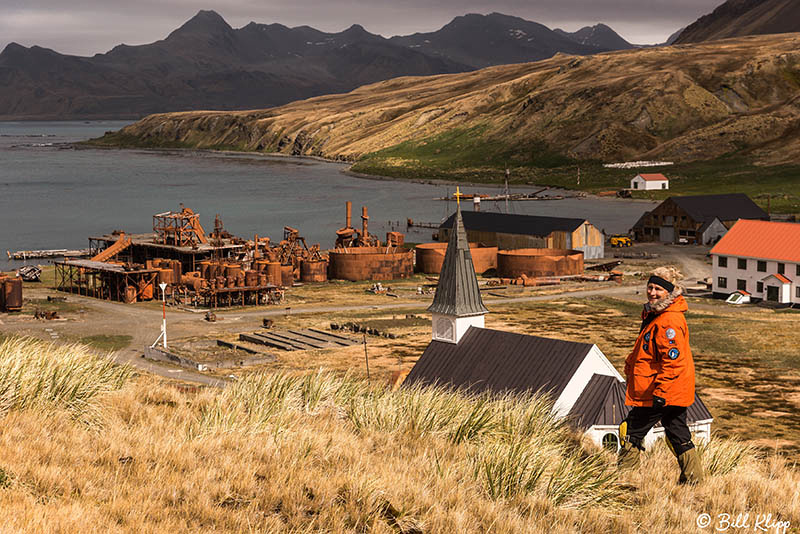 Overlooking the Grytviken Whaling Station
Old Whaling Ship at Grytviken Whaling Station, South Georgia Island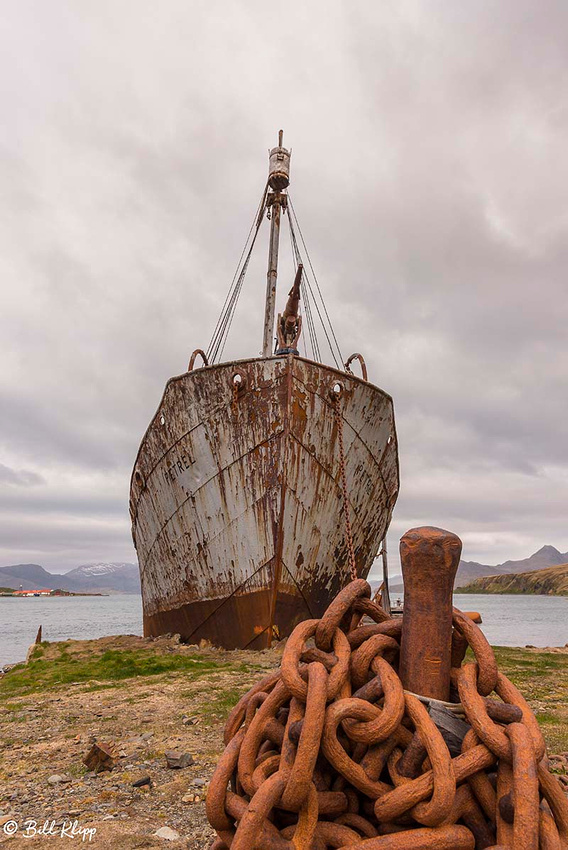 Looking out the small Museum's window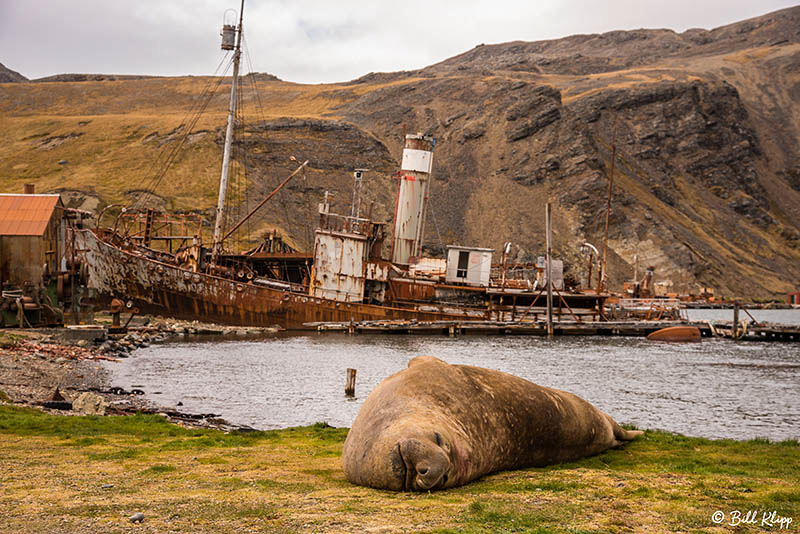 Gathering at Grytviken Cemetery for a special memorial service and whiskey toast to the "Boss" Ernest Shackleton at his grave site.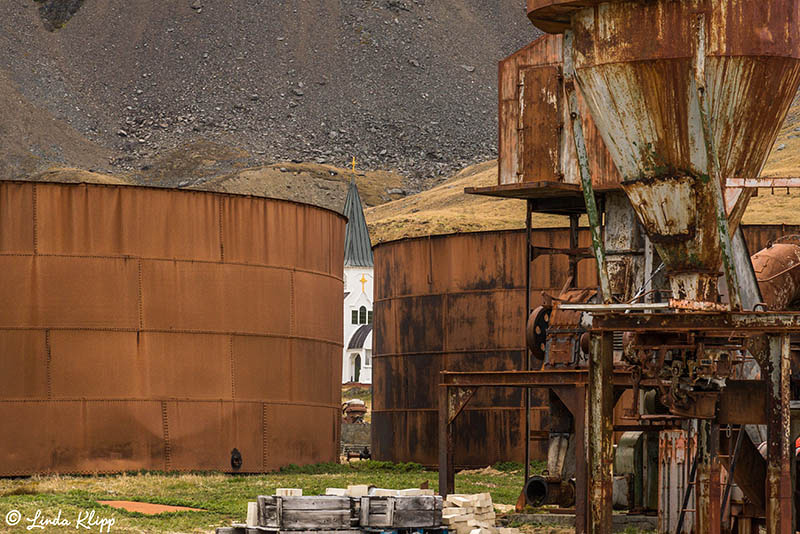 St Andrews Bay is another favorite spot, home to the largest breeding colony of King Penguins with over 200,000 pairs. The colony is nestled in a valley at the base of a glacier. In addition this is home to Gentoo Penguins, Elephant Seals and Fur Seals.
King Penguin paradise, St Andrews Bay
"He Saw / She Saw"
Sometimes when Linda and I out shooting in the field we see the same thing but from a different angle
"He Saw / She Saw"
Getting down low creates a unique photographic angle
Crossing the river is not always easy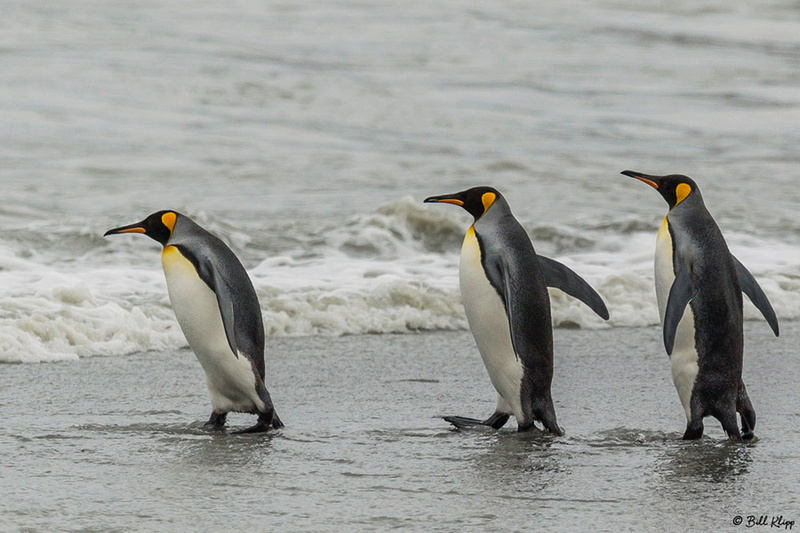 After lunch the ship cruised a short distance to Prion Island where the giant Wandering Albatross breed. Magnificent sea birds, the largest on earth with 12 foot wing spans weighing in at 25lbs. We were lucky to get permission to land here as very few are allowed to. It is so restricted that we must visit the island in several shifts to limit the number of people ashore at any one time. Once on shore we again had to transverse thru the Fur Seal maze on the beach to a wooden boardwalk and a 200 stair climb to the hill top for a viewing platform to see the Wandering Albatross chicks which are gigantic. The walkway was constructed by the South Georgia Govt to provide researchers access up the treacherous hillside to monitor the nesting sites.
This walkway was built by the Researchers to access the Wandering Albatross nests
Wandering Albatross chick
Mating Brown Skuas
The gorgeous Snow Petrel
These nasty guys, Giant Petrels, are fighting over a seal carcass
Being chased off the carcass
Headed South to Antarctica
Well now it's time to head south to Antarctica, and we are starting to see some ice. As we leave South Georgia we have a 2+ day sail to Elephant Island our first stop in Antarctica. This can often be a fairly rough sail as we head south and west into some of the stormiest seas on the planet. Since we picked up some extra time on the front end of the trip the Captain and Expedition Leader decided we could make a short stop at the remote South Orkney Islands for some zodiac exploration. Not many ships stop here as it's a bit out of the way and the last time this ship stopped here was about 10 years ago. The islands were discovered in 1821 by two sealers. Due to the strong winds upon our arrival the ship headed for the more protected Sandefjord Bay on Coronation Island the main island. We were met by some snowy, windy choppy seas, icebergs, some gorgeous scenery and a large colony of Chin Strap Penguins with 120,000 animals and a smaller group of Adelie Penguins.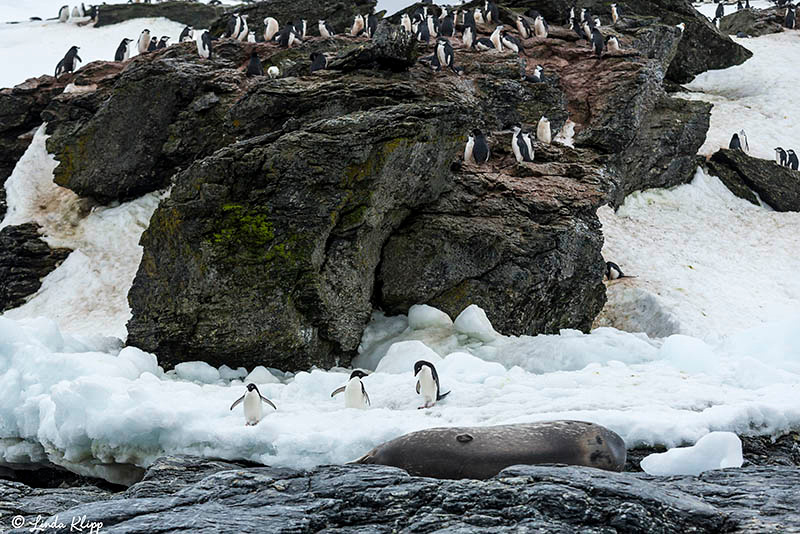 Chin Strap & Adelie Penguins nesting along the rocky shoreline
Chin Strap Penguins
Chin Strap Penguin at Sandefjord Bay
Click above photo for Sandefjord Bay short video
Adelie Penguins and their fun personalities are one of our favorites.
Adelie Penguins at Sandefjord Bay
Chin Strap Penguins at Sandefjord Bay
Chin Strap Penguins at Sandefjord Bay
NEXT STOP "The Land Of ICE", ANTARCTICA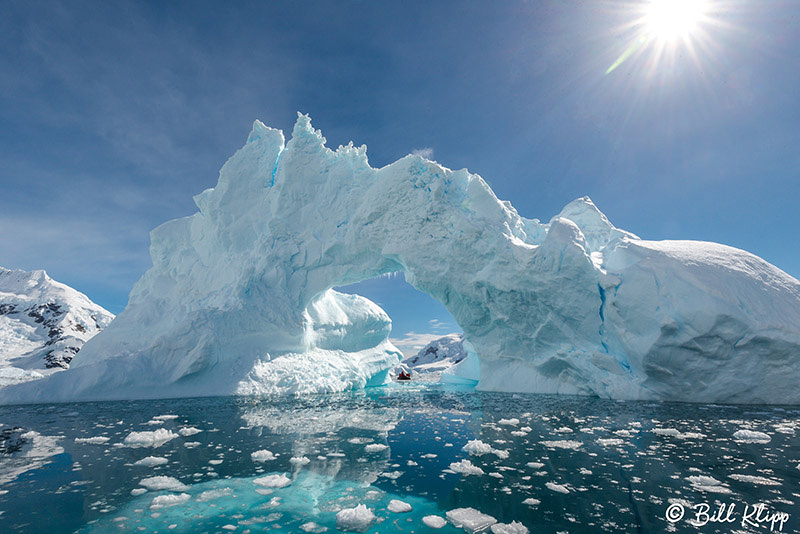 Stay tuned for my next blog installment of "Antarctica Wanderings V" where I will share images from the "Land of Ice", Antarctica our ultimate destination.
If you Missed "Antarctica Wanderings" Part III visit: South Georgia Island Part 1
For more photos visit Bill & Linda's photo website: http://WildlifePhotos.me
© Bill & Linda Klipp 2017, All Rights Reserved
Check out our online Photo Website at: http://www.wkimages.net & http://www.videos.wkimages.net /
* Any use of these images requires the prior written permission of Bill Klipp the photographer, no other uses of any kind including print or electronic are permitted without the prior written permission of the photographer.