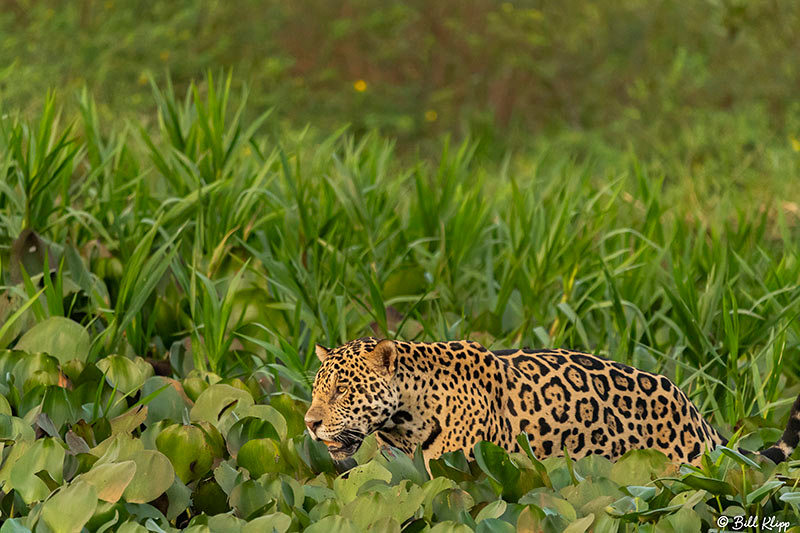 Part II of a two Part Series of our recent trip to Brazil's remote Pantanal region

After a long bumpy, slippery 6 hour drive down the Transpantaneira Highway the road finally came to an abrupt end at the edge of the Cuiaba River. It is here at the Port Jofre Hotel an old fishing lodge that would be our base for the next 5 days as we explore the local rivers and creeks by small boat. Each morning began with an early breakfast then before sunrise the 6 of us along with our Guide Alyson and our boat driver would hit the river exploring for about 6 hours, returning to camp for lunch and to escape the mid-day heat before heading out again mid-afternoon into early evening. While the mornings were a little chilly we had expected some pretty intense daytime temperatures and were not disappointed with 100 degree highs with no shade. Glad we brought our Kenyan Kikoys to keep us cool but our only real relief was when we were cruising along the river catching a breeze. We had expected the area to be very buggy but other than the annoying biting flies it wasn't very bad at all.
Yacare Caiman
Giant River Otters are very sociable animals and often live in groups of up to 20 individuals. A group of Otters is called: bevy, family, lodge or romp
The mornings on the river were a bit chilly
But by mid-morning it had started to heat up. On one of our African Safaris our Guide introduced us Kenyan Kikoys. Essentially a cotton scarf which we soak in cold water which then acts as a personal air conditioner as the water evaporates. They work great proving a few hours of cooling as well as a sun shade or even bug protection.

Click above photo to see video: "Headed out on the River" To search for Jaguars we used small boats to explore the rivers out of Porto Jofre in the Northern Pantanal. Our friend Bud took a short video of us heading out one morning
Jaguar Karma, an awesome beginning
Linda and I often feel we have some sort of wildlife karma and it played out today on our first day on the river. 50 minutes into our first morning on the Cuiaba River we found a Jaguar stealthily hunting a Caiman (unsuccessfully) along the river shore line. A couple of hours later we had another Jaguar encounter as the big cat stole a fish from a Cocoi Heron. After lunch we quickly found two more Jaguars on a riverside beach where we spent 2 ½ hours observing and photographing them from about 30 yards away. The highlight was a seldom seen interaction between a male and female. Four Jaguars up close, and its only day 1. What an awesome beginning to our trip.
Sometimes the Jaguars might seem to just be wandering along, but make no mistake they are constantly on alert. A large bird caught this one's attention as he moved along the top of the river bank.
We saw a small Caiman in the water ahead of the Jaguar, and it did not escape his notice.
Two quick leaps and he was in the water
Notice the splash on the lower left! It's the Caiman making a quick escape to deeper waters
Better luck next time
Cocoi Heron is the most common and easy to see heron, as it forages in the open, and occupies a large range of habitats where there is water.

Cocoi Heron taking flight

Plover with a worm
Green Kingfisher telling us which way to look
Giant River Otters are in the Mustelids family which include weasels, badgers, martens, and wolverines
Jaguar working it's way down the shoreline looking for Caiman
When tracking a Jaguar on the move we would often position the boat further up long the river to intercept it at key locations. This time we came across a Cocoi Heron who had just speared a fish. Being opportunistic the Jaguar took off after the Heron who dropped the fish which turned out to be a nice snack for the Cat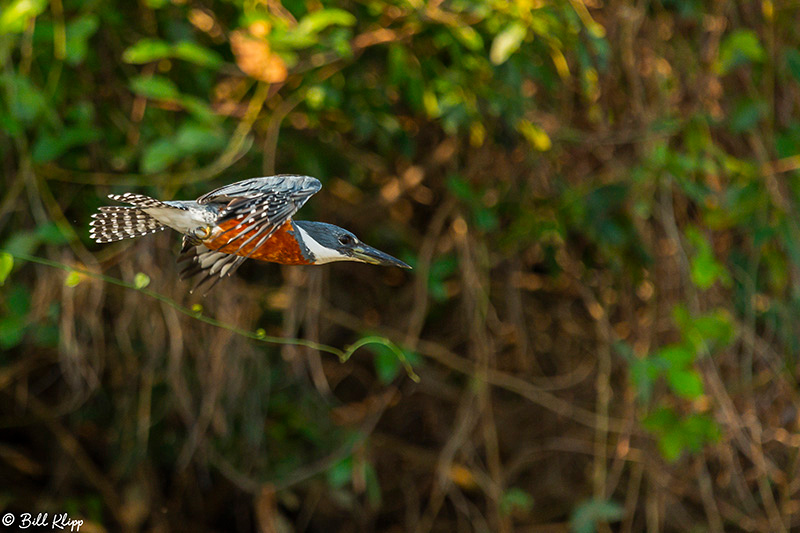 Ringed Kingfisher taking flight. One of the larger and very noisy of the Kingfishers
Adult Tiger Heron hunting for fish
Lounging on a beach

We were watching this guy for well over an hour as he hung out on the beach near some Black Skimmer nests which got the birds all upset as they periodically would dive bomb the Jaguar
Black Skimmer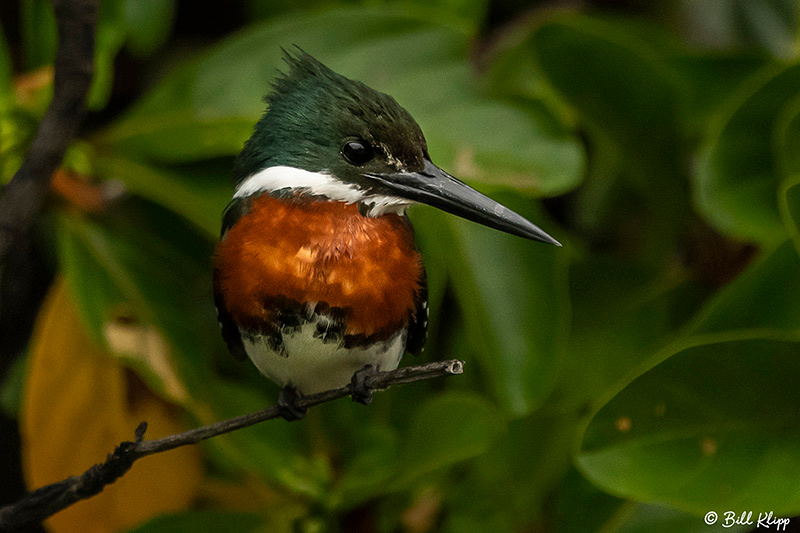 Little Green Kingfisher watching the waters for fish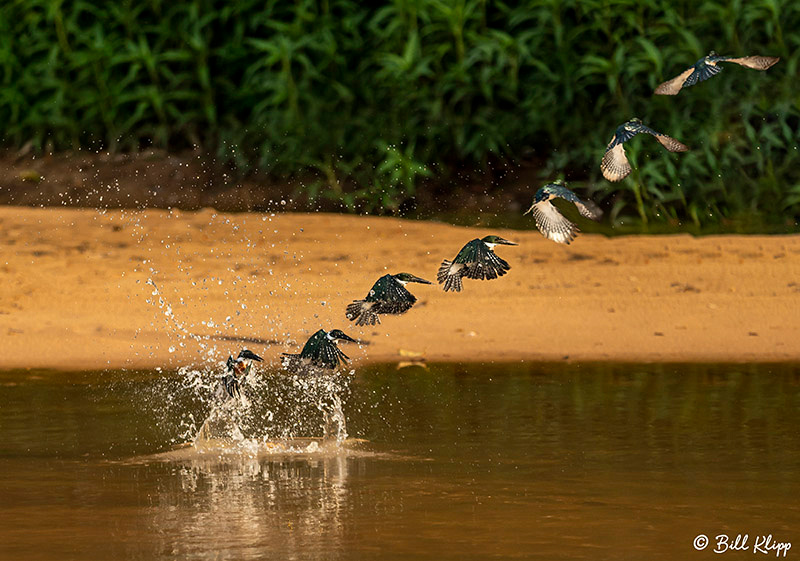 Diving for Fish
We were anchored in our boat for several hours watching a Jaguar on the beach when I noticed a little Green Kingfisher diving for fish about 50 meters from us. I locked my camera focus on the water where he was diving and waited for 20 minutes for his next dive. I tracked him as he screamed down from the tree top crashing into the water. My pre-focus helped me capture a nice 11 frame sequence as he emerged from the water returning back to the tree top in under 1 second, unfortunately without a fish.
In the distance across the beach we saw a female Jaguar headed our way
They slowly checked each other out, the male hoping to the female would be receptive
They did some play fighting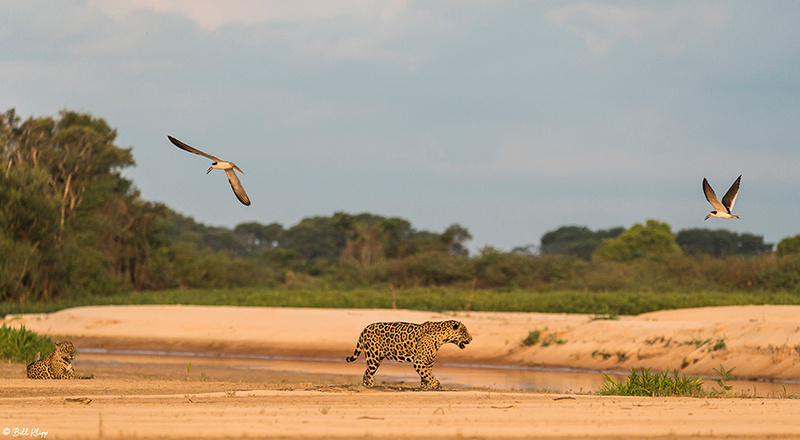 In the end she wasn't interested so the male wandered off, upsetting the Black Skimmers again
A Japanese film crew was onsite filming the Jaguars
We were often able to get up real close to the wildlife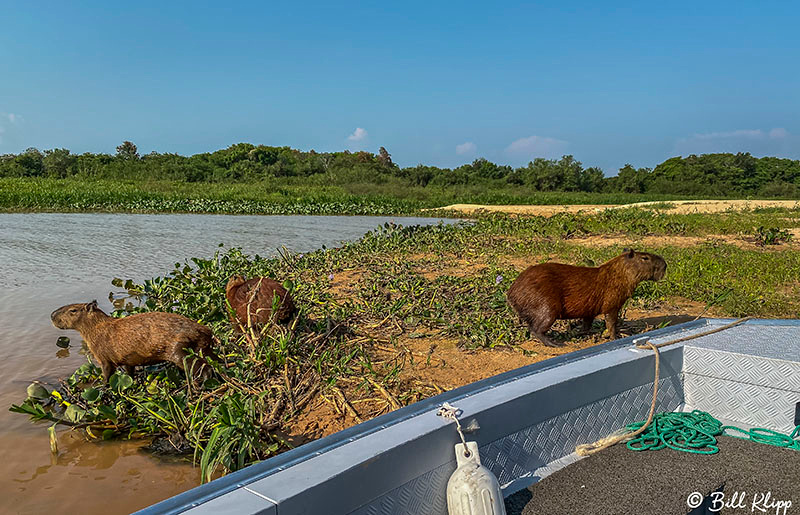 Yesterday we found two Jaguars on this beach. Today we found a few Capybaras there. What we are missing is them both there at the same time. Capybaras are the largest rodents in the world reaching 70-140lbs. I'm told they are good eating.
It is now in the dry season that all sorts of wildlife concentrate along the river edges making access and photography much less challenging than shooting in the dark jungles of the Amazon or Costa Rica. The rivers rich with fish and other life provide a virtually feeding buffet for all sorts of mammals, birds and reptiles. As we cruised the rivers for many miles seeking Jaguars we would stop often to photograph the many other creatures which seemed to be around every turn.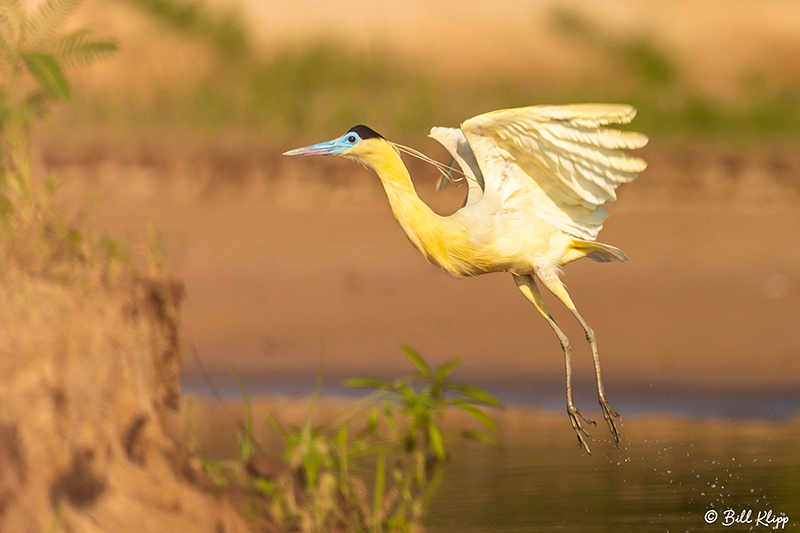 Black-Capped Heron, one of the most beautiful of the Herons

Black-Collared Hawks typically perch above shallow pools or marshes and drop onto prey such as fish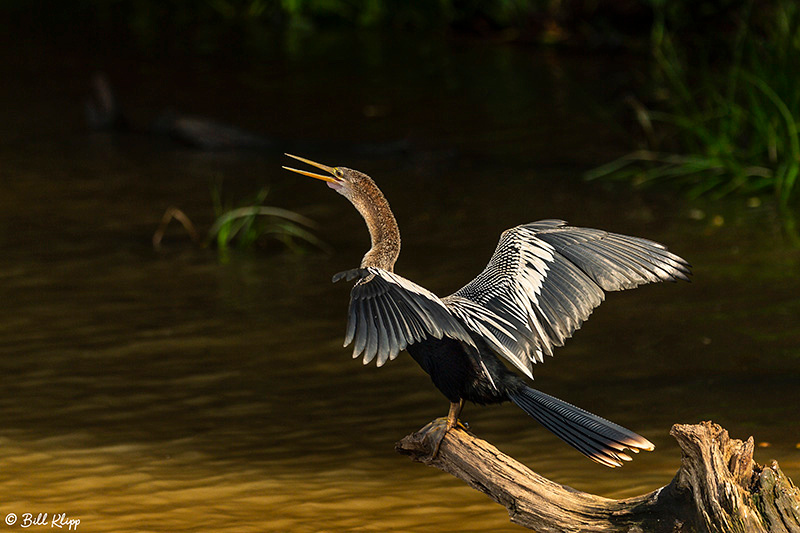 Anhinga sometimes called Snakebird or Darter is a water bird of the warmer parts of the Americas. The word "anhinga" comes from the Brazilian Tupi language and means devil bird or snake bird.

The light tan coloring of the Pampas Deer allows it to perfectly blend into the surroundings
Southern Caracara taking a drink but always watching it's back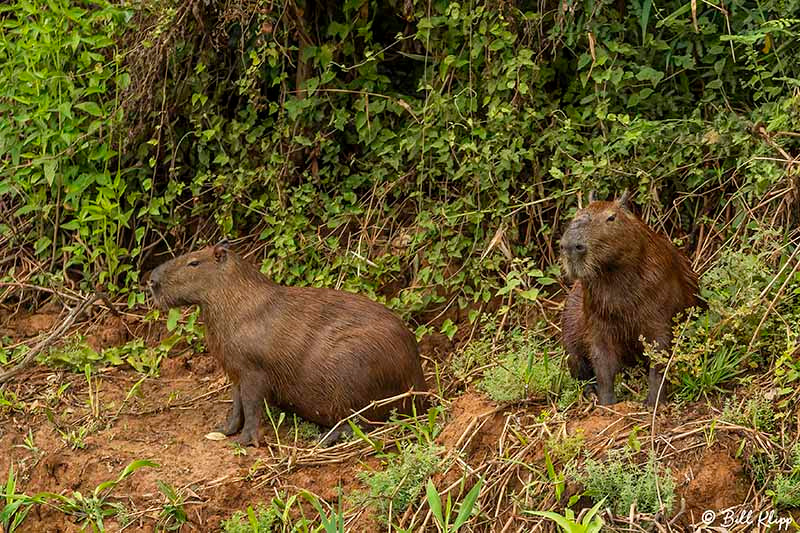 Osprey are fairly common raptors that live near fresh or salt water and can be found from Alaska to Argentina
Coming in close on a Caiman
Yacare Caiman were once heavily hunted for its valuable skin but now protected, they are found in incredibly large numbers within the Pantanal. They are similar in appearance to the Spectacled Caiman, and reach a maximum adult length of 10 feet. Their smaller size makes them a favorite prey of Jaguar and Anaconda.
Click above photo to see our video: "Cruising the Cuiaba River"
While Jaguars roam from Mexico to Argentina they are normally very elusive and difficult to see in the thick jungle like habitats they usually inhabit. The rivers of the Pantanal however offer a unique opportunity to see these magnificent cats active in daylight as they move and hunt along the river edges. The area around Porto Jofre is remote and difficult to get to and for many years was visited only by a few locals and adventurous fishermen seeking an exotic fishing location. Over time the fishermen ignored the Jaguars and vice versa and like the indifference many African animals show towards safari vehicles the Jaguars got used to the presence of boats in their eco-system. So a few years back some of these fishing lodges and camps expanded into eco-tourism with local wildlife viewing and particularly Jaguars being a highlight.
Bats
Jaguars have always been my favorite of the Big Cats although I had never seen one in the wild. That changed big time this week as we had 17 different Jaguar encounters some for 2- 3+ hours at a time with 10 different animals. Jaguars are typically known to be one of the most elusive of the big cats although here like no-where else the Jaguars of the northern Pantanal emerge from the forests in the dry season onto the river banks to hunt for Caiman (South American Alligator), Capybara (world's largest rodent) and other creatures. Unlike Lions and other big cats which spend a lot of daylight hours sleeping all of our Jaguar encounters were with very active animals.

We saw a Jaguar headed our way so we tucked the boat into the weeds. Turns out we ended being about 25 feet from her
A small group of Giant Otters Swam by peaking the Jaguars' interest
These guys were swimming along at a fairly quick pace, diving periodically and pulling up one fish after another
While most Cats avoid water Jaguars do not avoid water but as very good swimmers they use water to their advantage, to cool off, to make easier passage and to hunt. The river areas of the Pantanal provide ample prey including; Caiman, Capybara, Fish, turtles, Anaconda, Deer, Tapirs and Peccaries to name a few. This abundance of food has resulted in the Jaguars much larger than those in Mexico and Central America. Due to their size and weight they are not as good climbers as Leopards, but they will climb trees on occasion to rest or ambush prey. Like all cats (except Lions) Jaguars are loners except when mating or caring for their young and live in defined marked territories of many square miles. We did however come across a pair of brothers who liked to hang out and hunt together. Jaguars have up 4 cubs who stay with their Mom for 2 or more years learning how to hunt before they are chased off to find their own territories.

These cats are very comfortable in the water and often seem to take a water route. This guy was swimming across a pretty wide stretch of river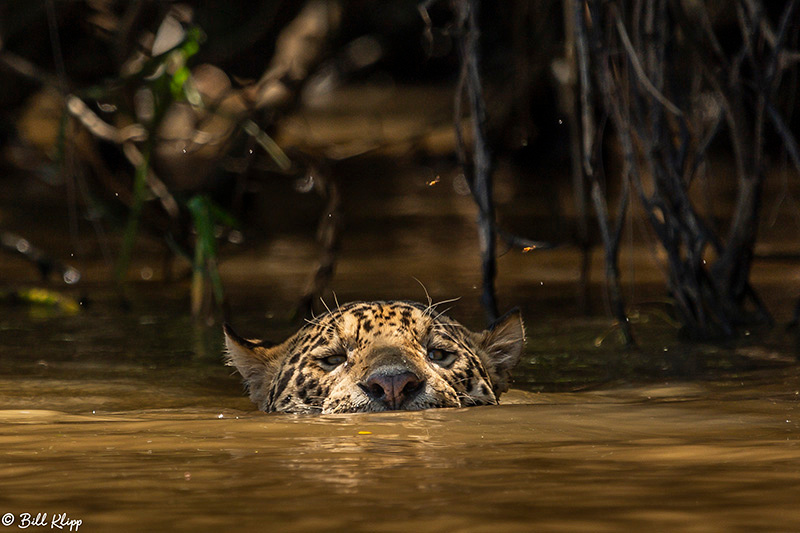 After Tigers and Lions, Jaguars are the 3rd largest of the cats and the largest in the Americas, with body lengths of 5-6 (plus 3 foot tail) and weighing sometimes over 300lbs. Like other cats they live 12-15 years in the wild. Prominent in ancient Native American cultures the name Jaguar is derived from the Native American word Yaguar, which means "he who kills with one leap." Unlike other Cats which usually grab their prey by the neck these cats go for the skull. They are stealthy ambush predators with an incredibly strong bite easily piercing the skulls of Caiman and other prey. They will even sometimes dip their tails in the water to lure fish and we came across a couple of Jaguars with red/ pinkish tail tips where Piranhas had nipped off the tip of the tail.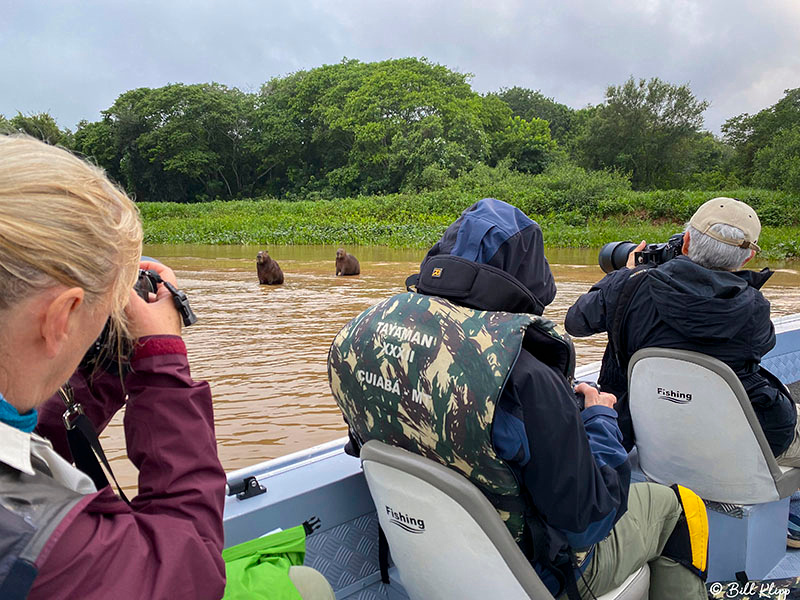 Like many animals knowing their habits and behaviors helps tremendously in finding them and getting into position for a good shot. We had an awesome Guide, Alyson who was one of the original Northern Pantanal Jaguar guides and he knew how to anticipate their movements and behaviors advising our excellent boat driver who expertly got us into position for the best photography. As a boater I can appreciate his skill in the often swift moving and hyacinth choked rivers. I never expected that we would end up shooting well over 8,000 Jaguar photos in 4-5 days. These thrilling encounters with Jaguars far exceeded the many other animals we encountered on this trip.
We spotted 3 Capybaras swimming across the river onto an island where they just seemed to hang out.
We had seen a Jaguar on the other side of the island headed this way, so we anchored our boat to see if anything would develop. While the Capybaras never saw they Jaguar they got spooked and gathered together in a defensive triangle where they had 360' view. Ultimately the sun went down and we left before anything might have happen.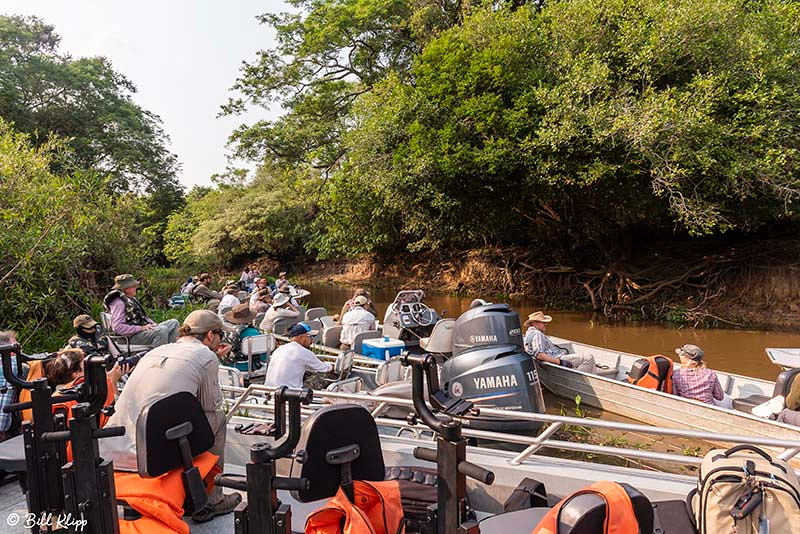 While the upside is the areas around Porto Jofre are rich with wildlife and unique as a Jaguar habitat the downside is in the last few years it has attracted a lot of eco-tourists. The key is to be the first boat to find a Jaguar so you get some alone time with the animal before a dozen or more other boats show up as the boat drivers are in constant contact with each other sharing news of sightings. To my surprise the Jaguars mostly totally ignored the boats and the clicking cameras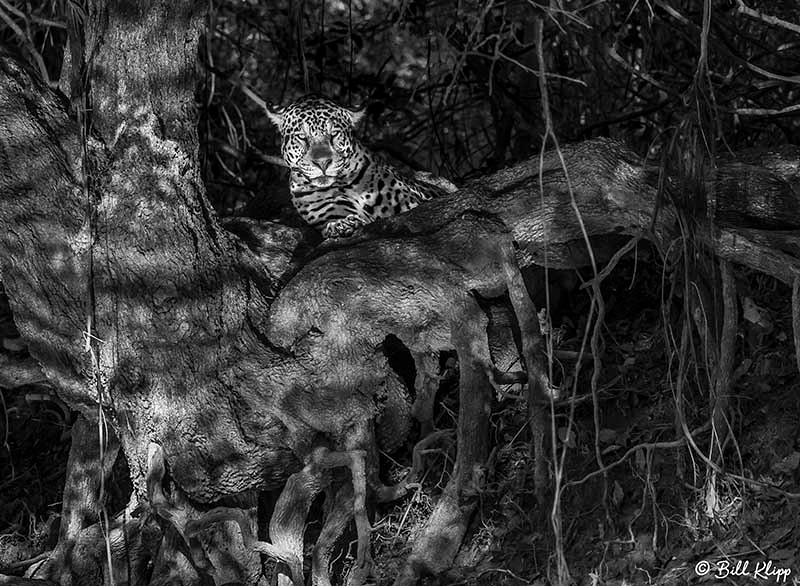 It's a small world -- You never know what you might find on the river in the Pantanal. We just bumped into a friend and one of our favorite Lindblad Naturalists and Wildlife Photographers , Carlos Navarro, who was leading another group out of Porto Jofre.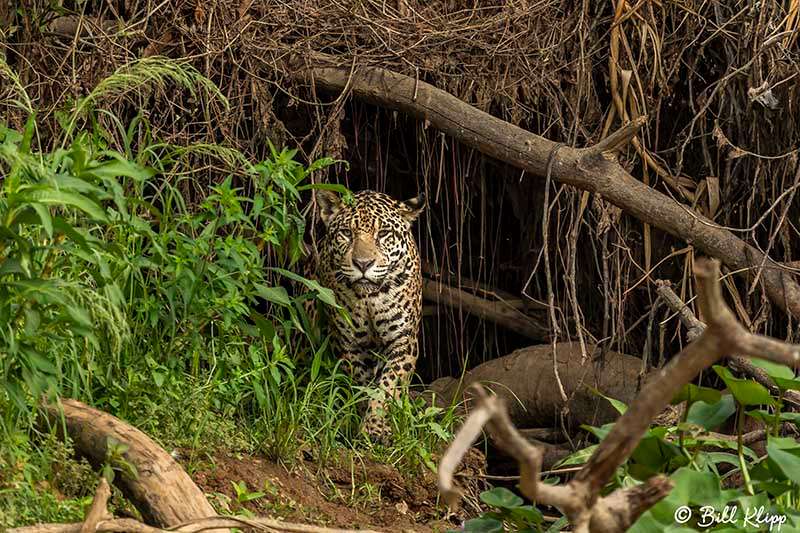 We were following this guy along the river when he joined his brother. An unusual situation for normally solitary animals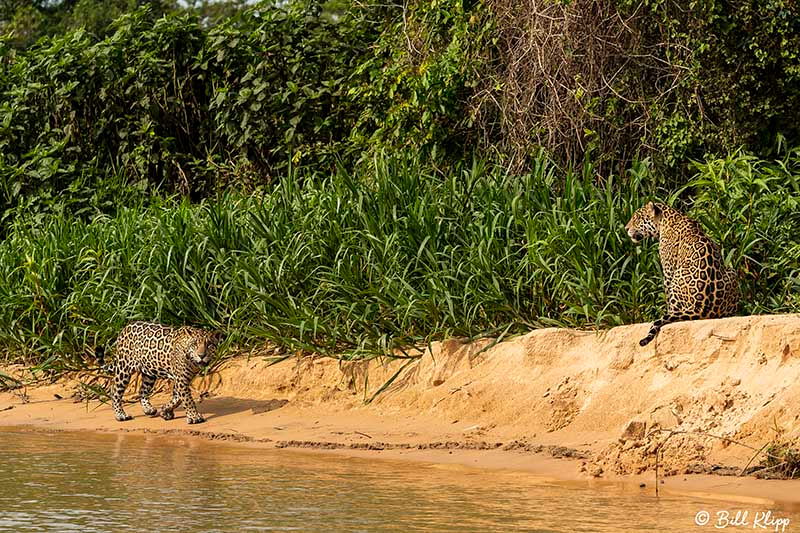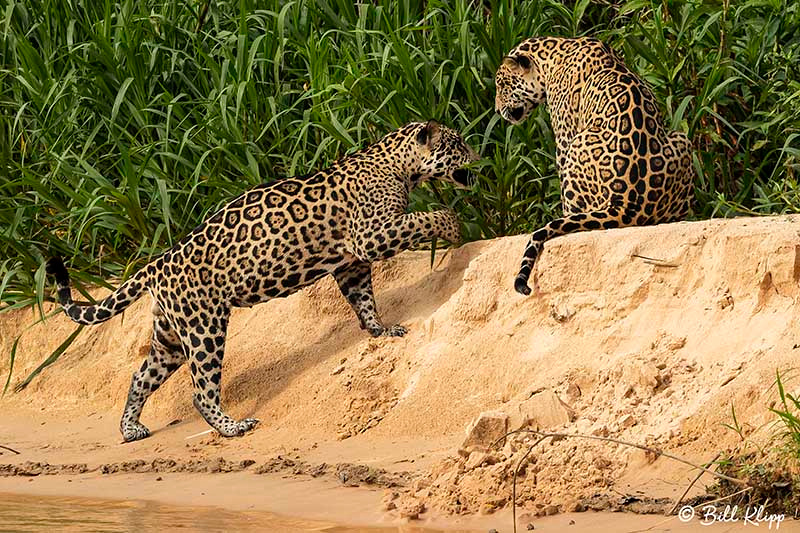 Until you see them being hunted its hard to believe that these South American Alligators are the favorite prey of Jaguars in the Pantanal. Check out the next video
Click above photo to see short Nat Geo video: "Jaguar Attacks Caiman", its pretty cool.
While my hope was that we would find a scene like the video above. We did not. We did however get see a number of Jaguars in hunting mode and even leaping off the river bank a few times only to miss the Caiman they were after. Very exciting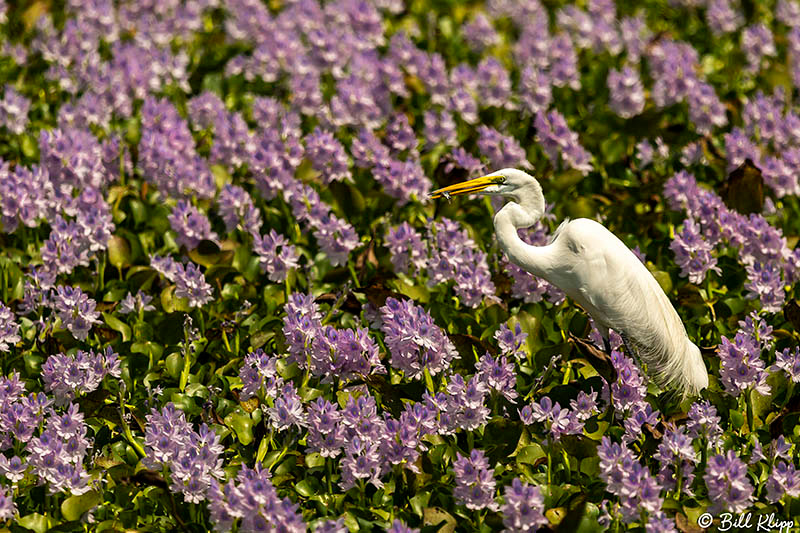 Great Egret with fish in Hyacinth pond
Capybara
Blue & Yellow Macaw
While Jaguars were our target species our photo expedition in the Pantanal yielded a number unique mammal species. After leaving the River at Porto Jofre we spent a couple of nights at Araras Ecolodge in the dryer Savanah regions of the northern Pantanal.
Green Kingfisher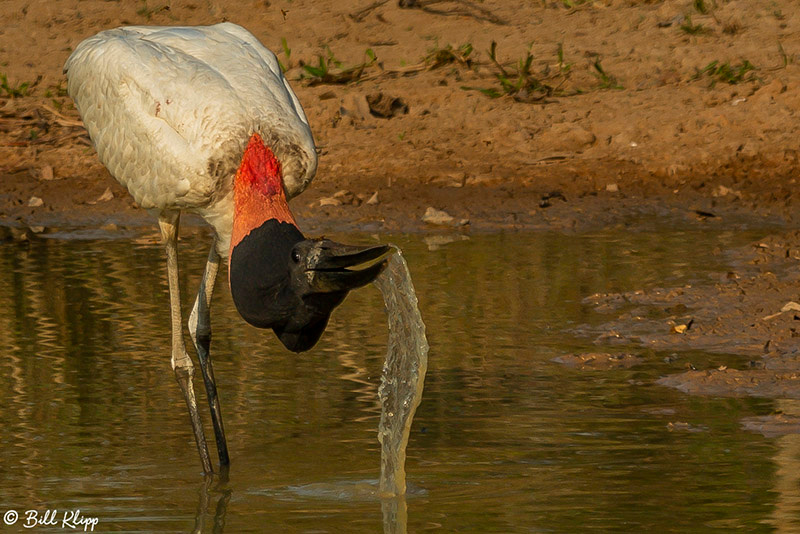 Jabiru Storks feed on many types of aquatic animals, including fish, frogs, snakes, insects, young Caiman, crabs and turtles. When feeding they move about actively in shallow water, splashing with their bill to flush prey.

Muscovy Duck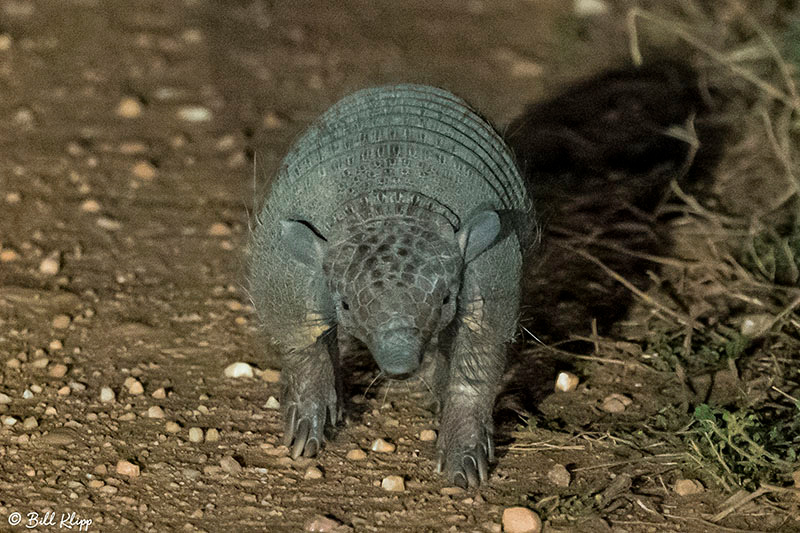 Yellow Armadillo
Coati
Hooded Capuchin Monkey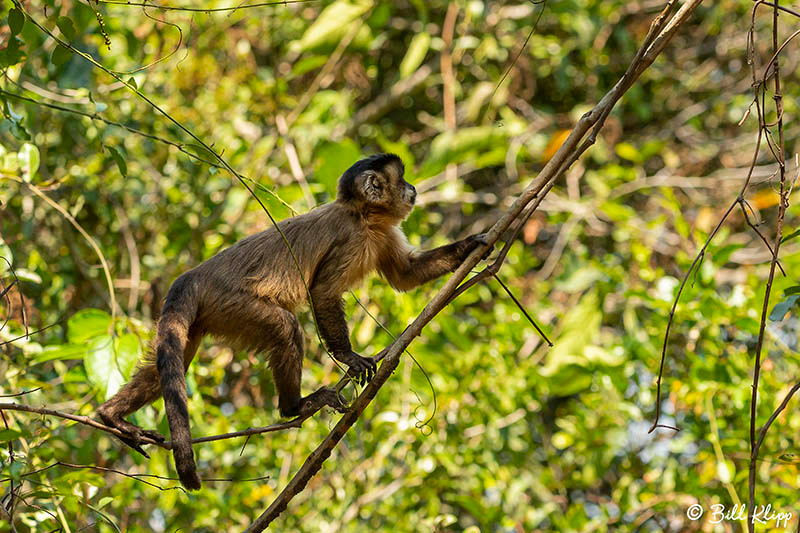 Hooded Capuchin Monkey
Tiger Heron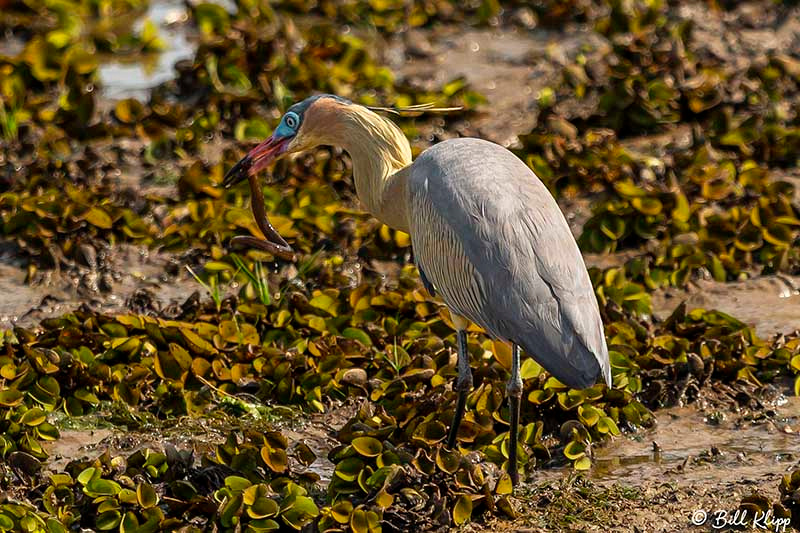 Whistling Heron with a worm or eel

Click above photo to see our video: "Canoeing in the Pantanal"
If you missed Part I of "Pantanal Wanderings" click here:
"Journey to Brazil's Remote Interior"

For more photos visit Bill & Linda's Wildlife website at: "Wildlife Photos"
© Bill Klipp 2019, All Rights Reserved Bill & Linda Klipp
* Any use of these images requires the prior written permission of Bill & Linda Klipp the photographers, no other uses of any kind including print or electronic are permitted without the prior written permission of the photographer.