(Part IV of "Australia Wanderings" highlights our wanderings on Kangaroo Island "

Kangaroo Island
As we leave the red rock desert ecosystem of Uluru Rock in central Australia our next stop took us to South Australia. We flew into Adelaide only to catch a small puddle jumper plane to Kangaroo Island Australia's 3rd largest island about 70 miles southwest of Adelaide. First occupied by Aboriginals, then intermittently by Sealers and Whalers before the establishment of the Colony of South Australia. Today the island's economy is principally agricultural including sheep and cattle ranching. Eco-tourism is growing in importance given the Island's many nature reserves and protected areas and diversity of native wildlife. It is here our search for Koala in the wild finally yielded some excellent encounters.

Our home base on Kangaroo Island was the Southern Ocean Lodge. Located at Hanson Bay on the Island's south west coast, the Lodge site adjoins both the Flinders Chase and Cape Bouguer / Kelly Hill National Parks so there are lots of different hiking opportunities right from the property.
Not a bad room and view
Morning view from our deck at the Southern Ocean Lodge. The property has 21 luxurious suites strung out along the cliffs overlooking the pounding surf.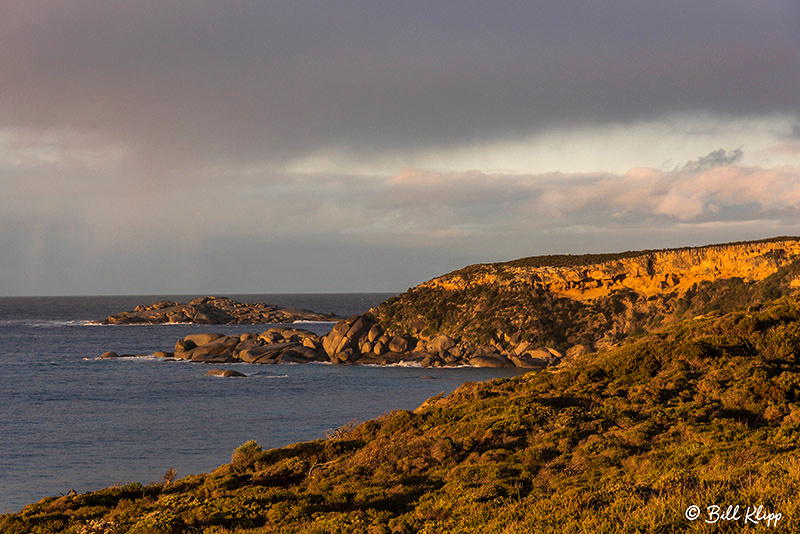 View from our room in the other direction. There are lots of hiking trails, including biking trails along the cliffs and in the woods
Our first full day on Kangaroo Island we did about 12kms of hiking in search of the local wildlife. The morning was bust but we were rewarded in the afternoon after another 6km hike and a river forging we hit the Marsupial Jackpot.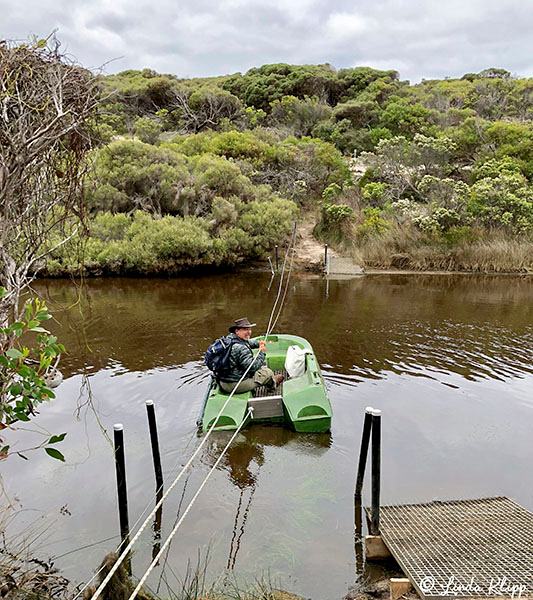 Part of our adventure had us forging a river the old fashioned way, pulling ourselves across with a rope and pulley.
The Ladies pulling the boat back across for their crossing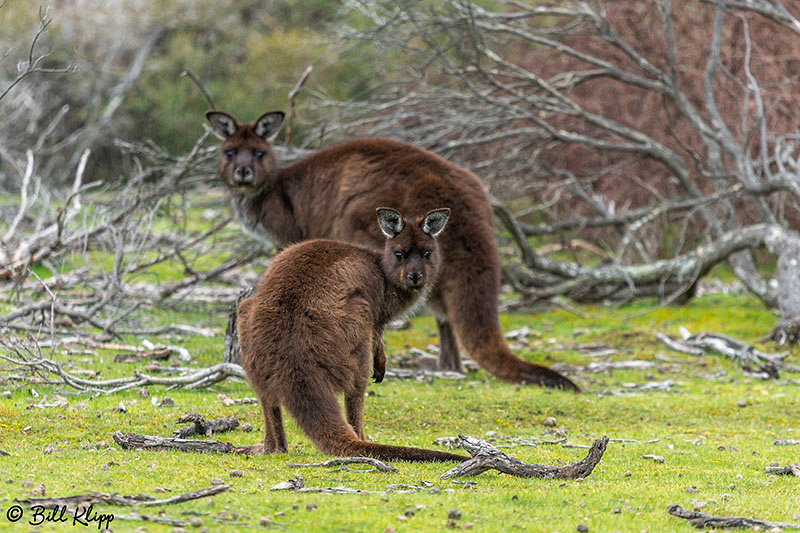 Kangaroos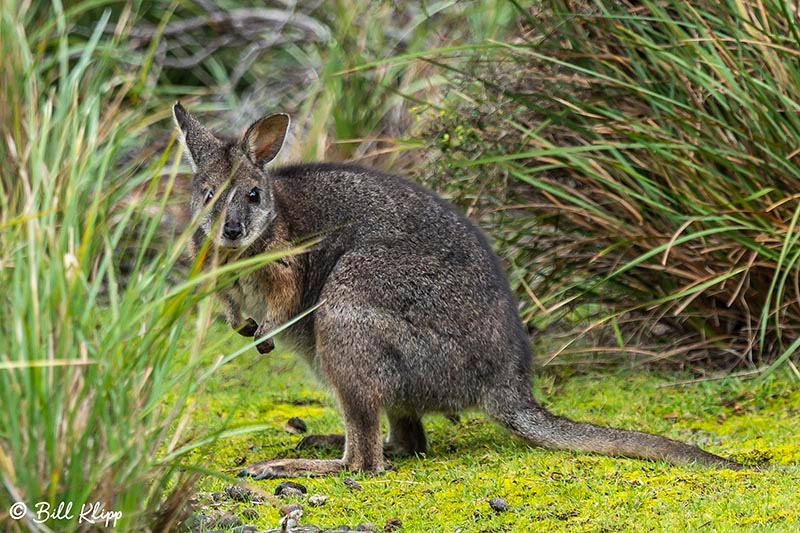 Tammar Wallaby, indigenous to Kangaroo Island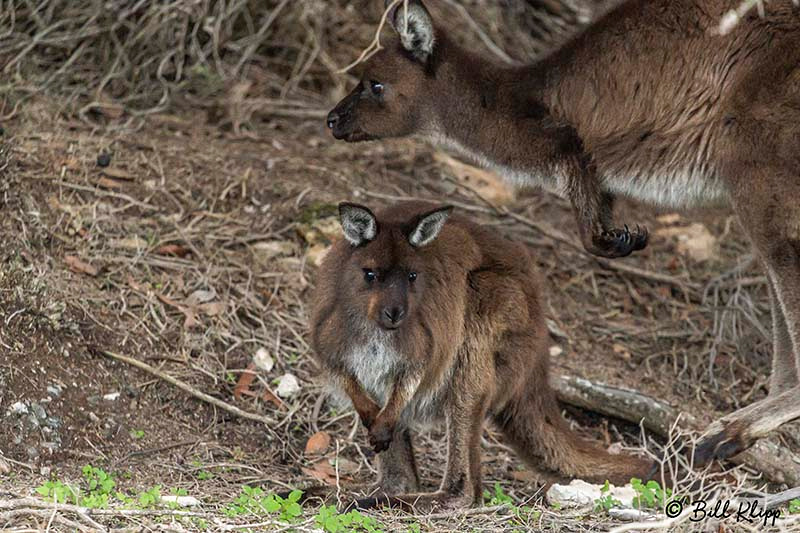 Another target species for our trip was the Echidna. On our hike we came across a big field and as we scanned the forest edge we saw something small starting to run away, it was a Short-beaked Echidna which we slowly snuck up on, ultimately getting really close.
The Echidna is also known as the Spiny Anteater as its main foods are ants and termites. Notice the long sharp claws used to dig up it prey. Their spines are used for protection but it's a myth that they shoot them.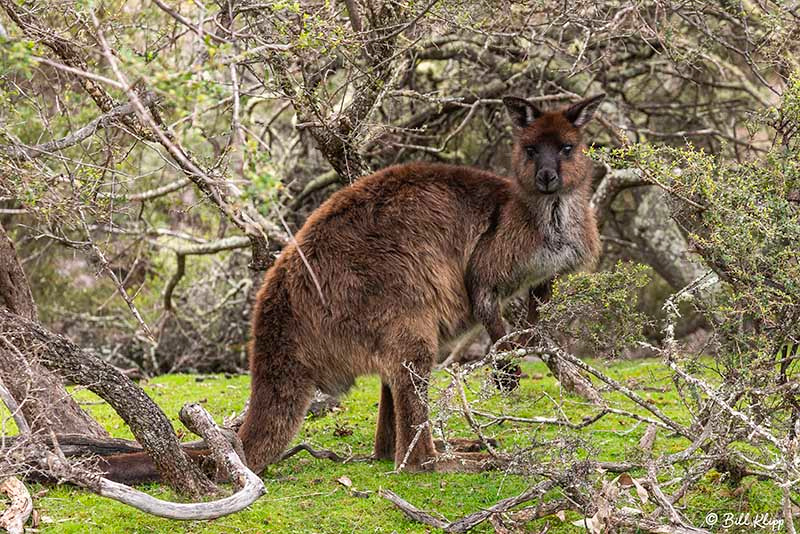 If you moved very slowly you were able to get real close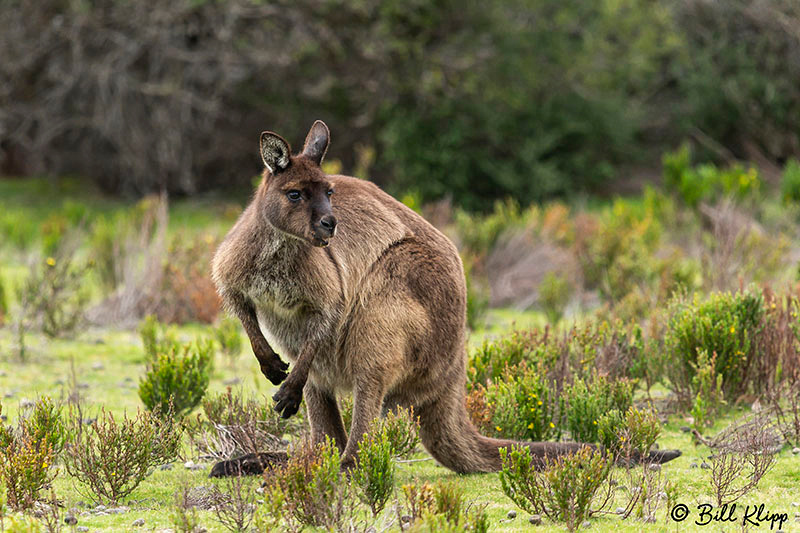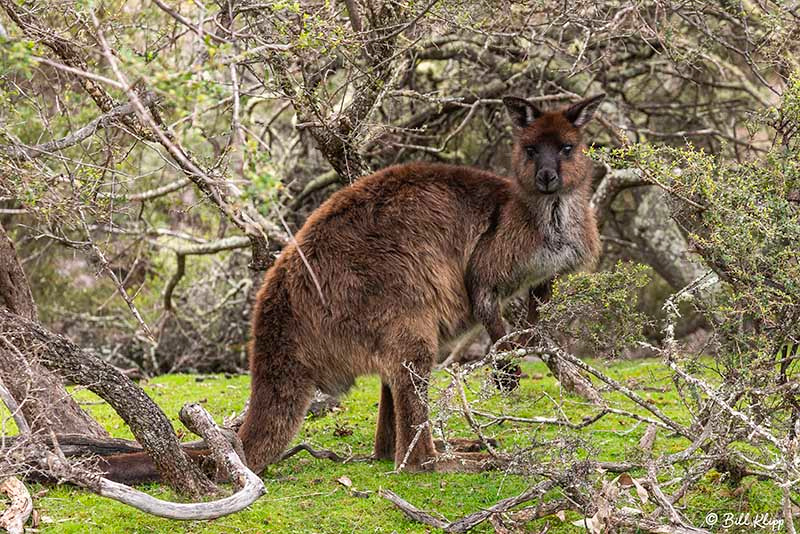 The Kangaroos and Wallabies became very common so the next day I set my focus on the tree tops searching for Koala

SCORE!!!
One of our target species to photograph in Australia was Koala in the wild and after searching day and night in various places throughout Australia we finally found many both in day light and at night on Kangaroo Island.
A little Joey (baby Koala) popping his head out of the protection of Mom's protective pouch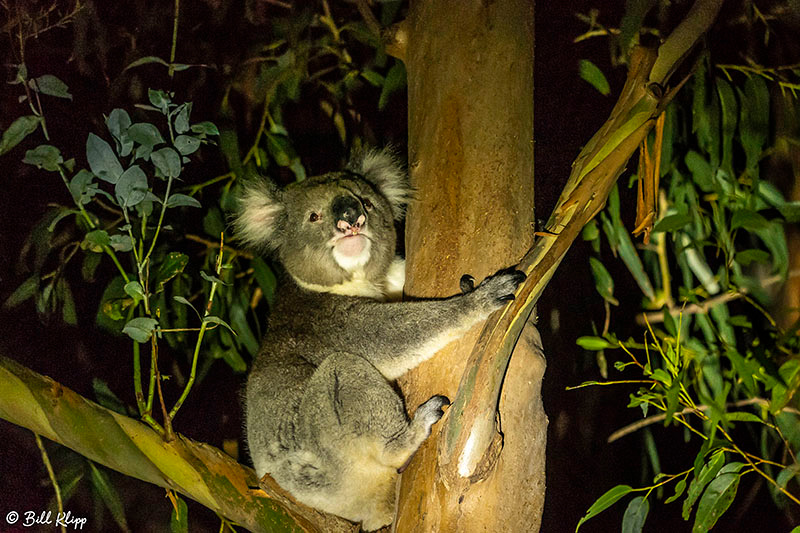 You find these guys in a few very specific Eucalyptus tree species, the leaves of which are their main food source. First step, find the trees then look for Koala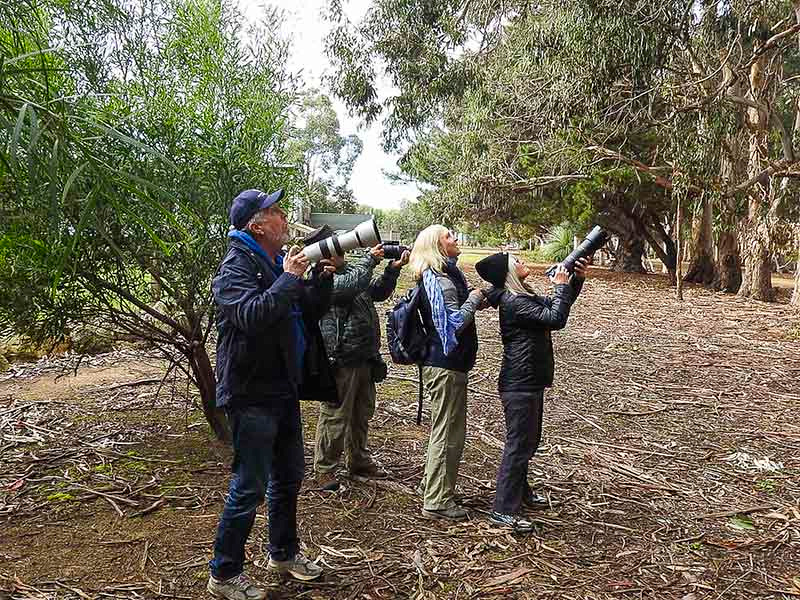 Koala are mostly nocturnal, but we were hoping this one would wake up and give us a look
This road is known as the roller coaster not good if you are prone to car sickness. One day we had a naturalist guide from the Lodge take us for a 1/2 day excursion exploring other parts of the island
One stop was the "Remarkable Rocks", which I must say were quite Remarkable....

White-Bellied Sea Eagle
Another stop was Seal Bay, where you guessed it, there were lots of Australian Sea Lions
Young Sea Lion practicing his wave surfing
New-Holland Honey Eater
Doing what Sea Lions do, spend a lot of time sleeping
Cape Barren Goose is endemic to Australia. These guys live mostly on small, windswept and generally uninhabited offshore islands, but venture to adjacent mainland farming areas in search of food in summer. Their ability to drink salt or brackish water allows numbers of geese to remain on offshore islands all year round.

Kangaroo, notice the Joey's foot sticking out of the pouch
Long-Nosed Fur Seal pup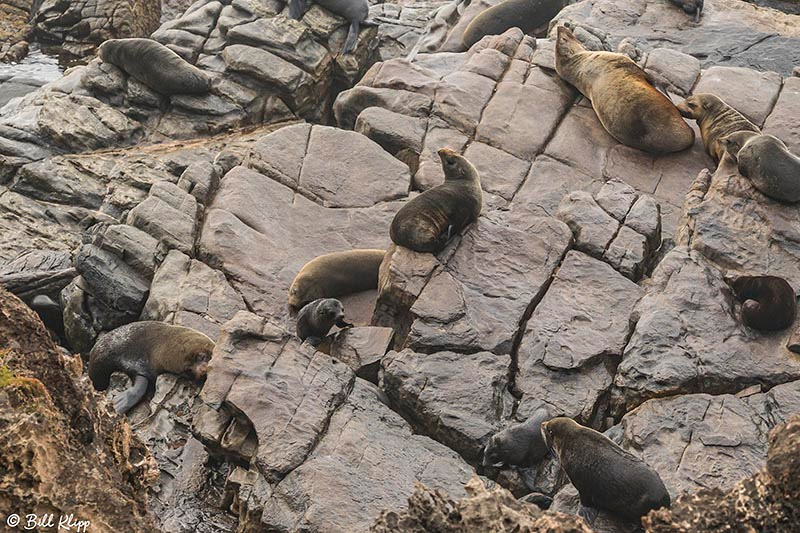 Long-Nosed Fur Seals

Tammar Wallaby, note the large belly. There is a Joey in the pouch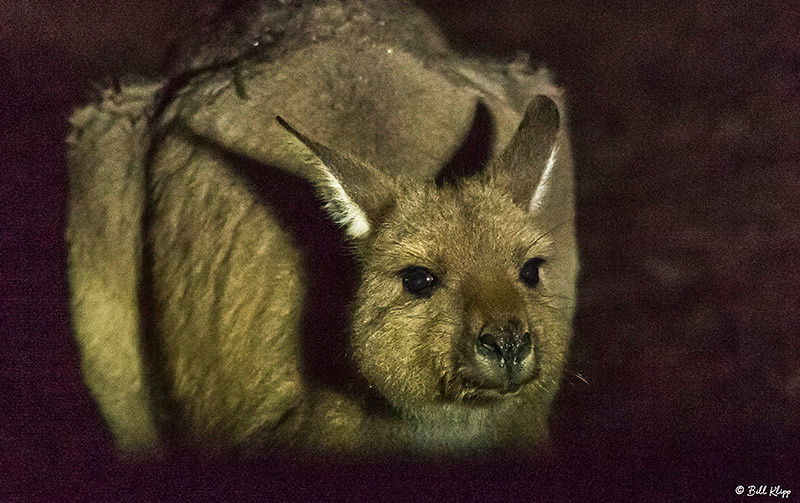 Tammar Wallaby
If you missed Chapters I, II or III of my "Australia Wanderings" blog, click below:
Australia Wanderings I July 2018: "The Outback"
Australia Wanderings II July 2018: "Tasmania"
Australia Wanderings III July 2018: "Lizard Island to Uluru Rock"

For more photos visit Bill's Wildlife website at: Wildlife Photos
© Bill Klipp 2018
All Rights Reserved Bill Klipp
* Any use of these images requires the prior written permission of Bill & Linda Klipp the photographers, no other uses of any kind including print or electronic are permitted without the prior written permission of the photographer.