This June we headed out the British Virgin Islands for a 3 week bare boat charter thru Virgin Traders Yacht Charters on Nanny Cay in Tortola, BVIs. We did a two week charter with them 2 years ago so we thought why not 3 this time. Our yacht was the Rhona a 44 foot trawler.
We begin our 21 day BVI Adventure on Day 1 lounging poolside on Nanny Cay while we waited for our boat to be ready. Had dinner at Peg Legs and we slept aboard dockside which was helpful to get organized and familiar with our boat.

Nanny Cay Marina, home of Virgin Traders our charter operator
Beach at Nanny Cay on Tortola, BVIs
Nanny Cay harbor entrance
Nothing like a tropical sun shower, while sipping a rum punch
Day 2.... BVI 2015 Great Adventure After our 3 hour check out, we took a short cruise across the Sir Francis Drake Channel and spent the day sunning and organizing the boat at the Bight on Norman Island. Beautiful sunny hot day. Got soaked in a night time shower while taking the dingy to dinner at Pirates restaurant.
Prepping the dingy
View from the bridge of our yacht Rhona
The Bight at Norman Island, The "Willy T" in the background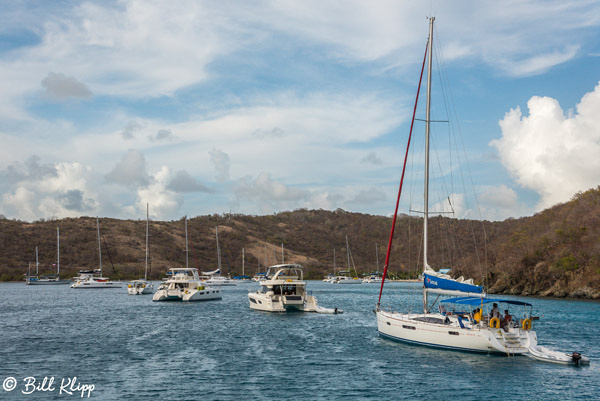 Still pretty busy for June, Norman Island
A welcome fresh water rinse
Day 3 we cruised north over to Little Harbor on Jost van Dyke for a lazy day on the boat. Thinking about having a 2.5 lb lobster for dinner at Harris's
Rhona, Our Boat

Little Harbor, Jost van Dyke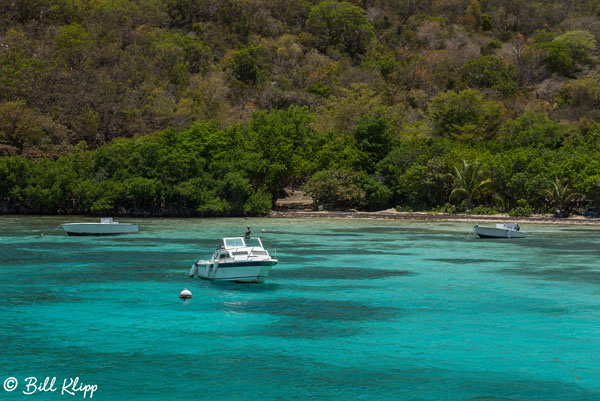 Got to love that water color
Day 3-4... BVI 2015 Great Adventure; Little Harbour & White Bay, Jost Van Dyke
Last night we had dinner at Harris's in Little Habour with the owner the lovely talkative T(S)ynthia taking care of us. Lovely quiet peaceful bay and the best pinocoladas for sure, and our lobster and grouper entres were yummy. Inspite of the south easternlies our night was pretty calm except for the bleating of the goats on the hillside. We let loose of our mooring early for a short run west to White Bay the home of the Soggy Dollar bar on the southwestern end of Jost van Dyke. With very few moorings our hope was to catch one inside the reef when last night's boaters moved on for their next adventure. We scored a nice spot and decided this would be our home for the evening. We never spent the night here and have usually dingied over from Little Harbour but the south easterlies would not make that a fun trip back. So with a dingy full of supplies for the day we headed to the white sand beach on White Bay. This ranks among the top ten beaches we have ever visited. Pull up your yacht, dingy in, swim in, grab a beach chair have some pain killers or a Carib Beer, have some lunch, mind the dingy in the waves and just lounge on the beautiful fine white sand beach, in gorgeous warm shallow aqua colored waters. While hanging in the shallows with our cocktails Linda jumped as she was startling by the little fish nipping at her feet trying to give her a natural pedicures as they pecked at our feet cleaning off the dead skin. Believe me you get used to it and then its fun.
Lobster Dinner at Harris's
White Bay, Jost van Dyke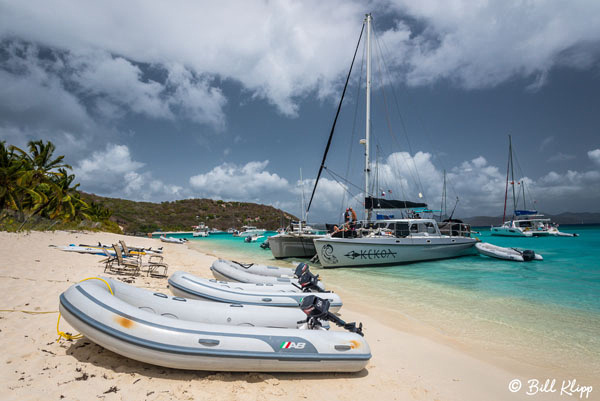 Laughing Gull, White Bay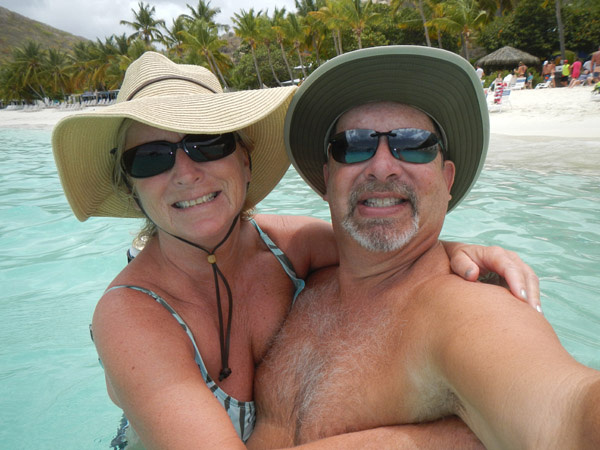 White Bay
Ghost Crab, White Bay
Got to watch out for the crabs
Day 5-6... BVI 2015 Great Adventure White Bay, Diamond Cay and Little Jost van Dyke
A long day in the sun made way for an early evening crash on-board, although we rocked and rolled most of the night there isn't much to complain about. We awoke to another magical morning in a magical place. After a lazy morning in White Bay we headed east along Jost van Dyke to Little Jost and a new beach bar we heard about called B-Line Beach Bar. We grabbed a mooring at Diamond Cay near Foxy's Taboo and dinged over to B-Lines for a few cocktails and lunch. Nice spot to stop for lunch, good view, beach & bar games and excellent food in a classic low key laid back Caribbean beach bar scene. After lunch we crossed the bay in the dingy to check out Taboos as a spot to stop for maybe next week.
B-Lines Beach Bar on Little Jost
Shooting for a free beer
I guess I didn't make the 10 sec self timer
Take Two!, Now that's much better
Pretty sophisticated beer shooting device
That says it all...

Little Jost Van Dyke at B-Lines Beach Bar
Poppy's long lost boat
Foxy's Taboo on Diamond Cay
Like a bad addiction we need ice pretty much daily, Foxy's Taboo
Day 6.... BVI 2015 Great Adventure After Taboos we headed past Sandy Cay onward east along the north shore of Tortola past Beef Island and across the Sir Francis Drake Channel to Cooper Island one of our favorite anchorages. It was early afternoon when we left Diamond Cay and we knew we were taking a risk that there would be no room at Coopers. As we got closer there was a fast motor cat ahead of us and of course they grabbed the last mooring. So being sissies and not wanting to drop an anchor vs grab a mooring ball we decided to continue heading west. It was now 4pmish and we were now late to the mooring party. We remembered Great Bay a fairly sheltered quiet bay on the north side of Peter Island. Great Bay has about 2 dozen moorings here but less than half were taken. There is one bar / restaurant called Oceans 7 there. We opted for diner on board the Rhona with a plan to run east into the wind for the North Sound of Virgin Gorda tomorrow, to position us for a run to Anegada the next day.

Sandy Cay, not much but everything beautiful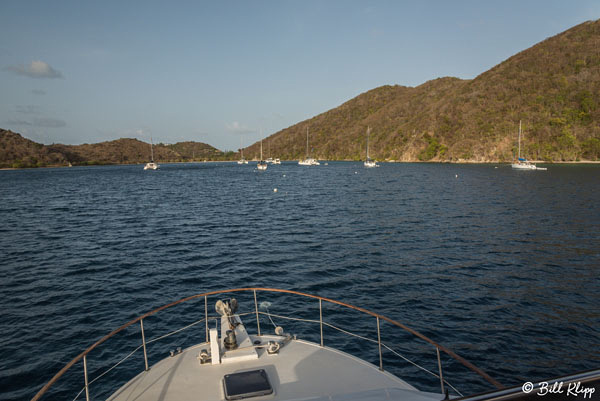 Great Bay, Peter Island
Home for tonight, Great Bay, Peter Island
Day 6/7; Great Bay, Peter Island to Monkey Point Guana Island to Leverick Bay Virgin Gorda
We awoke on day 7 for an early start as we wanted to cruise over to Monkey Point a favorite snorkeling spot off Guana Island. Got there late morning with several day moorings to choose from. Spent a good hour plus in the water with some good fish viewings, then lunch aboard and before heading east to Leverick Bay in the North Sound of Virgin Gorda for the night. Leverick Bay is a nice spot with two restaurants, a pool, small grocery store and a Pusser shop. Had dinner on shore before retiring to the boat.
PS was National Nature Photography Day so I thought it fitting to post some nature shots for today's blog.
Snorkeling at Monkey Point, Guana Island
Parrotfish
Brain Coral
Parrotfish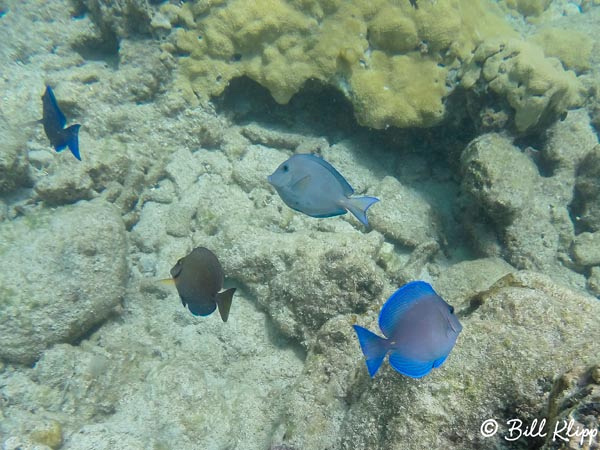 Tangs
Linda trying out her new extended length 5 foot free dive fins. Her first dive was just over 3 minutes and she made it to 160 feet, amazing.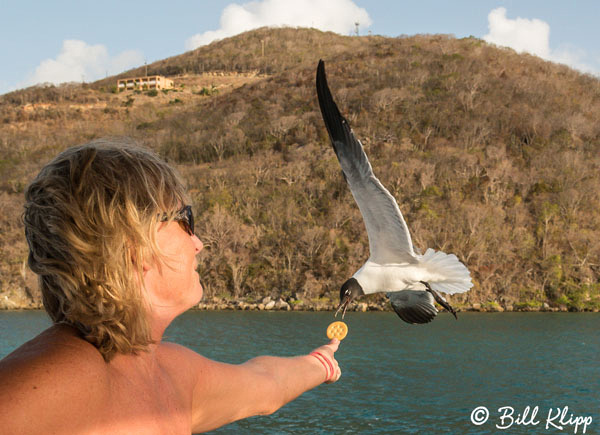 Laughing Gulls "Putting on the Ritz"
Day 7... BVI 2015 Great Adventure As we pulled out of Leverick Bay we stopped at the gas dock or for our free ice and a water top off before our 2 hour run hopefully not too bouncy cruise north to Anegada.
Once we were settled in we headed to shore to check out a dinner spot and inquire about a rental car to explore the island tomorrow. Dinner tonite was conch at Neptunes Treasure.
Anegada anchorage
Anegada anchorage
I hope she doesn't let go!
Anegada like the Florida Keys and the Bahamas is a flat coral island surrounded by reefs and flats in contrast to the rest of the Virgin Islands which are mostly volcanic hilly mountainous islands surrounded by deep water. This is why most BVI charter companies require special permission before you can take one of their boats there.
This sailboat ran aground at the Anegada anchorage and struggled for hours to get free. Lucky it was a clean sandy bottom.
First they tried towing it, Then they tried pushing it, Then they tried pulling it over sideways with a line tied to the top of the mast. We then left for shore, sometime later they broke free.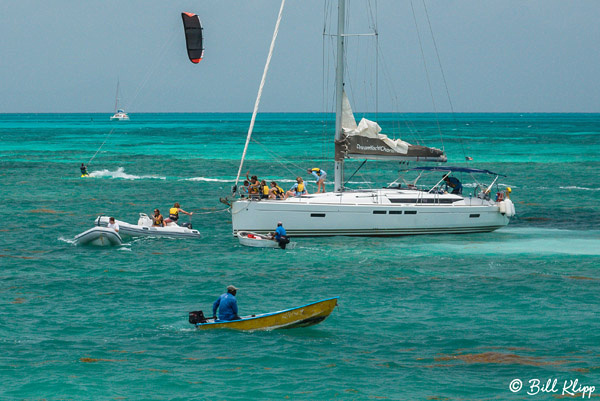 First they tried towing it, Not!
Then they tried pushing it, Not!
Then they tried pulling it over sideways with a line tied to the top of the mast, Not!
Sunset over Anegada a nice ending to week 1. Tomorrow we rent a jeep to explore
the island and do some beach and snorkel time
Our route for Week #1
© Bill & Linda Klipp 2015
Check out my online Photo Website at: www.WKimages.net , www.WildlifePhotos.me or my YouTube Channel at: www.videos.wkimages.net
All Rights Reserved Bill Klipp
*Any use of these images requires the prior written permission of Bill or Linda Klipp the photographers, no other uses or distribution of any kind including print, electronic or internet are permitted without the prior written permission of the photographers.