Week two of our BVI Adventure continues with an exploration of remote Anegada Island (the "drowned Island") the 2nd largest of the BVI islands at 15 square miles. This low lying flat limestone and coral island is know for some of the best beaches in the Caribbean, offering miles of beautiful, uninterrupted white sand shoreline surrounded by Horseshoe Reef, one of the world's largest reefs and responsible for over 300 shipwrecks, it is not surprising that snorkeling and diving are some of the top activities in Anegada, followed closely by dining on fresh Caribbean lobster, conch and seafood. Much of the island is a nature reserve, home to flamingos, donkeys, goats, cattle, and Anegada's unique and rare rock iguana. Bird watchers will also enjoy viewing flamingos, terns, ospreys and herons. Bone fishing enthusiasts will appreciate Anegada's fishing grounds while sports fishing charters are available for wahoo, tuna, kingfish and swordfish.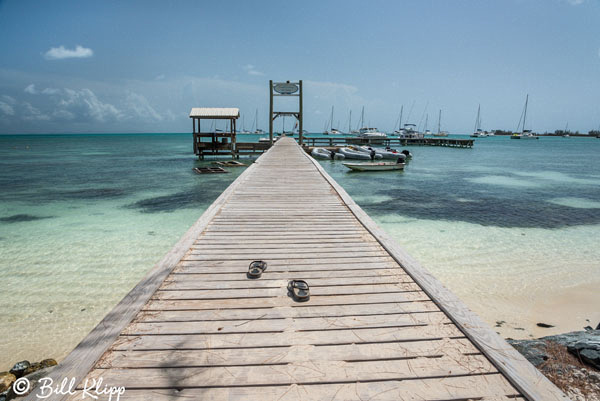 Anegada dingy dock
Day 8; Anegada Island
This morning we headed to shore to pick up a rental car to explore the island. For $60 we got an old junkie Jeep Liberty (with a/c!) for 24 hours. We headed east towards the Settlement on pretty much the only paved road on Anegada. We stopped a few times to go off road to the salt ponds to track down the local Flamingo flock. We only got to see them from a great distance. Next we stopped at the Anegada Rock Iguana conservation center and snuck thru the fence as no one was around. The Anegada Rock Iguana is an endangered animal and the center is breeding them for reintroduction, unlike Key West where we take BB guns to the invasive and destructive Green Iguanas. With an island population of only 250 you don't see many people when you drive thru the Settlement. Next stop was the north side of the island and an afternoon at "Flash of Beauty" on Loblolly Beach. Nice bar restaurant and beach with a cool coral reef with grottos and reef canyons only about 10 meters off the beach. Excellent snorkeling spot and a relaxing beach with only a handful of people.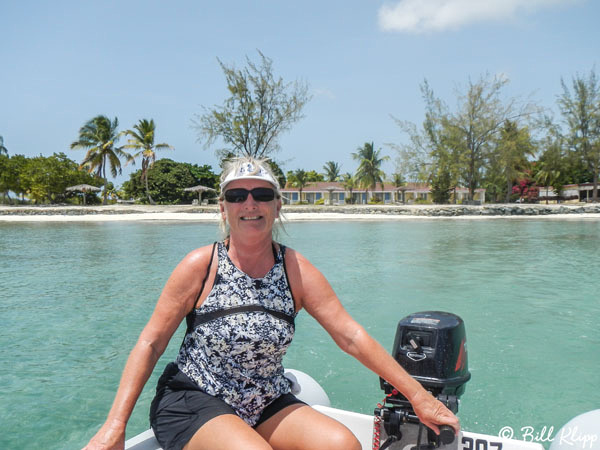 Headed to shore to pick up the car
Critically endangered Anegada Rock Iguana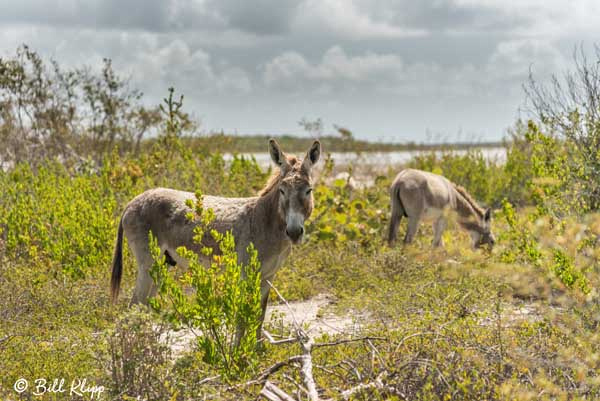 As you wander about Anegada you will see many wild donkeys, goats and cattle.
Flash of Beauty Beach Bar on Loblolly Bay
Anegada hair style
Linda snorkeling the reef with a Butterfly Fish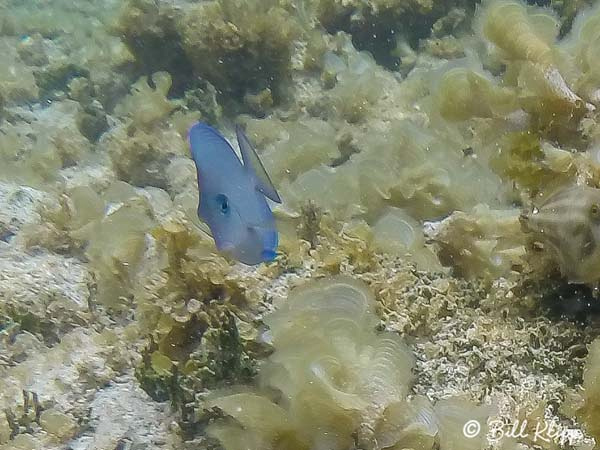 Blue Tang
Smooth Trunkfish
Snorkeling video of reef near Flash of Beauty on the remote north shore of Anegada CLICK TO WATCH
On the way back to the boat we stopped at Big Bamboo and Cow Wreck beaches for some more beach time and cocktails. We dropped off the car before returning to the boat early evening. Dinner tonight will be Anegada lobster at "Potters by the Sea" an Anegada icon lobster restaurant run by "Capital S -- SAM the Man" . Excellent dinner followed by a wild fun Disco dancing and limbo pole evening. Sam sure knows how to throw a party.
Big Bamboo Beach
Cow Wreck Beach Bar flip flop tree
Potters by the Sea beach bar / restaurant
Should I try a Parrot Fish or maybe a Lion Fish for dinner? nah, Got to go with the lobster
Preparing tonight's Lobsters
Anegada, it's all about the Lobster
Wow! a 7.5 pound Caribbean Lobster
Capital "S" Sam the Man, the personality behind Potters by the Sea
Yummy!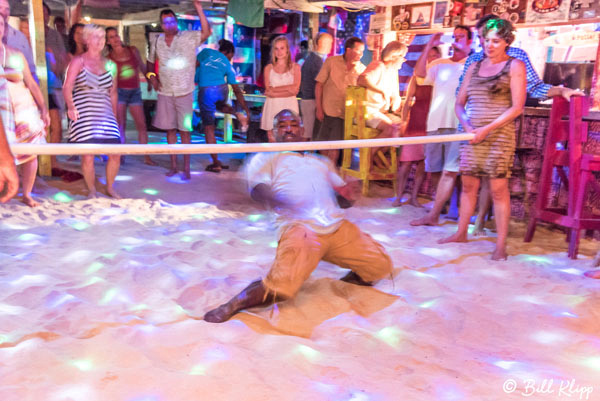 Sam the Man rocks the house all night long
Key West's Conch Republic flag prominently displayed
Day 9-11: Anegada Island & Cooper Island
We left Anegada early for a long bouncy cruise south west (190') for a couple of nights at Cooper Island one of our favorites. Our first night we spent in the south west corner of the bay and spun back and forth all night. We also had some yahoo boater anchor way too near us (not supposed to anchor in a mooring field) causing us to keep an eye on him. In the morning we moved to the north east corner of the bay and it was much more protected. Today we grabbed some beach chairs and lounged ashore all day. Excellent lunch and dinner at the newly renovated Cooper Island Beach Club. They even added a Rum Bar and ice cream shop.
Picking our spot at Cooper Island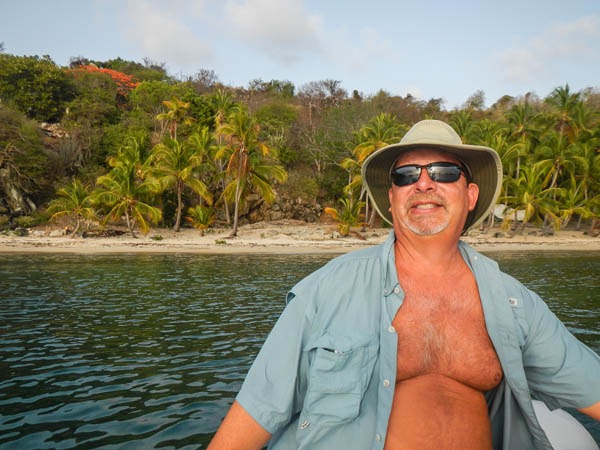 Headed to shore at Cooper Island
Cooper Island beach Club
Our boat Rhona in the background
Cooper Island dingy dock
Shopping time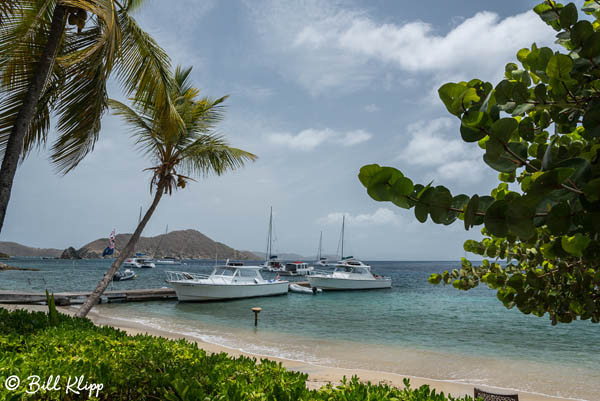 Cooper Island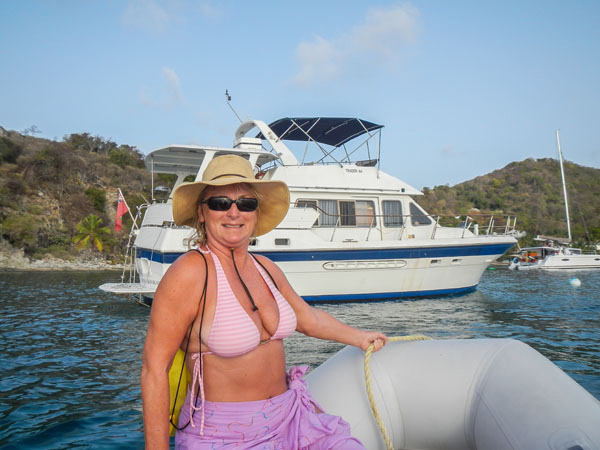 Our boat Rhona in the background
Day 11-12 (6/20): Trellis Bay, Beef Island
Today our 3 guests; Erin & Greg Spivak and sister Tina arrive at Beef Island airport. So we cut loose early on Saturday to head across the Sir Francis Drake Channel to Trellis Bay on Beef Island. By the time we tied off and got in the dingy our three amigos had dragged their luggage the 100 yards from the airport and were waiting on the dock all ready to be picked up.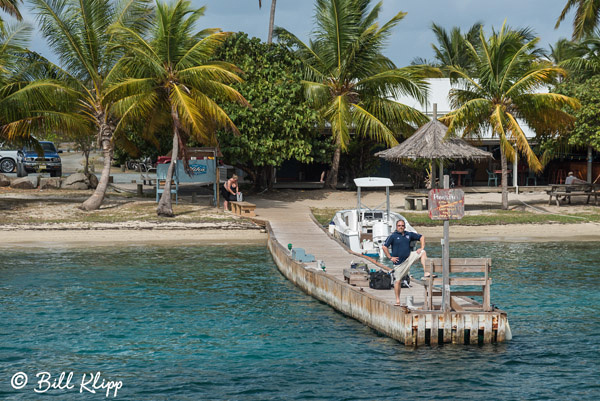 Our new crew awaits us at Trellis Bay, Beef Island
Somebody doesn't have their sea legs yet
Change in Plans:
It's been pretty windy all trip with steady 14-18 knot winds from the east and southeast making certain anchorages and crossing a bit uncomfortable. The forecast is for the winds to continue and to pick up later in the week as a "Tropical Wave" hits the BVIs from Africa. Our plan was to head up to the North Sound of Virgin Gorda to position ourselves for another Anegada crossing the next day. We we called in to Virgin Traders for a weather report they said we needed to head to Anegada asap or forget about it as the winds are picking up in a few days. So off we went to Anegada again for the next 2 nights. It was actually a pretty smooth ride. Upon arrival we had a lazy day exploring the shoreline, having a floattilla then dinner at a new place called "Wonky Dog" (excellent food with more expansive menu). Day 2 had us again renting a car for a ride out to the beaches. First stop "Flash of Beauty" for some snorkeling although it was a bit rough. The restaurant was closed and our car battery died stranding us there for an hour. The rental folks traded us an old pickup and off we went to Big Bamboo beach for lunch and the Cow Wreck beach for a late afternoon lounging, swimming and of course cocktailing. The group headed to Potters for the Greg's BDay dinner and late night festivities.
Greg taking the helm on the way back to Anegada
Anegada, notice the lobster pens in the foreground
Floating with a Carib beer
Lunch time at Anegada Reef Hotel
An appropriate place to spend Fathers' Day
Back in the water for some snorkeling
Diver Greg
Stingray foraging for food
Wrass & a Conch
Celebrating our 15 year wedding anniversary at Flash of Beauty beach
Our vehicle
Sea Grapes
Erin & Greg at Big Bamboo beach bar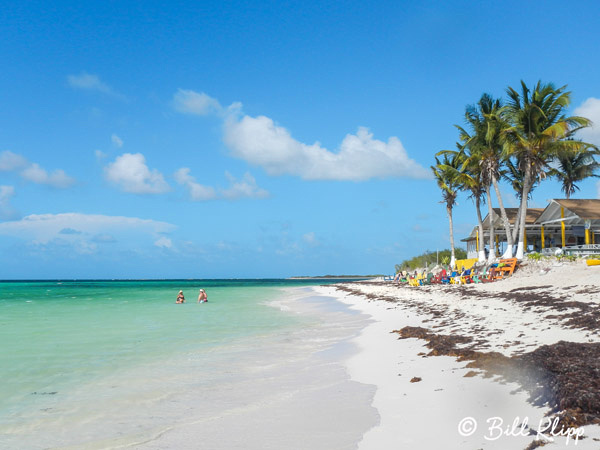 Cow Wreck beach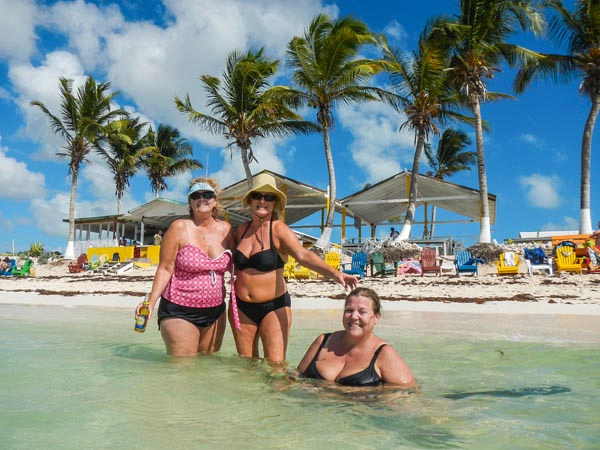 Chilling at Cow Wreck Bar
Greg's Birthday lobster at Potters by the Sea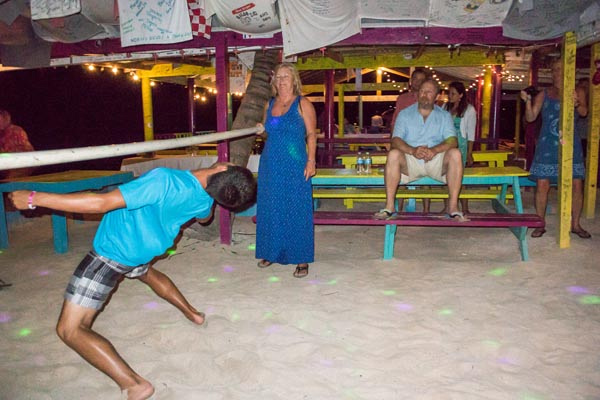 Linda in the middle of after dinner entertainment
Day 13: Anegada Island to North Sound Virgin Gorda
After a leisurely morning we set sail straight south for a rocky ride to the North Sound of Virgin Gorda. One of our guests fed the fish while we made the crossing. About ½ way across the seas and winds picked up substantially as the skies got darker and darker. We were now in an 8 knots per hour race against the arrival of a big squall headed our way. We didn't make it, a mile or so off Virgin Gorda we got hit hard. The boat rocking pretty dramatically as the cold rain poured down making visibility tough. We zigged and zagged and finally made it into the North Sound and headed straight for Leverick Bay to get a mooring. The rest of the day was overcast with periodic showers so it was a game day inside the boat. The weather cleared for a nice dinner on shore at Jumbies.
Entrance to the North Sound of Virgin Gorda during good weather, Richard Branson's new resort on Mosquito Island
Game day aboard Rhona
Tina taking us to shore at Leverick Bay Marina for supplies
Leverick Bay Resort & Marina
Dinner at Jumbies Beach Bar, Leverick Bay
Our route for Week #2
Tomorrow we head east for a long cruise to Jost van Dyke
© Bill & Linda Klipp 2015
Check out our online Photo Website at: www.WKimages.net , www.WildlifePhotos.me or my YouTube Channel at: www.videos.wkimages.net
All Rights Reserved Bill Klipp
*Any use of these images requires the prior written permission of Bill or Linda Klipp the photographers, no other uses or distribution of any kind including print, electronic or internet are permitted without the prior written permission of the photographers.