LET THE FANTASIES & WILD TIMES BEGIN.............
As Halloween approaches Key West our little island in paradise takes on a scary vibe as tens of thousands wild party revelers arrive for the huge theme oriented celebration called FANTASY FEST week. The event lasts 10 days and is a Mardi Gras like event that culminates the last Saturday in October with a wild costumed gala parade up Duval street. Throughout the week there are dozens of theme oriented parties like the: Royal Coronation Ball, Zombie Bike Ride, Sloppy Joe's Toga Party, Fogarty's Red Party, Captain Tony's Party in Plaid, Tighty Whitey Party, Pet Masquerade, Headdress Ball, Halos and Horns Party, Locals Masquerade March and dozens more. The streets of course overflow with costumed party goers of all ages. While this is a Halloween oriented event with lots of Costumes there is also plenty of body paint and nudity so it's not for the shy or prudish and is clearly an adult oriented festival. For 16 years of Fantasy Fest of my Photos Visit: http://www.FantasyFest.me
My Fantasy Fest Wanderings Blog will evolve as the week unfolds, so come back for periodic updates....
This year's Fantasy Fest theme is "POLITICAL VOODOO AND BALLOT BOX BARBARIANS"
(Note this is not for shy or prudish as Fantasy Fest is clearly an Adult only event. Must be over 18 to enter)
Goombay weekend marks the beginning of Fantasy Fest, in Key West's Bahama Village.Each year this street festival attracts thousands of people who come to sample Caribbean foods, arts, crafts and carnival rides as well as enjoy live music ranging from gospel to reggae.
Click above image to view video
Once a year the dead rise up and migrate by bicycle across Key West in search of food and drink. The festivities start at the haunted Fort East Martello as thousands gather at Zombie Land from around the planet then migrate by bicycle at sunset down US1 along the Atlantic Ocean to downtown Key West. This year's Zombie Bike Ride brought over 8,000 Zombies to the streets of Key West.
The Zombies take over Route 1 along the Atlantic Ocean
Many communities across the country have been frightened by Scary Clowns we welcome them here at the Southern Most point in the US. "One Inhuman Family"
Several dozen body painting artists set up booths in Zombie Land to touch up the dead before the Ride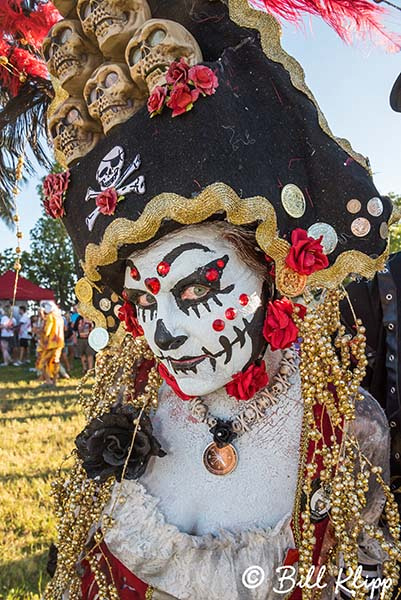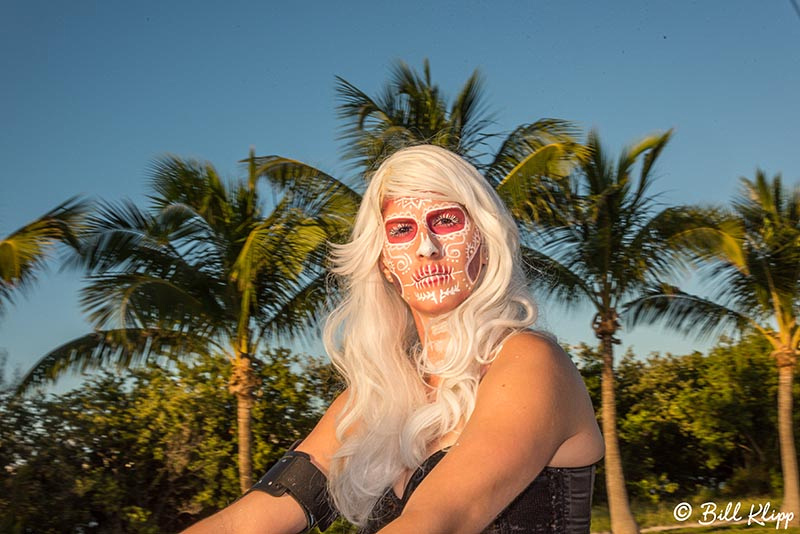 A real killing machine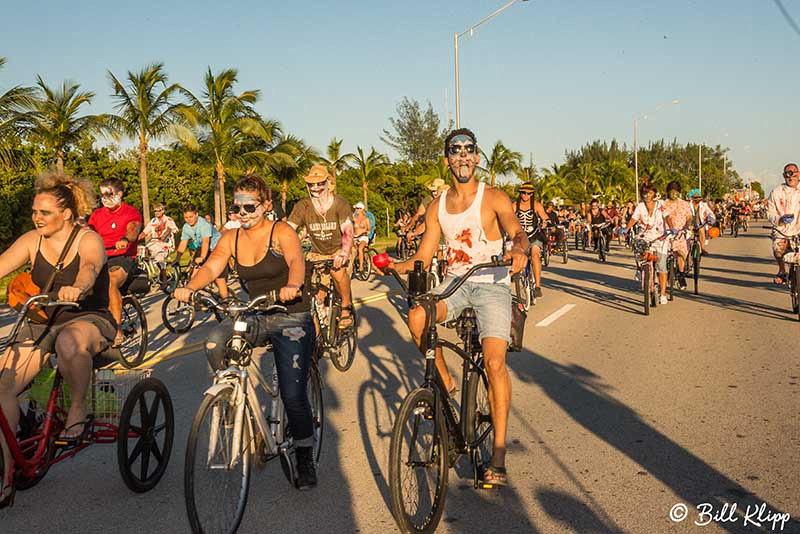 Zombie Ride Video: http://youtu.be/OGg_qj_JQLw
Please keep in mind it is illegal to feed the Zombies as that seems to encourage their return each year.
During October Key West local homeowners and businesses take on the festive Halloween spirit
Getting ready for the Parade, it's going to be along week!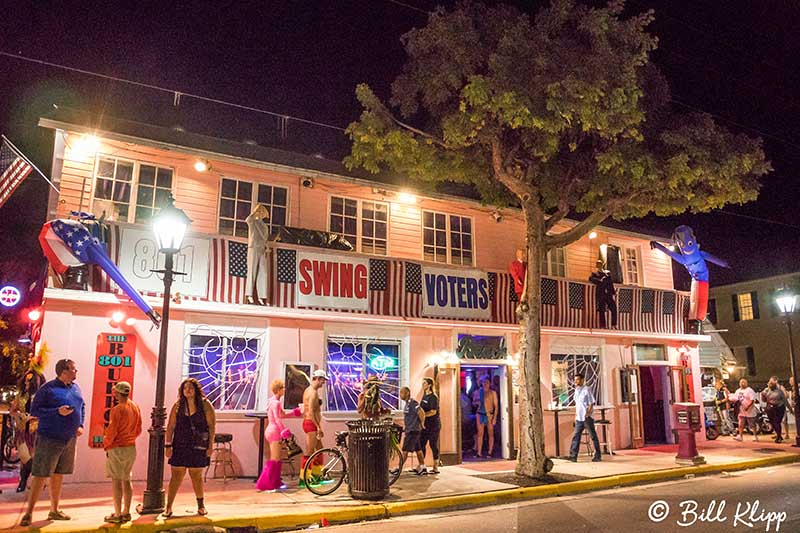 As the Zombies converge on downtown portions of Duval street are closed down as the Walking Dead take over
Now that's a paint job
Donald J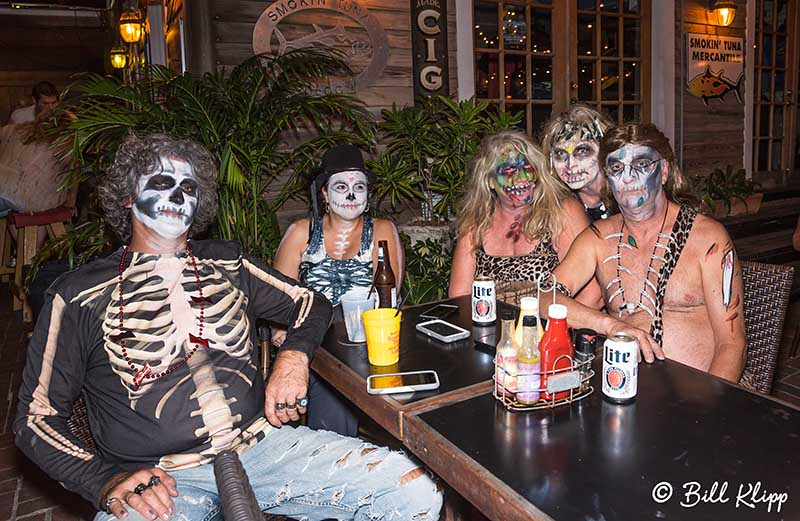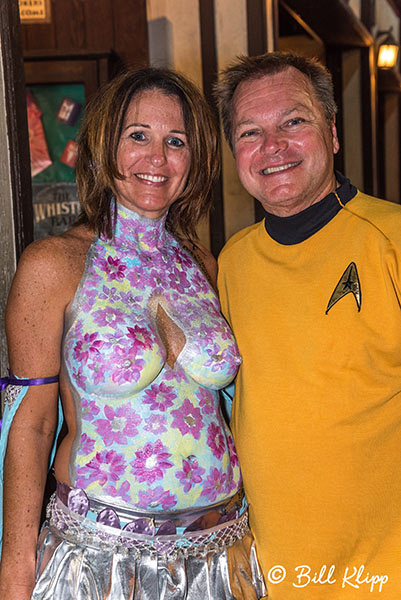 TUTU Tuesday
The usual highlights for Tuesday of Fantasy Fest week is the annual TUTU Party and Captain Tony's "Party in Plaid" street party. This year the TUTU party moved from the cramped overheated, over crowded Mango's restaurant / bar to new cavernous Waterfront Brewery in the Historic seaport. The theme was "TUTUs in Space" and even with a mandatory TUTU policy over a thousand Tutu toting partyers packed the place to the roof.
NO TUTU No Entry!!!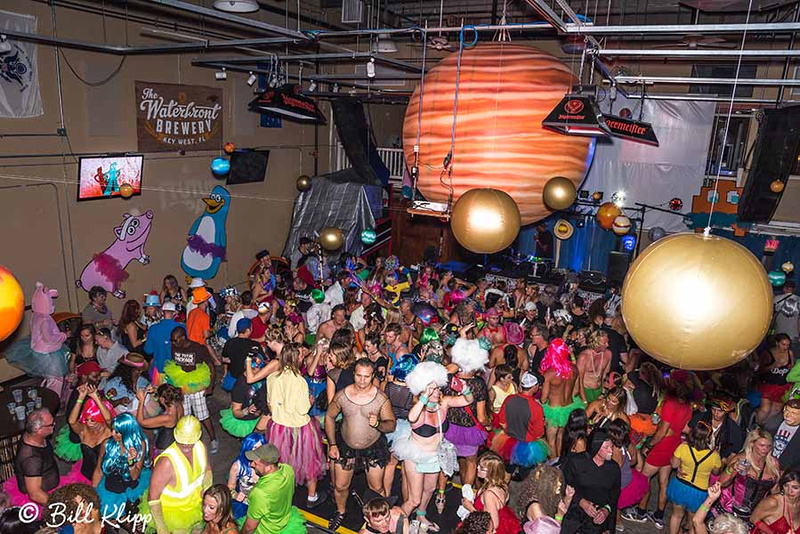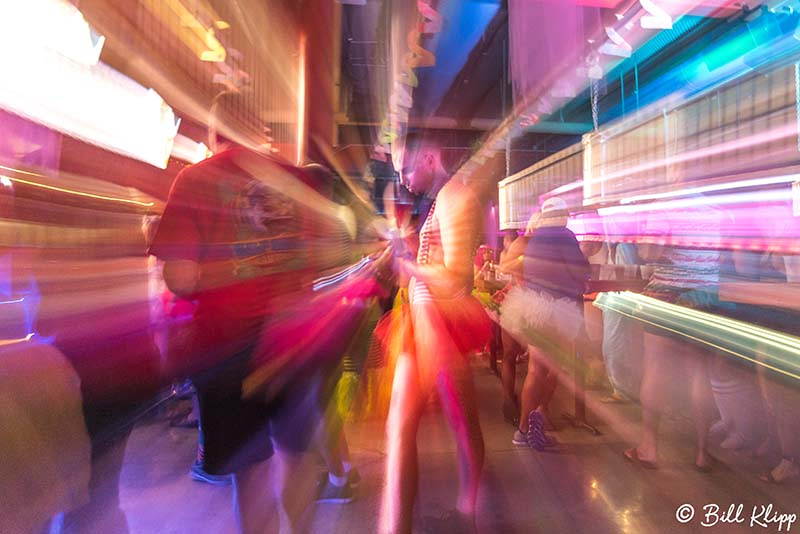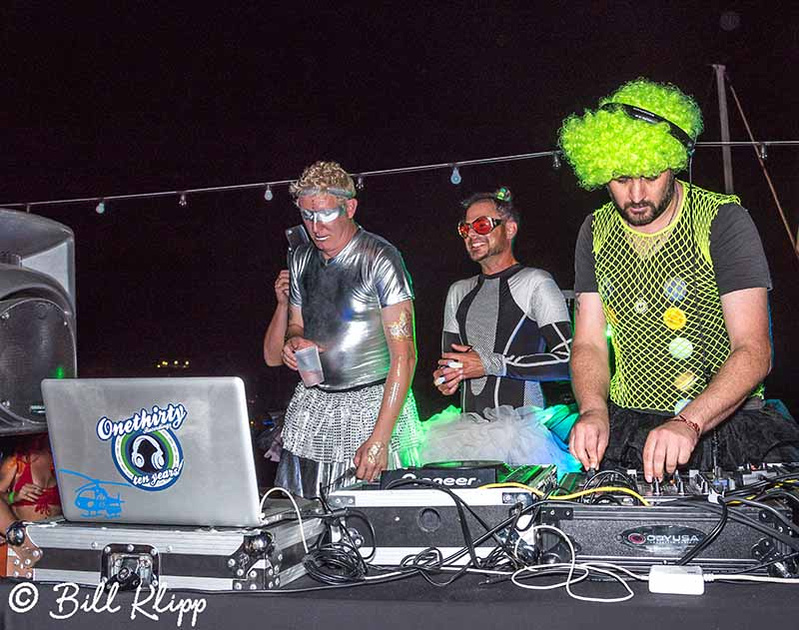 Serving up the rooftop dance music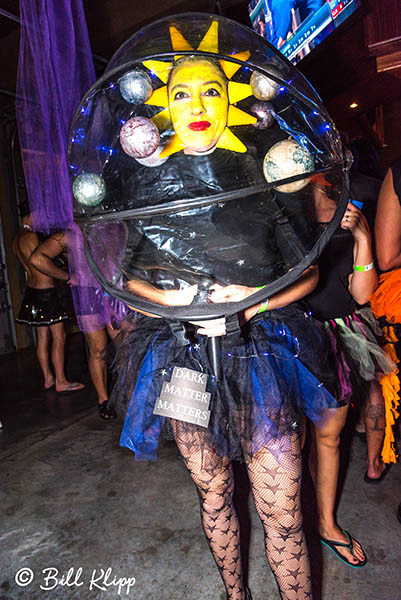 Nice Legs!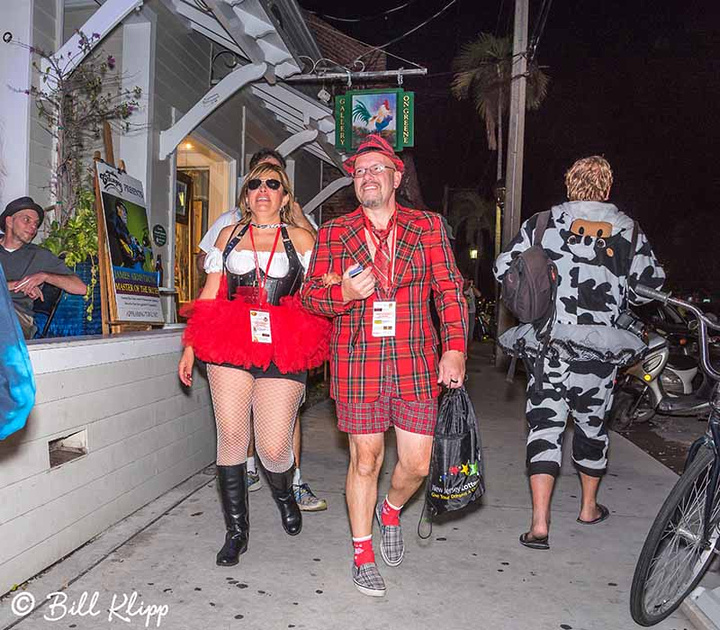 Captain Tony's Party in Plaid refugees
Wednesday – Blue Party & Fogarty's Red Party
As Fantasy Fest week proceeds the costumes, wild times and dabauchery steps up a notch. Today we geared up for Lucy's Blue Party a marine-themed party with "Patrick and the Swayzees" rocking the house. Next we wandered through the Historic Seaport stopping along the way at Schooner Wharf's Wharfstock Party and of course lower Duval street for Sloppy Joes, Captain Tony's and Smokin Tuna.
Lucy's Blue Party
Fantasy Fest Royal Family
Uncle Sam & Miss Liberty
Les Greene of Patrick and the Swayzees
Fogarty's Red Party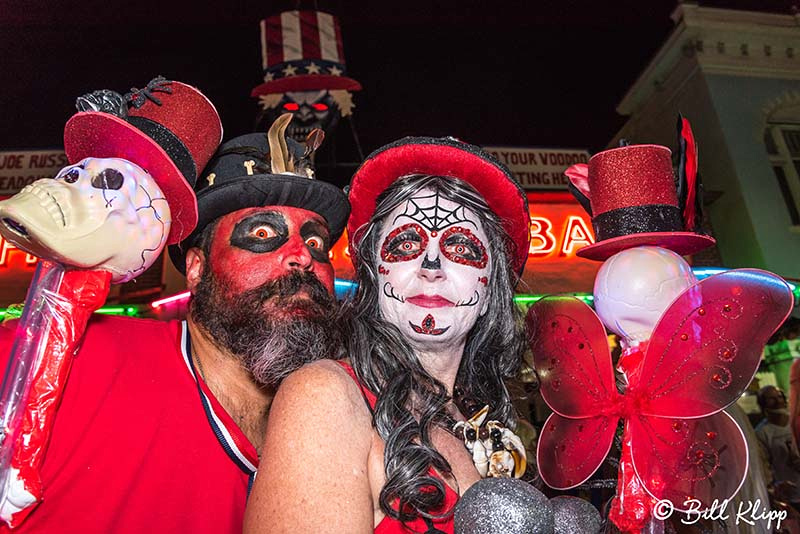 Visit my Fantasy Fest Wanderings Blog II for Friday's "Masquerade March" and Saturday's big closing Parade on Duval Street: http://billklipp.zenfolio.com/blog/2016/10/fantasy-fest-wanderings-2
PLAN A VISIT TO Fantasy FEST 2017 -- 2017 Theme: "Time Travel Unravels"
Two Bedroom Condo Still Available 10/22/17-10/29/17 Come to Fantasy Fest and stay at the Hyatt Beach House overlooking the Gulf of Mexico: http://www.pbase.com/wkimages/hyatt_beach_house

For 16 years of Fantasy Fest of my Photos Visit: http://www.FantasyFest.me
© Bill Klipp 2016 Key West's Fantasy Fest 2016 "Political Voodoo and Ballot Box Barbarians"
Fantasy Fest Online Photo Gallery: http://www.FantasyFest.me , Note: This photo gallery contains nudity, must be over 18 to enter
Check out my online Photo Website at: or http://www.wkimages.net , http://www.videos.wkimages.net / All Rights Reserved Bill Klipp
* Any use of these images requires the prior written permission of Bill Klipp the photographer, no other uses of any kind including print or electronic are permitted without the prior written permission of the photographer.