We hung back in the shade of the tree line about a 1/4 mile from the river, hiding from the hot sun but mostly to avoid spooking the growing herd of Wildebeests and Zebras headed down to the river. Are they going down for a quick drink, a look, or might they be preparing to cross the muddy Crocodile and Hippo filled Mara River? Our goal is to witness and photograph the Great Wildebeest Migration during one of its epic crossing moments a scene that has eluded us on our 4 previous visits to Africa.
(A photo blog of our recent African Photo Safari by Bill & Linda Klipp)
They build up along the river's edge and it only takes one to start a crossing stampede
As they cross, the river's swift current starts to sweep them downstream
The stampeding frenzy kicks up huge amounts of dust
The predators are always waiting for their opportunity to enter the "Wildebeest Buffet"
You heard of the "African Big 5"? These guys are are one of the "African Ugly 5"
A male Impala looks on
After short flight from Lake Manyara we landed in the northern Serengeti of Tanzania not far from the Kenya border. Within a 10-minute drive from the airstrip we arrived at Alex Walker's Serian Camp our home base for the migration. Each year Alex strategically sets up seasonal tented safari camps. This season is the migration so we are camped in the northern Serengeti near 10 well-traveled migration river crossing points. The next 5 days we will spend countless hours from before sunrise till sunset tracking the hordes of Wildebeests and positioning our vehicle for hours at a time waiting and hoping that a few brave Wildebeest will make a break for the river initiating a Lemming like stampede to race across the river.
Alex Walker's Serian North Camp is only a 10 minute ride from the airstrip
Relaxing by our tent
Not bad accommodations for a seasonal camp
Right before sunrise we found a good spot, laid some blankets on the ground and waited for the right moment.
They make no notice of our presence
We were not disappointed this trip with 8 different crossings in 5 days and lots of action. The first was within a few hours of our arrival at Camp. All geared up, the four of us along with our traveling safari guide Russell Gammon loaded into our two safari vehicles and headed off towards the river in search of some action. Within a short time our guides found the shade of some trees as we watched thru binoculars a distant Wildebeest herd building near the river's edge at Crossing #4. The crossing points are numbered 1 thru 10 with each having it's unique crossing challenges and dangers.
Watching the herd build up along the river's edge, hoping for a crossing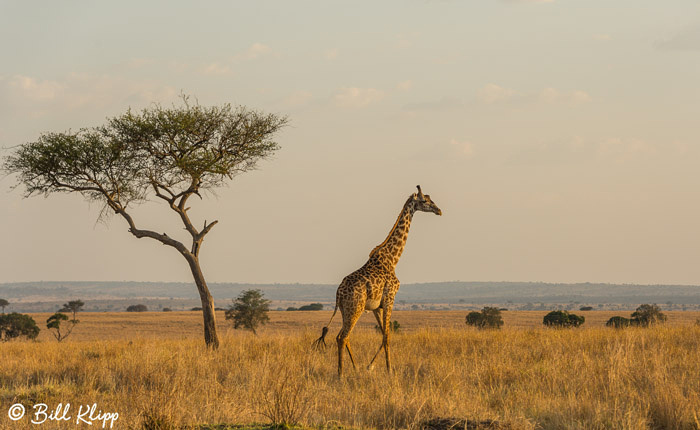 A Masai Giraffe wanders by
An alert Topi always scanning the plains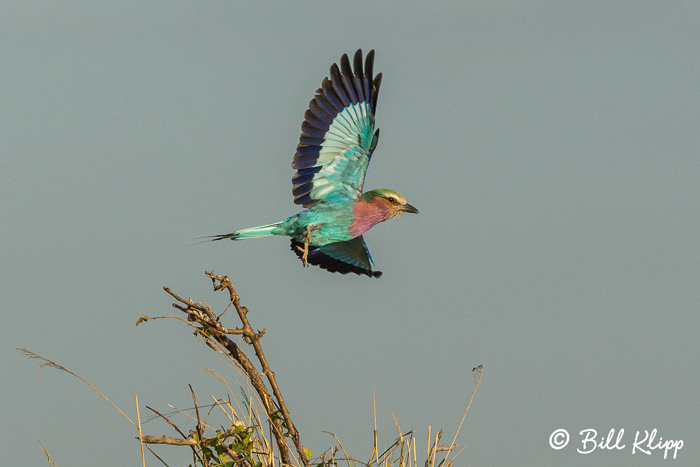 A gorgeous Lilac Breasted Roller take flight after some insects
We sat in the vehicles checking our gear and taking a few photos when suddenly one of our drivers shouted "They're Going, Hang On" he then started the engine and raced off, swerving and bouncing across the plains as we hung on for our life trying to protect our equipment speeding our way to the river's edge. The tell-tale sign was the ever rising clouds of dust from thousands of hoofs running across the plains and into the river. As we blast through the chaos of stampeding Wildebeests to the river's edge the unmistakable smell of death surrounds us. With Vultures swirling above and perched everywhere along the river the stench is only avoided by the adrenaline pumping thru our bodies.
Race to the river video. Click above image to view video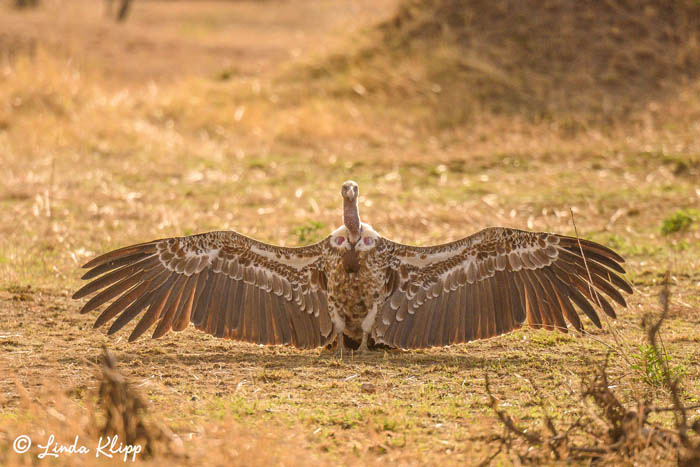 Vulture drying it's wings
To provide for ultimate photographic flexibility we only had two of us and a driver in each safari vehicle with Russell rotatating vehicles daily.
"Serengeti" in the Masai language means " Endless Plains"
A false start, sometimes they build up along the river then decide to abort and head back inland
It often starts in a very organized way, then the stampeding frenzy begins
On the run, note how the Zebras hang back. Click above image to view video.
Once the frenzy begins they will trample each other, sometimes to death
Once across they need to climb the steep river banks
Our Guide Russell suggested we position ourselves a bit downstream as the Crocs usually approach from that direction. Crossing #4 is unique in that it is the only one we are allowed to exit the vehicle and stand along the cliffs hanging over the river. At one point we climbed down to the river's edge for a closer view although we retreated as a part of the herd started heading our way. Being trampled by hundreds of Wildebeest is something we thought we should avoid. As the Wildebeests and Zebras leaped into the waters below and headed across the river you can see the swift current sweeping them and their dust downstream towards us. As a once straight line of animals started to bend downstream Russell yelled out "focus on the Croc". Methodically the huge Nile Crocodile slowly swam up towards the herd grabbing a young Wildebeest as it's mom helplessly looked on. During the frenzy with our adrenaline flowing I fired off hundreds of shots from the two cameras hanging from my side. Then as quickly as it started the herd stopped dead in it's tracks turned and began stampeding back inland away from the river.
As the stampede begins nothing seems to be an obstacle
The smarter and more skittish Zebras usually wait for the Wildebeests to go first
It starts out as a straight line but the current quickly pulls them downriver
A Crossing, Break on thru to the other side. Click above image to view video.
A huge Nile Crocodile moves in for the kill
Mom helplessly looks on as her calf is pulled down by the Croc
On the run, their single focus is to cross as quickly as possible
It looks like a swarm of ants as the herd emerges from the river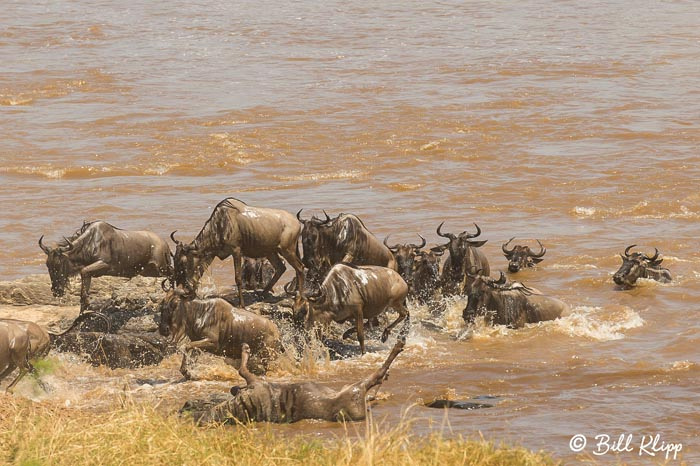 The stench along the river is often nauseating from the dozens of rotting carcasses.
Wow! this was only Day 1 in the Serengeti, we climbed back into our vehicles threading our way through the herd as we headed back to camp for some evening cocktails, sunset and campfire chatter.
Alex Walker's Serian Camp time lapse video. Click above image to view
An Olive Baboon catching some early mornig rays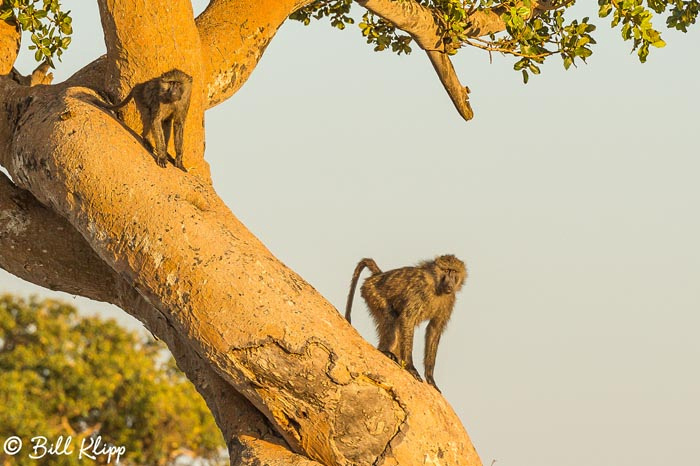 Olive Baboons
An little agile Klipspringer on top of a copi (rock outcropping)
Poor manners
A female Oribi takes a break from grazing to check us out
The setting full moon took on an orange glow as the sun began to rise
A Hippopotamus headed back to the river after an evening of grazing.
A male Agama Lizard displaying his colors
On an annual basis vast herds of Wildebeests, Zebras, Gazelles and other ungulates make their way on a round trip journey from the Serengeti's great grassland plains to Kenya's Masai Mara following the rains in search of green pastures. With over 2 million animals making the trek this surely ranks among one of greatest wonders of the Natural World. The excitement and energy that the thundering herds create attract large concentrations of predators such as Lions, Leopards, Cheetah, Hyenas and of course giant Nile Crocodiles all in pursuit of the Wildebeest Buffet a literal smorgasbord of nomadic mega herds.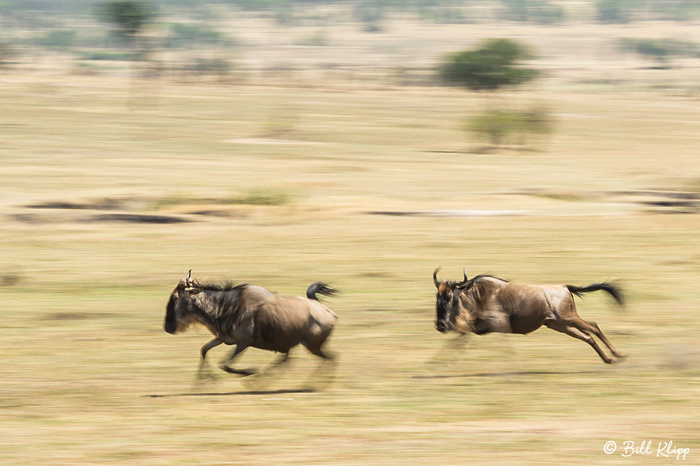 Wildebeest on the run
The beginning of another crossing
A yellow-billed Stork glides by as a Crocodile takes a nap
Once started almost nothing stops them
Making child's play of an unfortunate Wildebeest, Nile Crocodiles can reach 20 feet and 1,200 lbs.
Their speed, strength and power is amazing. This guy tries to rip the head off the Wildebeest
Marabou Storks and Vultures line the shores by the hundreds providing a vital role to the eco-system as they consume the rotting carrion
After ripping off pieces of meat the Croc does a head toss to swallow it
The dusty savannahs make for some awesome sunsets
On the move this Lion pride numbering 13, heads for some midday shade.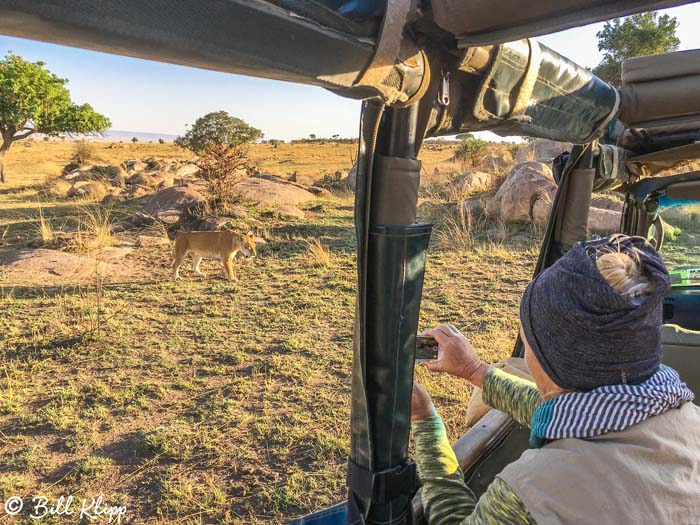 Close enough for a little iPhone video
iPhone Lion video. Click above image to view
They started out nicely sharing this Wildebeest then things turned nasty
Check out those retractable claws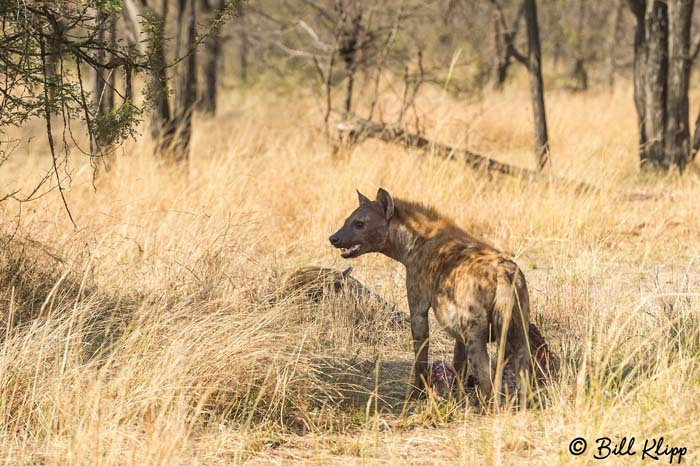 Often thought of as scavengers, Spotted Hyenas are formidable predators participating in the Wildebeest Buffet.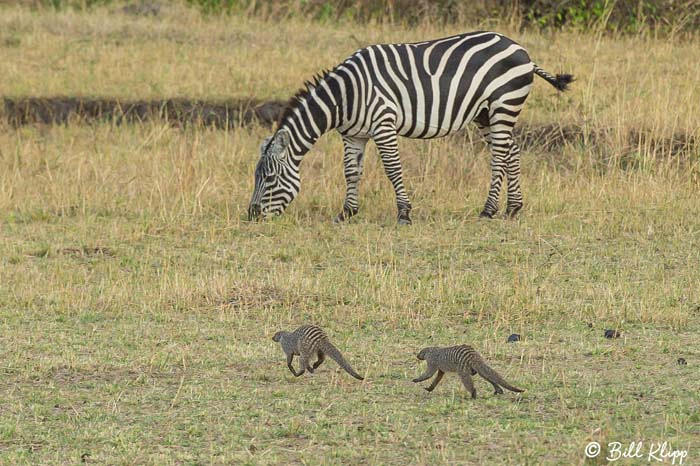 A couple of Banded Mongoose (or is it Mongeese?) scamper by
Early morning balloon flight over Serengeti
Tres Amigos out for a stroll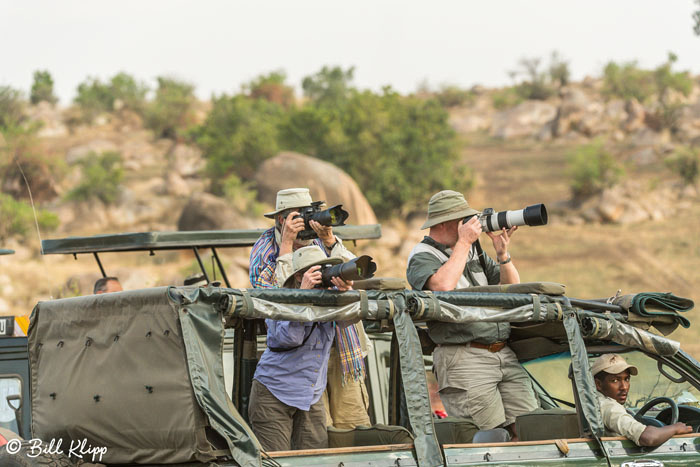 As we watched some Lions lounging on the rocks a Leopard wandered by but luckily he quietly snuck away
Two young brothers hanging in the shade
The Leopard spotted the Lions and got very nervous.
Truly a gorgeous animal
Stealth is the name of the game
Wandering the plains
Mom Warthog and her little piglets. They are very skittish and for good reason as they make good Lion and Leopard snacks.
Little Bee-eater
Hard to spot and for good reason. Serval Cats use the high grasses for camouflage
Our normal routine was up by 5:15am as coffee, hot chocolate and biscuits are delivered to our tent, then into the vehicles by 6am and off to find a good sunrise location, next we check the river crossings and around 9 am if nothing is happening we set up for a "Bush Breakfast". This morning we saw the herds building along the river and decided to have a quick bite in the shade hopefully before the action started. Then it became hurry up as a we spotted the rising dust and the beginning of yet another crossing.
A quick bush breakfast time lapse video. Click above image to view
Sometimes the best way to spot the stealthy predators is to watch the prey.
Once spotted this male Lion has little chance of hunting success
Mom and her 3 cubs enjoying a Zebra dinner
Licking her chops after a yummy meal
Doing what little ones do, Play
This skinny little guy hasn't had a meal in a while, making his future uncertain
A perfect night for a Sun-downer
Tanzania's northern Serengeti is just south of the Kenya Border
Next stop is the Masai Mara region of southern Kenya only 40 miles north of us, but it will take pretty much all day to get there as we need to drive to the airstrip take a 30 minute flight, get in a van for 30 minutes, cross the border on foot get in another van, drive 30 minutes to another airstrip, fly 30 minutes to Masai Mara, then a short game drive, followed by a river crossing by boat to Little Governor's Camp and the "Predators' Playground". STAY TUNED.....
PS: In case you missed our first African Wanderings Blog: "The Elephants' Ball" check out:
http://www.billklipp.zenfolio.com/blog/2016/10/african-wanderings-i----aug-2016----the-elephants-ball
Stay tuned for the next installment of African Wanderings III --- "The Predator's Playground" – Enter at your own risk
For more photos visit Bill & Linda's photography website: http://www.WildlifePhotos.me
© Bill & Linda Klipp 2016
Check out my online Photo Website at: http://www.wkimages.net
http://www.videos.wkimages.net / All Rights Reserved Bill Klipp
* Any use of these images requires the prior written permission of Bill Klipp the photographer, no other uses of any kind including print or electronic are permitted without the prior written permission of the photographer.