Part 1 of 2-- Whale Shark documentary expedition in the Sea of Cortez
(A photo blog of our recent Whale Shark Expedition by Bill & Linda Klipp)
Mexico's Baja and Sea of Cortez is one of our favorite places to explore for both terrestrial and marine life. On this trip we joined Dr. Déni Ramirez Macias and her research team from Whale Shark Mexico along with Panterra Eco Expeditions for one of their 2017 Whale Shark research expeditions, assisting in collecting new data and hopefully adding new Whale Sharks to her global database. We have visited these pristine waters many times but this trip would be our first Whale Shark experience
Whale Shark Background
Whale Sharks (Rhincodon typus) are slow moving filter feeder sharks known for their sheer size as they are by far the largest living nonmammalian vertebrate. Adult Whale Sharks range in size from 25 to 40 feet (unconfirmed reports have been up to 60 feet) and can weigh over 25 tons. The Whale Shark is an endangered species protected in Mexico. The Gulf of California (Sea of Cortez) is a nursery area for juvenile Whale Sharks where juvenile Whale Sharks aggregate to feed in coastal waters in Los Ángeles Bay and La Paz Bay.
The name "Whale Shark" directly refers to the fish's size, being as large as some species of whales and also that it is a filter feeder like baleen whales which strain their prey from the water column. It is thought they can live up to 100 years. Whale Shark inhabit all tropical and warm-temperate seas. The fish is primarily pelagic living in the open sea and have been known to occasionally dive to depths over 5,000 feet.
We embark on our expedition from La Paz on the southeastern coast of the Baja Peninsula, Mexico
Our home for 8 days will be the 110' motor yacht, the MV Adventure with Panterra Eco-Expeditions and Dr. Dení Ramírez Macías, Director of Whale Shark Mexico. There were 12 of us aboard covering different disciplines (geneticists, shark researchers, underwater videographer and us as photographers) plus about 7 crew.
The MV Adventure as seen by Linda from the Project's Ultra-Light reconnaissance aircraft
The two Pangas were always available for excursions, landings, snorkeling and other activities like up close encounters with Dolphins, Mobula Rays or Whales.
Linda on the bow searching for marine animals right after leaving the dock in La Paz Bay
Our main focus this week was to help the Scientists with their Whale Shark and Mobula Ray research, so on our first morning we loaded into the pangas to patrol some areas known for congregations of juvenile Whale Sharks. Groups of young Whale Sharks come to La Paz Bay each year to feed in the plankton rich waters of the Sea of Cortez.
Headed out on our first Whale Shark encounter
Snorkel gear ready we headed out in the pangas looking for the Whale Shark's telltale dorsal fin, tail fin or large dark shadow in the water
The yellow flag indicates our special research operation and gives us greater special access.
As we skirted the shallows along the western coast of La Paz Bay searching for Whale Sharks we spotted what looked like a floating blue plastic fish (floating plastic trash) but as our panga got closer it turned out to be a bright blue Cannonball Jellyfish. We slowed down to check it out and suddenly found ourselves in a surreal scene surrounded by a large bloom or swarm of these bright milky blue balls bobbing about as they streamed by in the outgoing tide.
Cannonball Jellyfish also known as Cabbage Head Jellyfish come in different colors and are mostly harmless to humans. As we slowly plowed thru the swarm I dipped my GoPro into the water to get a few shots. Our panga Driver reached over and plucked up one of these water balloon like creatures for us to have a closer look. As quickly as they arrived they were gone and we went back to searching for Whale Sharks.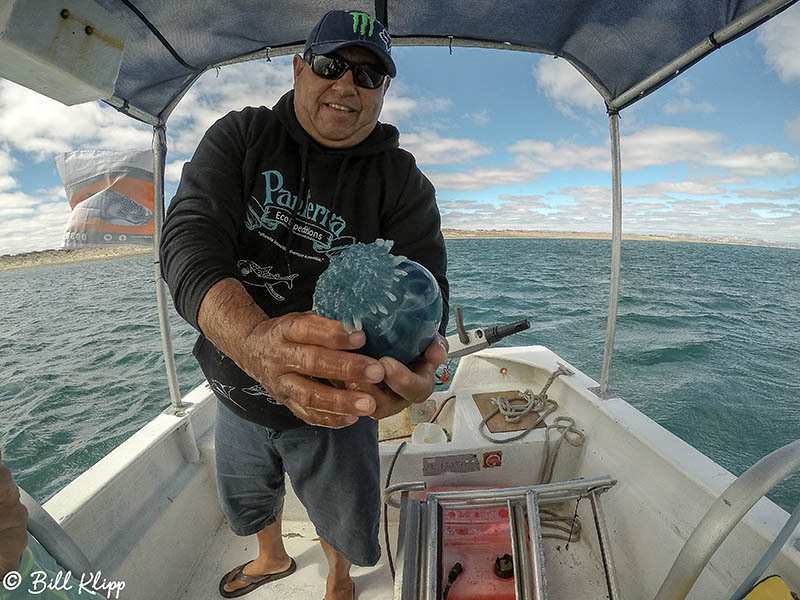 As we start tracking a young Whale Shark the scientists ready their cameras, biopsy spear and measuring devices
The chase is on
Once we find a Whale Shark the Panga driver follows alongside of it until we are ready. When feeding, the Sharks swim in a straight line so we position ourselves in front of the Shark and at the right moment we quietly plop into the water and swim over to intercept the Shark. You then swim alongside the Whale Shark as long as you can keep up. If you lose the Whale Shark you signal the Panga which picks you up and drops you back in front of the Shark. This "Leap Frogging" can go on for 5-6 times depending on how fast you or the Shark swims.
Click above photo for Panga Ride time lapse video:
Time lapse of panga following one Whale Shark
Ready for the intercept
Swimming over to our first Whale Shark
The first step in the data collection is to measure the Shark. This is done two ways, a simple pole with measurement markings and a specially outfitted GoPro device. Next is to try and sex the fish by examining it's underside to determine if its a male or female. Lastly a biopsy is taken using a special spear like instrument which is used to pierce the thick skin just below the dorsal fin. Surprisingly most of the Sharks didn't react to the spear. Lastly a GoPro is attached to the base of the dorsal fin to film the travels of the Shark.
Diet
The whale shark is an active feeder, with mouths reaching 5 feet wide they target concentrations of plankton, copepods, krill, crab larva or fish. It also feeds on clouds of eggs during mass spawning of fish and corals. Feeding occurs either by ram filtration, in which the animal opens its mouth and swims forward, pushing water and food into the mouth, or by active suction feeding, in which the animal opens and closes its mouth, sucking in volumes of water that are then expelled through the gills. In both cases, the filter pads serve to separate food from water.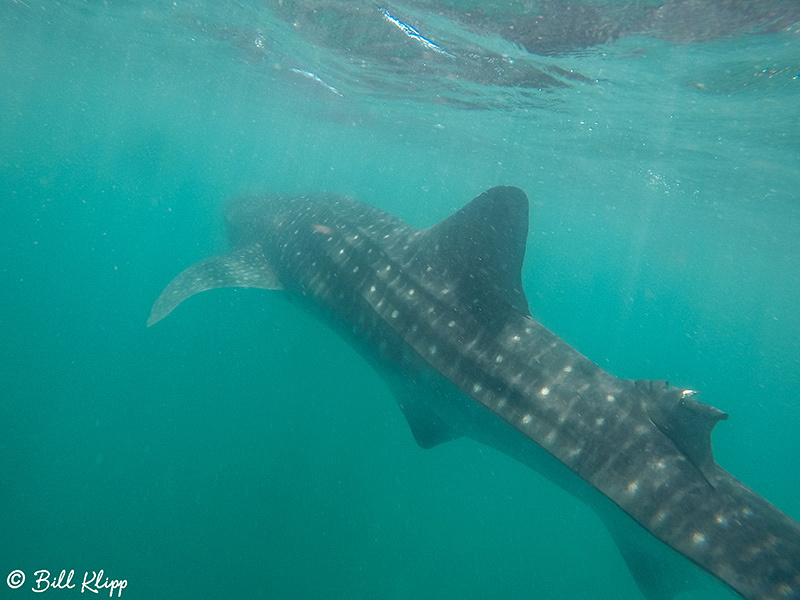 Although hard to see, the dark spot between the swimmers and the panga is a Whale Shark just below the surface
Similar to the fingerprint of a human, the pattern of spots around the gill area are unique to each individual allowing researchers to identify individual sharks. One of our tasks was to photograph the spots right behind the gills on the left side of each Shark. This info was then loaded into a specialized Shark ID data base
A successful encounter with a specialized GoPro photographic measuring device
Back into the panga to get ahead of the Shark again
With a biopsy spear in hand one of the scientists swims over to the Whale Shark to take a skin sample from just below the dorsal fin
Dr. Deni Ramirez Macias shows the skin sample which will be used in the Project's DNA research
Dr. Deni's research group also developed a special GoPro clamp that they would attach to the Shark's dorsal fin to film it's activities.
After tracking the Whale Shark we recovered the attached camera making our first few Shark encounters very successful
Click above photo for a short Whale Shark video:
One happy snorkeler
Conditions for Whale Sharks is often a short window of a few hours each day so when not on the hunt for Whale Sharks we found ourselves exploring the Sea of Cortez for Whales, Mobula Rays or snorkeling, kayaking, beach combing or hiking the deserted islands of the Baja
Humpback Whale
Humpback Whale fluke
Gorgeous setting that reminded us of the Florida Keys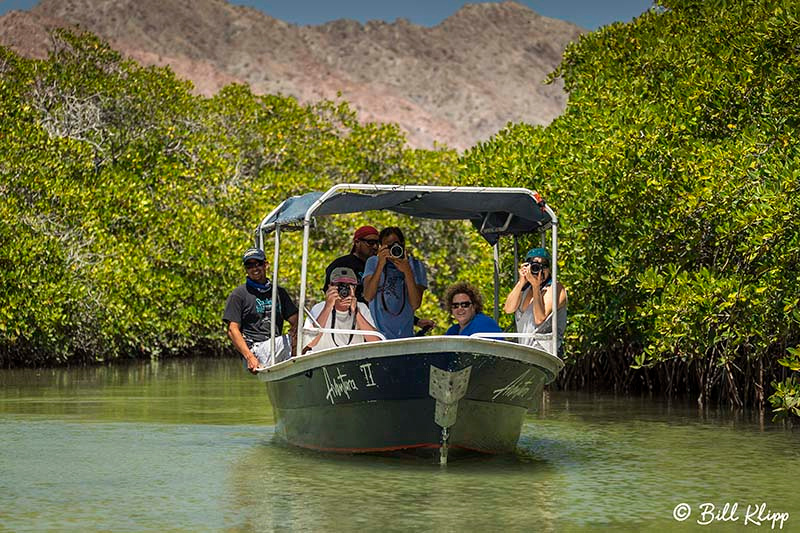 Exploring the mangroves near Isla San Jose for birds and other wildlife
Great Blue Heron
Grebe
Reddish Heron
We came around a turn and surprised a Snowy Egret, notice the yellow feet and dark bill
Great Blue Heron's mating on nest
Brown Pelican
Desert Iguana, Santa Catalina Island
Trigger Fish anyone? You never know what you find when wandering the beaches of the Baja
One afternoon we spotted a pod of playful Common Dolphins, so we grabbed the cameras and jumped into the pangas for an up-close encounter
A mom Common Dolphin with her young calf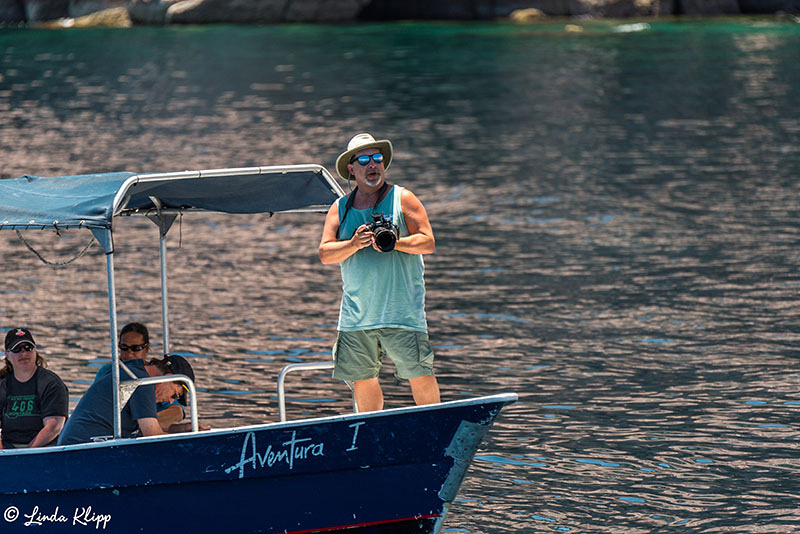 Cruising the Sea of Cortez looking for marine animals
One morning we came across a crude Fish Camp. Set up in a protected cove, this temporary Camp houses a group of male fisherman (no females allowed) who stay for several months fishing. It was old home week for one of our Panga drivers as he used to work at the Camp
Isla Espiritu Santo and the Fish Camp from the air
When not fishing the fishermen spend hours repairing the nets
Now that's a lot of fish hooks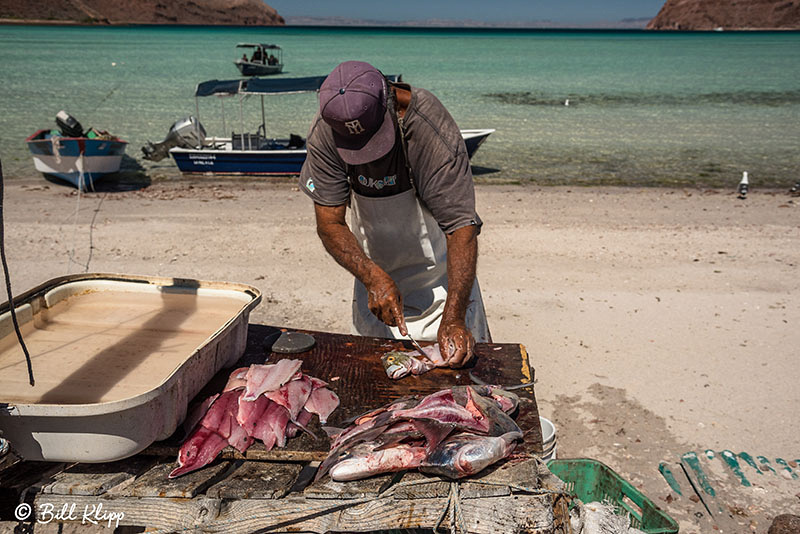 Fileting the fish before bringing into town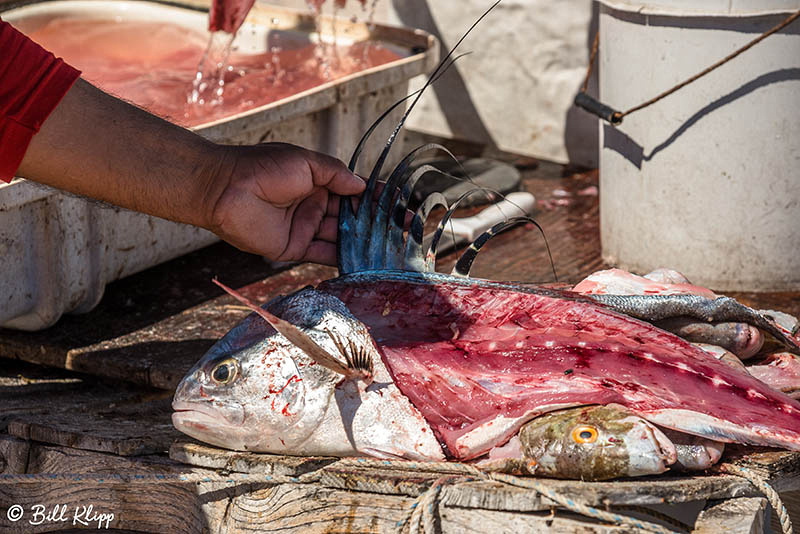 Rooster Fish anyone?
Fresh Fish!
We even found a Whale Shark pareidolia, a psychological phenomenon where one perceives images in normally common random patterns , like cloud formations. See the Whale Shark in the above geological formation?
Sunset over the Baja
Stay tuned for the next installment of Baja Wanderings II --- "The search for a pregnant Whale Shark" *** Coming Soon**
http://billklipp.zenfolio.com/blog/2017/7/baja-wanderings-2-Search-for-a-Pregnant-Whale-Shark
Note La Paz at the bottom of the Baja Peninsula

For more info:
Panterra Eco Expeditions visit: http;//www.Panterra.com
Whale Shark Mexico: http://www.whalesharkmexico.com/
For more photos visit Bill & Linda's photography website: http://www.WildlifePhotos.me
© Bill & Linda Klipp 2017, additional photos provided by, David Valencia, Lela Sankeralli, Jennifer Schmidt, and other trip participants
Check out my online Photo Website at: http://www.wkimages.net
http://www.videos.wkimages.net / All Rights Reserved Bill & Linda Klipp