Part 2 of 2 -- The search for a Pregnant Whale Shark
(A photo blog of our recent Whale Shark Expedition by Bill & Linda Klipp)
Among the dozen or so places on the planet where Whale Sharks aggregate the Sea of Cortez is one of the few places you can find not only adult females but sometimes pregnant ones. Our hope on this trip is to both find and closely examine a pregnant Whale Shark and for this we had the help of an ultra-light aircraft for aerial reconnaissance. When not searching for or swimming with the Whale Sharks we were able to do a lot of snorkeling and exploring the Baja.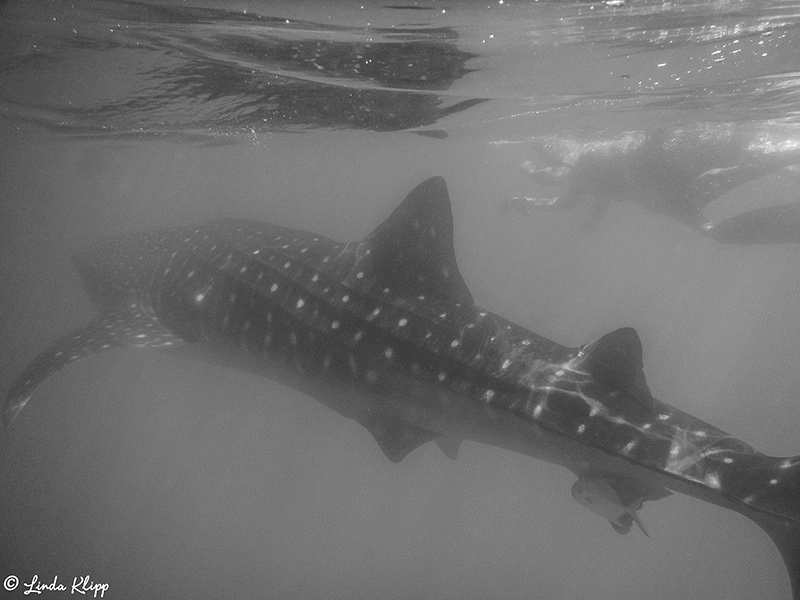 Whale Shark Reproduction
There is very little known about the reproductive cycle of Whale Sharks and the Expedition's main objective was research on pregnant Whale Sharks. Almost all known info on reproduction is based on one pregnant Whale Shark captured by fisherman near Taiwan in 1995. Scientists discovered 300+ embryos in her uterus, ranging from embryos in egg cases 16 inches long to 2-foot long embryos without egg cases, living freely in the womb. It was reported that while she was being towed to shore she aborted dozens more embryos, so she actually had a lot more than 300 at one time. Several dozen embryos were frozen for future research and twenty plus years later one of the scientists on our trip had the opportunity to DNA test the samples. What she found was regardless of size / age they all had the same father. It is speculated that once impregnated a Whale Shark maybe giving birth almost continuously as she travels the oceans.
There are only a handful of places on the planet where pregnant Whale Sharks congregate and the Sea of Cortez is one of them. But with over 68,000 square miles of ocean to search the task of finding one is not trivial. So on this trip we had the benefit of an ultra-light aircraft to search the seas and radio back locations to the ship.
Our eye in the sky does a fly by to check the water landing conditions
We needed a calm windless day so the ultra-light could land and take-off near the ship
Waiting to hook up with the ultra-light, perfect conditions!
Our aerial reconnaissance coming in for a water landing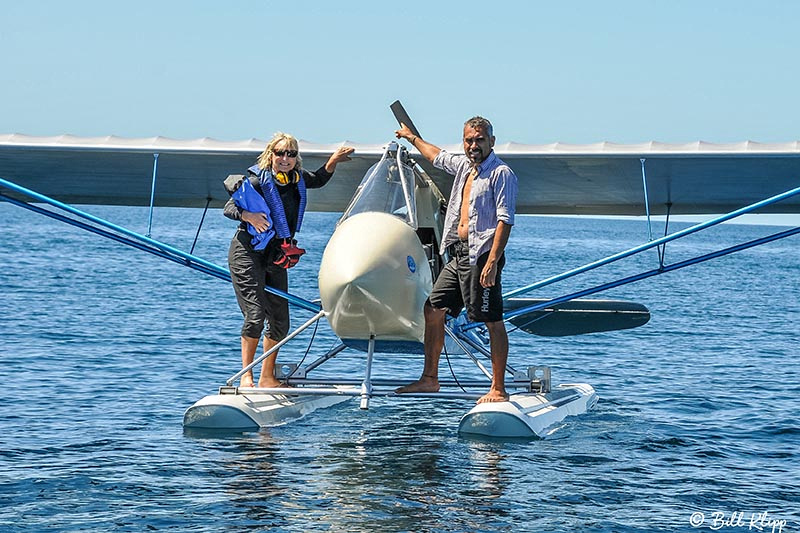 Linda had the opportunity to spend some time in the air searching for these giant fish. Unfortunately, I was over the max weight limit for the ultra-light flight, time to diet.
Good Luck Honey
Not a lot of room in this baby, testing her camera with a 80-400mm lens
Headed out for another run
Click above photo for a short Ultra-light video:
Once a pregnant Whale Shark is found the location is radioed back to the boat and off we went in the pangas
In addition to the usual data collection activities like; measuring, biopsies and taking photo ids the main event this time is to attempt to do an underwater ultrasound on a pregnant female Whale Shark. This will be by far a scientific first.
Full dive gear will be needed for this
Click above photo for a Panga II Time Lapse video :
Swimming with the Sharks required a lot of in and out of the boat
It will take two divers to handle the equipment and perform the ultrasound
A large 30+ foot female comes into view
This pregnant female was swimming a little fast making it hard to keep up with her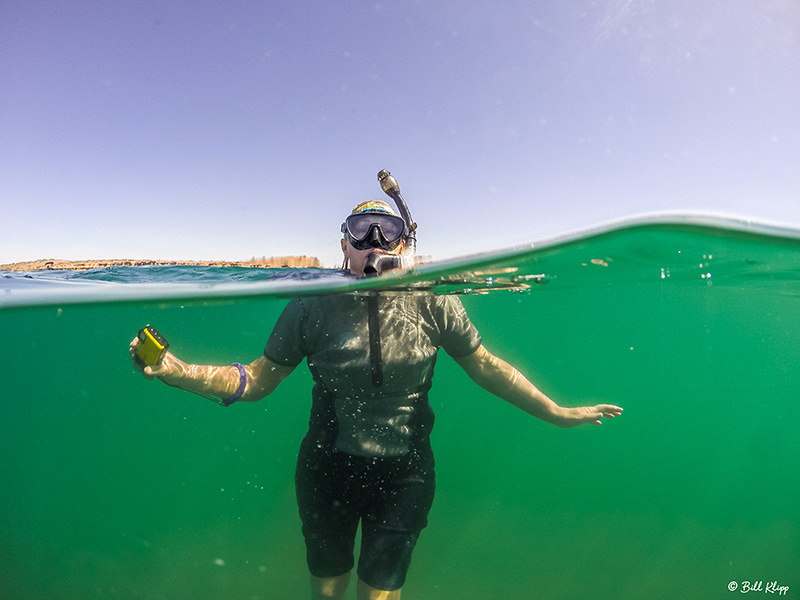 The good and the bad. Due to the high level of plankton in the water, visibility was not very good but that's what attracts the Whale Sharks to this area
Sometimes you couldn't see the Shark until you were almost right on top of her. A very wide angle lens is a must since the fish are so large, 20-40 feet long
Notice the small eye
Notice the swollen belly of this pregnant giant
Click above photo for Linda's Snorkeling with Whale Sharks video :
Dr. Deni Ramirez Macias proudly displaying her one of a kind custom made underwater ultrasound machine. We got close but unfortunately, we were not able to complete an ultrasound as the Sharks were swimming too fast. The group though was elated and learned a lot about proper technique and can't wait to come back and try again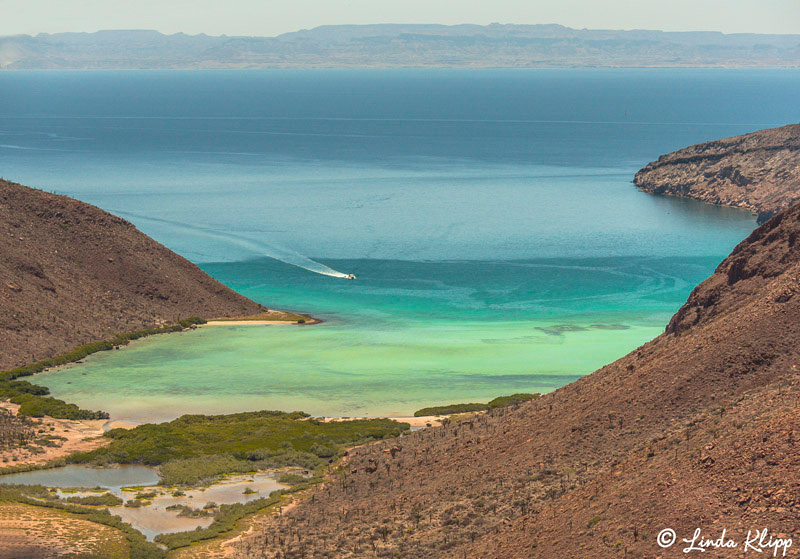 Aerial view of the Baja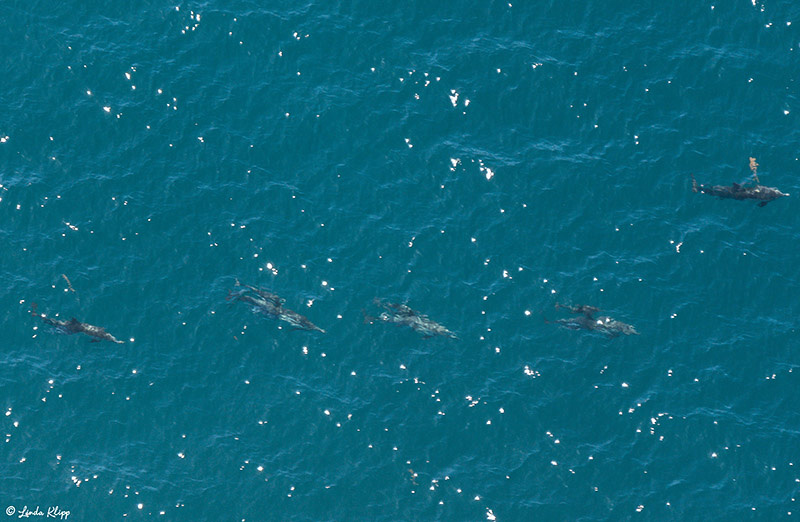 Small pod of Common Dolphins
Los Islotes from the air
One of our favorite spots in the Baja is the small islet of Los Islotes known for its California Sea Lion and nesting bird colonies with a large variety of birds such as Boobies, Gulls, Herons and Falcons to name a few
California Sea Lions
Los Islotes is a very popular snorkel spot with day trip boats from La Paz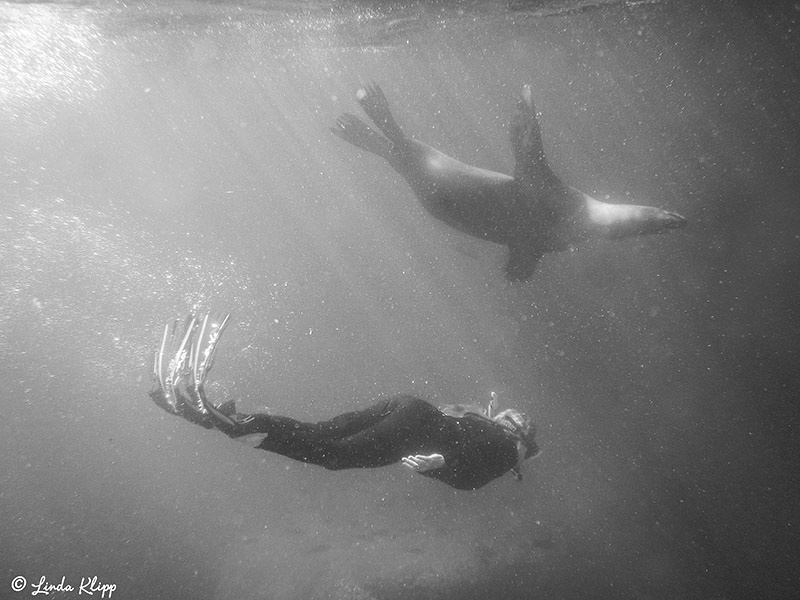 Snorkeling with Sea Lions is a very special experience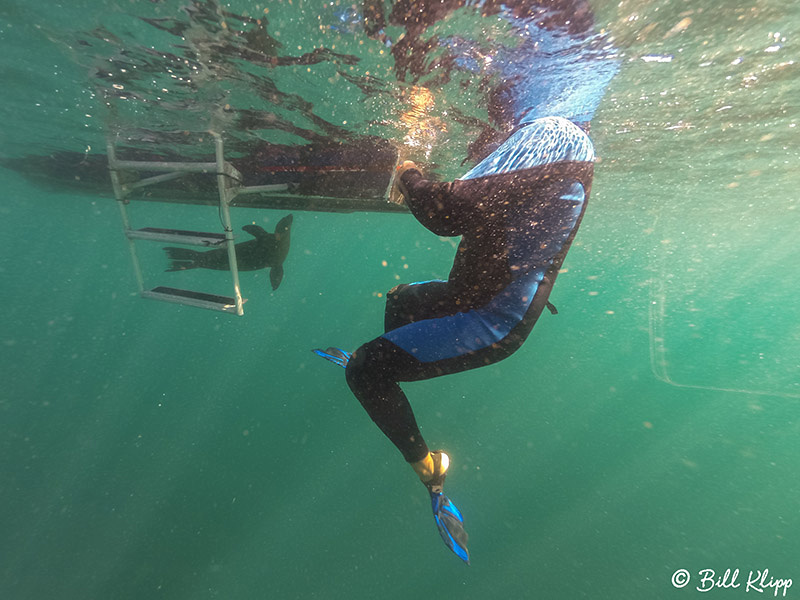 Adolescent Sea Lions can be very curious and playful, sometimes climbing on your back or even nibbling at your flippers or snorkel
Click above photo for a short Los Islotes Sea Lion video:
Snorkeling near Isla Espiritu Santo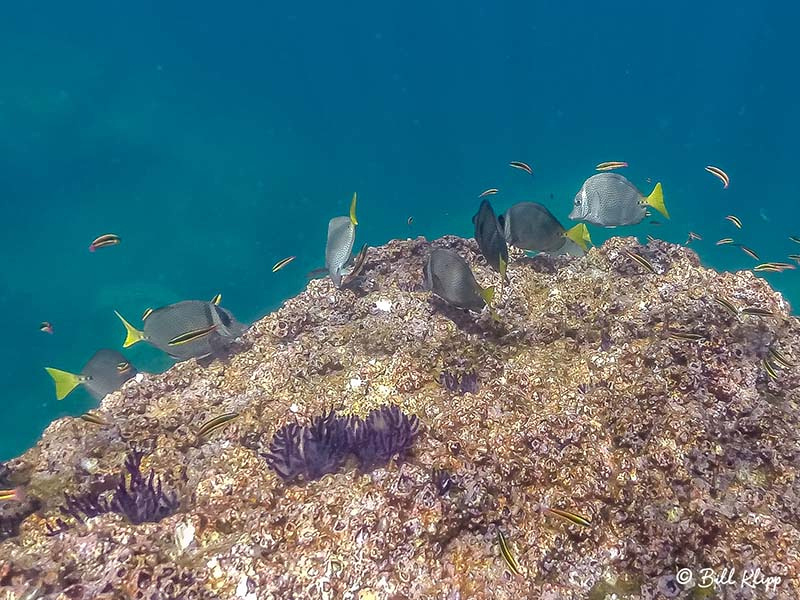 Cave snorkeling near Isla Espiritu Santo
Stingray
Snorkeling near Isla Espiritu Santo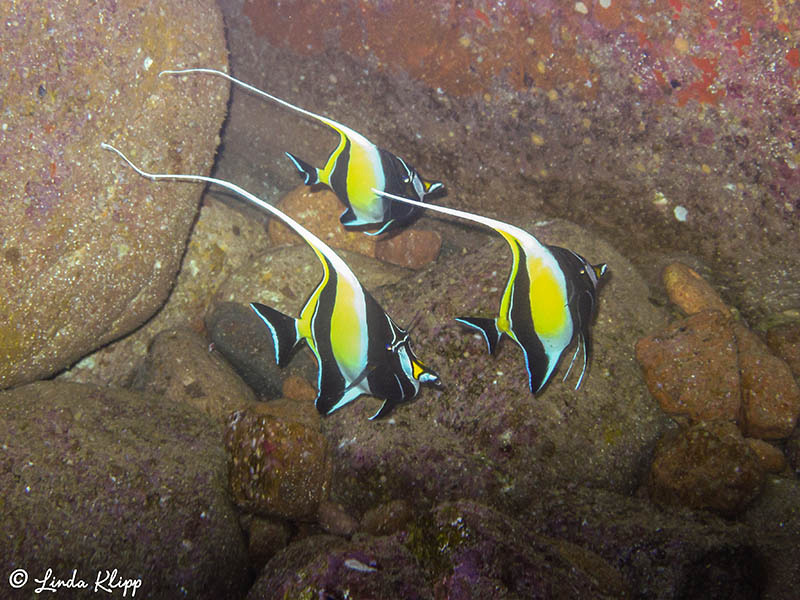 Moorish Idol Angelfish
Wrasses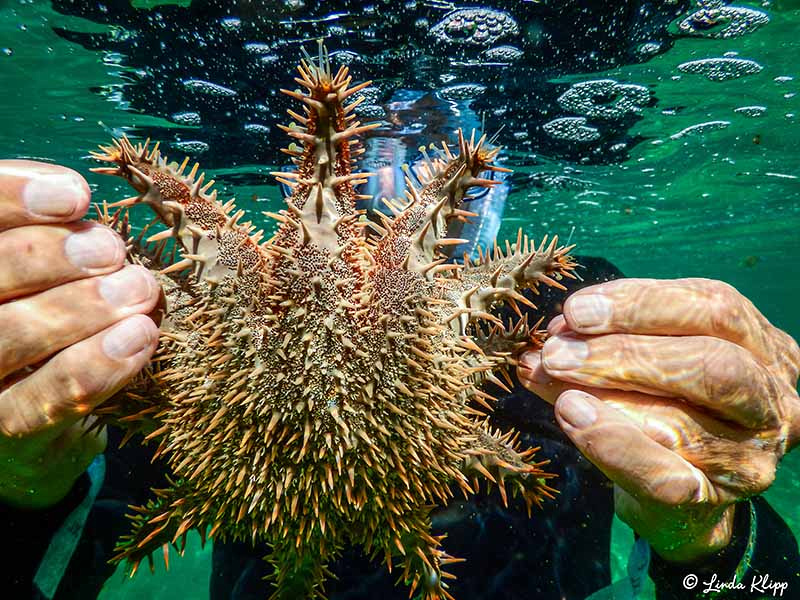 Crown of Thorns Sea Star
Trumpet Fish
Click above photo for a short Underwater Snorkeling video:
At night we would put out lights to attract little sea creatures such as plankton, squid, fish and other creatures which we would scoop up in a plankton net. Notice the baby Flying Fish
Pulling in a load of Plankton, baby fish, fish eggs, worms, copepods, crab larva, krill etc. It's amazing how much life a cup of seawater contains.
All ready to see what we got
Dave goes in for a closer look at what we found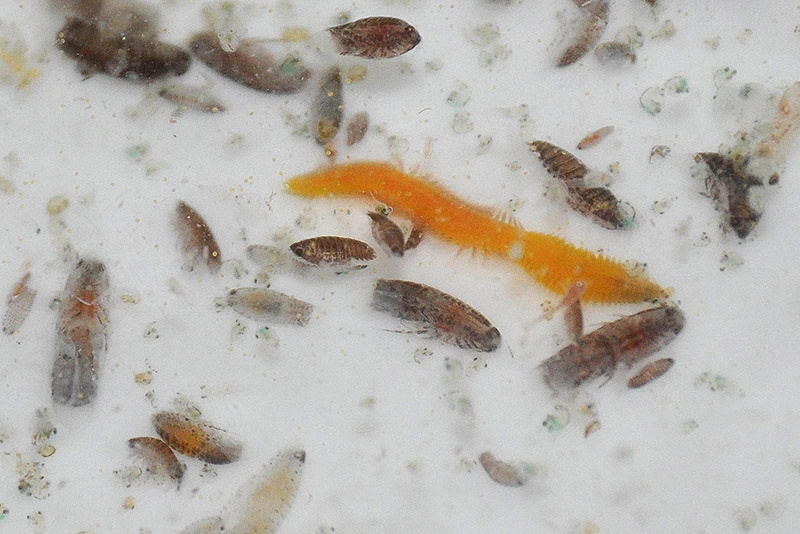 After checking out some of the samples, we got to see what ends up in a swallow of sea water, yuck!
We also snagged some baby Flying Fish, very cool!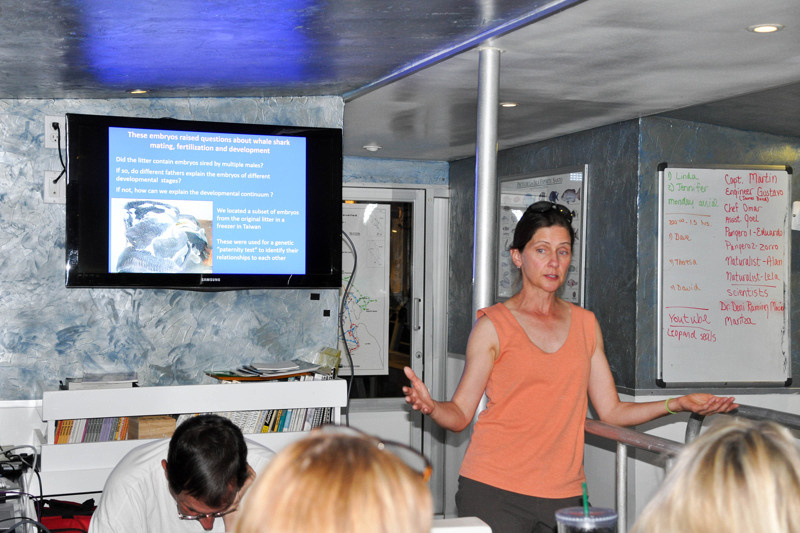 Never a dull moment, if we weren't out in the field we were treated to a series of scientific and photography presentations
Busy working on editing photos
While the MV Adventure is an excellent ship for this type of expedition the cabins are a bit cozy, Luckily we got a quad with extra space for all our photo equipment
Overall an amazing trip with a great group of people
Our route for the week
PS: In case you missed Part 1 of our Baja Wanderings Blog:
Baja Wanderings I – "Among the Gentle Giants" --- A Whale Shark Adventure":
http://billklipp.zenfolio.com/blog/2017/7/baja-wanderings-1-whale-shark-adventure
For more info:
Panterra Eco Expeditions visit: http;//www.Panterra.com
Whale Shark Mexico: http://www.whalesharkmexico.com/
For more photos visit Bill & Linda's photography website: http://www.WildlifePhotos.me
© Bill & Linda Klipp 2017, additional photos provided by, David Valencia, Lela Sankeralli, Jennifer Schmidt, and other trip participants
Check out my online Photo Website at: http://www.wkimages.net
http://www.videos.wkimages.net / All Rights Reserved Bill & Linda Klipp