Week three of our BVI Adventure continues.....
Day 14 (6/23) : Diamond Cay, Great Harbor & White Bay, Jost Van Dyke
Tuesday morning after gassing and watering up we left Leverick bay in the North Sound of Virgin Gorda headed back east to Jost van Dyke with welcomed following seas . First stop Diamond Cay and lunch at Foxy's Taboo. Then we headed over to Great Harbor for an afternoon on the beach by Foxys. We even had a chance to chat with Foxy and one of his friends Peter W both of which knew many of our friends in Key West, (small world). Linda prepared a lovely pasta dinner aboard and in the morning we made a short quick run over to White Bay on Jost for a Soggy Dollar afternoon.
Love those calm following seas
Lunch at Foxy's Taboo on Diamond Cay, Jost van Dyke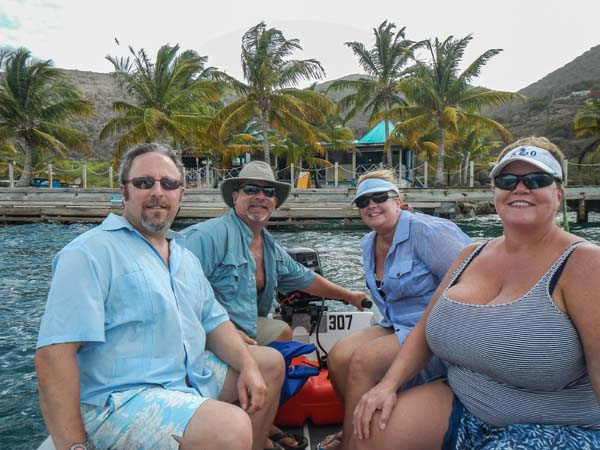 Headed back to the boat. Next stop Great Harbor, Jost van Dyke and Foxys
Relaxing on the beach at Great Harbor, Jost van Dyke
Linda chatting it up with Foxy
Linda with Foxy's mermaid fountain made by Key West artist and friend David Wegman
Chef Linda making a tasty pasta dinner
Group photo taken by a Canadian tourist in front of the Soggy Dollar, Jost Van Dyke
Greg taking the ladies lunch order
We also are offering today: Caribbean chicken roti, flying fish sandwiches, hamburgers.....
Lunch at the Soggy Dollar, White Bay Jost van Dyke
Time for some shots, White Bay beach
Time lapse video on White Bay beach, Jost van Dyke. CLICK TO WATCH
Day 15-16: Jost to Norman Island to Cooper Island to Trellis Bay
Each day the winds and seas are picking up a bit, the morning cruise from Jost to Norman pounded us on the beam (side) for half the ride and we had some bronco riding as the waves hit the bow for the rest. We tucked into the north east corner of Norman Bight for a pretty protected evening. A floattilla was in order for the afternoon and dinner at Pirates restaurant. I guess we are getting too old as we didn't even visit the Willy T. Thursday morning we headed west into the wind to Cooper Island for Tina's last night. Got our favorite mooring ball in the northeast corner and then off to the beach we went for a long beach day with dinner at the Beach Club. For the past day the boat's high water alarm kept going off. Turns out one of the bilge pumps died so Virgin Traders sent out some mechanics to replace it. Friday we had an early start to make the hour crossing to Beef Island and Trellis Bay to drop Tina off at the airport.
Dinner at Pirates restaurant, Norman Bight
Beach time on Cooper Island
"DINGY GONE WILD" --- CLICK TO WATCH
While sitting the beach at Cooper Island, BVIs we suddenly heard screams by a nearby catamaran. While a group of drunk people were swimming one of them was in a dingy when they fell out and the dingy went wild (no lanyard). After some poorly conceived and dangerous attempts to grab it by the swimmers they finally sent a few other dingys over to catch it. When they approached the wild dingy it started to ride up on the rescue dingy near slicing the people up with the spinning prop. Luckily it all ended with no one hurt.
So what would you do to corral a "Dingy Gone Wild" ???
Dinner at Cooper Island Beach Club
Cooper Island beach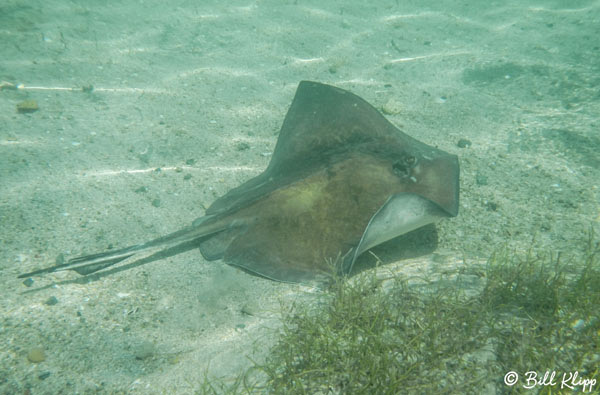 Stingray, Cooper Island beach
Cooper Island beach time again
Bill burning a design of our trip into a piece of bamboo driftwood (from Big Bamboo beach on Anegada) as a memento
Designed by Linda
Rare Cooper Island Beach Creatures
Cooper Island Beach Creatures time lapse video. I can't believe she let me do it. CLICK TO WATCH
Good night Cooper Island
Day 17-19: Trellis Bay to Cain Garden, Tortola to Little Harbor, Jost van Dyke to Cooper Island
Cain Garden on the north side or Tortola is large beautiful bay with a big sandy beach lined with a number of restaurants and other services, a perfect spot for us to relax ashore and have lunch. The only issue with Cain Garden is depending on the winds it can be a rocky anchorage, and sometimes those big nasty cruise ships visiting Road Town on the south shore of Tortola send their guests over for a beach excursion creating crowd influxes. Today however we pretty much had the beach to ourselves. Little Harbor about about hour north on Jost van Dyke is usually pretty quiet with 3 restaurants and about 20 mooring balls most of which are usually empty so it's a nice quiet spot to spend the night and get a good meal.
The first mate takes over the helm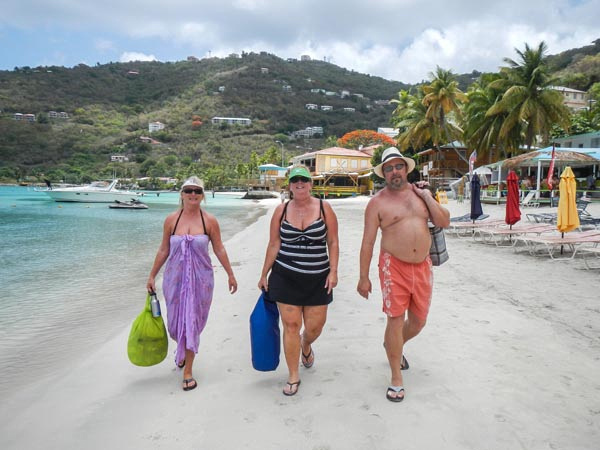 Cain Garden beach, Tortola. Now time to pick a restaurant with beach chairs.
Cain Garden beach, Tortola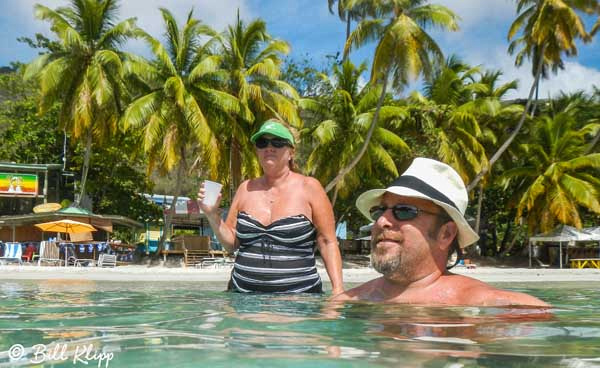 Lounging in the shallows at Cain Garden beach

Cain Garden
Little Harbor, Jost van Dyke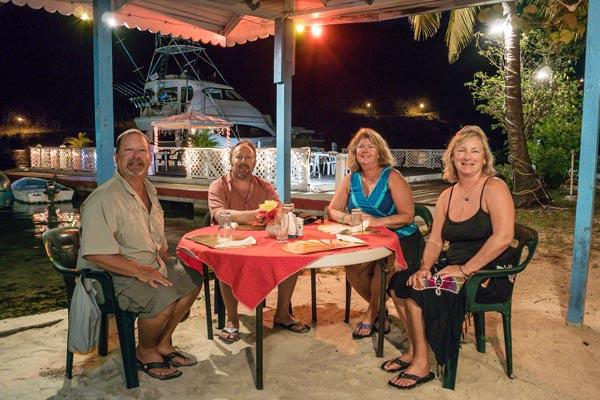 Dinner at Harris'
Day 20-23: Cooper Island to Marina Cay to Great Harbor, Peter Island to Norman Island.
Arriving at Marina Cay. Let's take that ball?
Erin & Greg's last night at Marina Cay
Our boat Rhona at Marina Cay
Dropping the guests at Trellis Bay only a 100 yard walk to Beef Island airport
Breakfast at Trellis Bay. Bummer we will miss their full moon party.
Cruising the BVIs is actually pretty easy. Unlike the Florida Keys or Bahamas the BVI waters are deep (except Anegada) with few obstructions and you are usually always in sight of land. Although you can find many places to overnight most boaters go to islands with bays that have established anchorages where you can either hook up to a mooring ball ($30 per night) or anchor for free. I prefer the mooring ball as I sleep better not worrying about whether my anchor (or another boat's) is slipping. Some bays like Kelly's Cove on Norman Island have only 5 mooring balls while others such as Cooper Island have 20+. Some bays have a beach bar or restaurants or even full service marinas or small resorts while other bays have no services at all. Some bays along the Southern Islands have no services but get one visit daily by an enterprising operation called 'Deliverance" a small boat which goes from bay to bay offering ice, beer, drinks, fresh rolls and pastries and even garbage pick up. One issue to always consider is ice, as it is our daily life bread to keep the beer and drink cooler going. Of course there are the bigger harbors with stores and other businesses / services which we try to avoid at all costs. Most boaters are out for a week so they find themselves moving everyday to another island or bay. We being out 21 days had the luxury of actually hanging out for a couple of days in a bay. Never-the-less mooring or anchoring becomes a daily task. So I decided to set up my GoPro on the boat's bridge to time lapse our mooring routine.
Catching a mooring ball Time Lapse. CLICK TO WATCH
Off we go, on our own again
Kelly's Cove Norman Island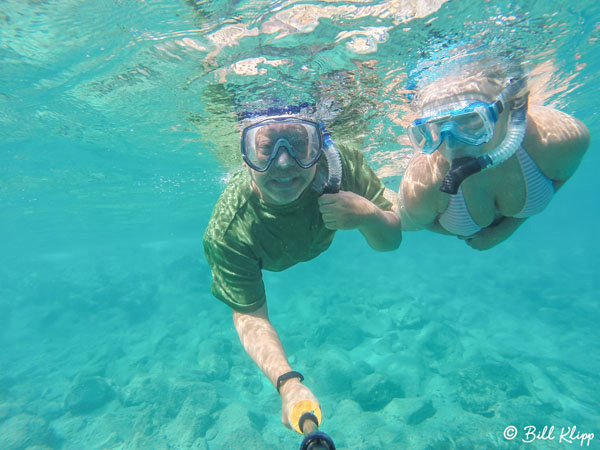 Snorkeling Kelly's Cove, Norman Island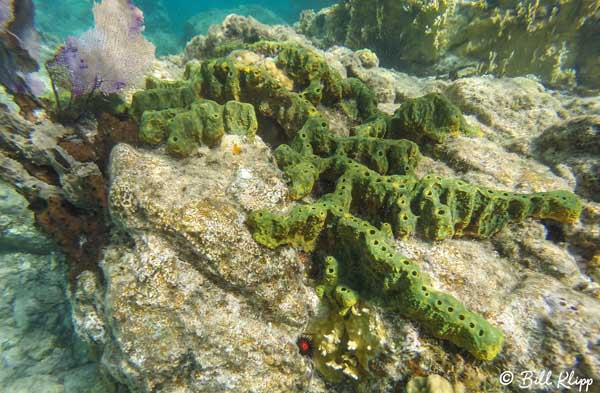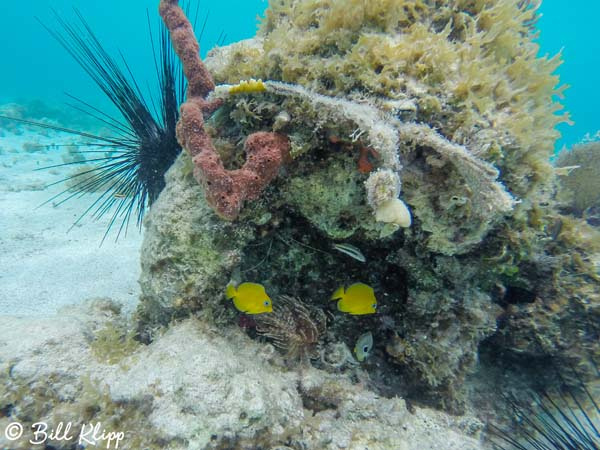 Blue Tang (juvenile)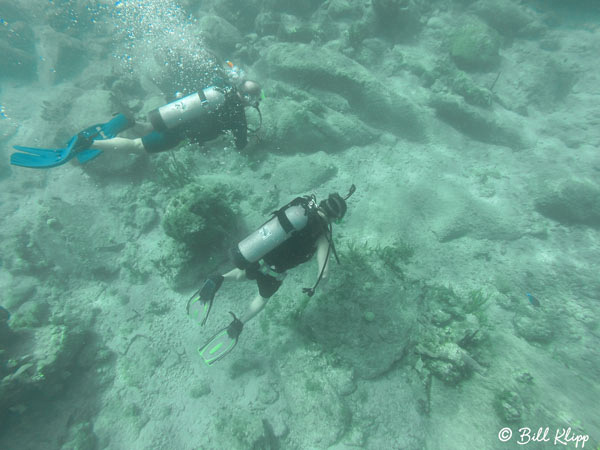 Longspine Squirrelfish
Beaugregory Damselfish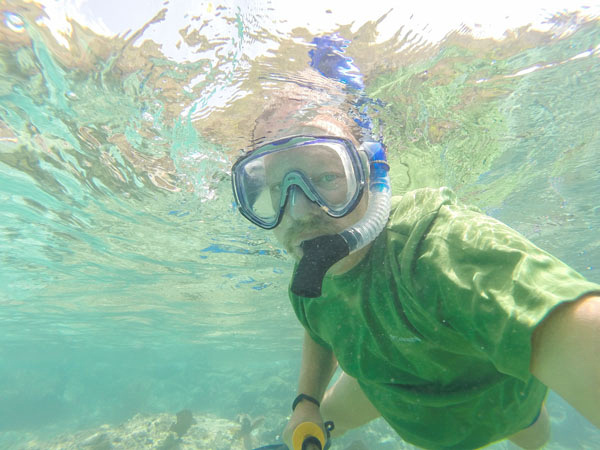 Grunt & Blue Tang
French Angel Fish
A Birthday message to our first grand daughter, Zoe Allen
Brown Pelican in flight
Feeding frenzy as the big fish chase the little ones to the surface attracting the Terns
Snorkeling the BVIs video: CLICK TO WATCH
We end our trip on a Full Moon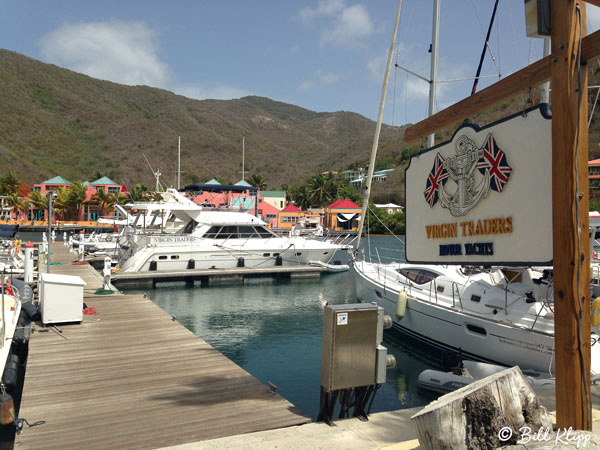 Our last day, back to Virgin Traders at Nanny Cay 21 days after the adventure began. The end of a truly wonderful vacation.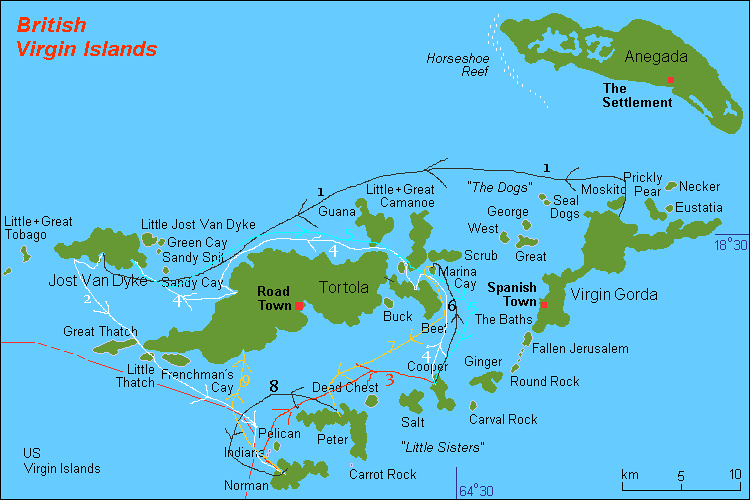 Our route for Week #3
© Bill & Linda Klipp 2015
Check out my online Photo Website at: www.WKimages.net , www.WildlifePhotos.me or my YouTube Channel at: www.videos.wkimages.net
All Rights Reserved Bill Klipp
*Any use of these images requires the prior written permission of Bill or Linda Klipp the photographers, no other uses or distribution of any kind including print, electronic or internet are permitted without the prior written permission of the photographers.