After a short 30 minute flight from Kilimanjaro Tanzania our Cessna Caravan touched down on a dirt landing strip inside Tarangire National Park in Tanzania. It's around 11am and the 4 of us along with our private Safari Guide Russell Gammon load into the two Land Cruisers waiting for us. At 1100 square miles Tarangire is Tanzania's 6 largest national park located in the Manyara region in north eastern Tanzania. The park and it's neighboring private concessions are known for its diversity of wildlife and its mobs of Elephants. The hilly landscape is dotted with vast numbers of Baobab trees, dense bush and high grasses.
(A photo blog of our recent African Photo Safari)
The mid day heat draws everyone to the watering holes
Elephant Shower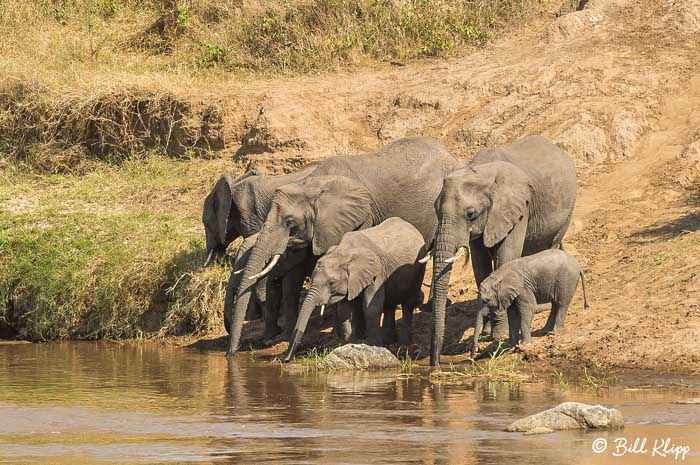 Masai Giraffes are most vulnerable when drinking
Giraffes time lapse video. Click above image to view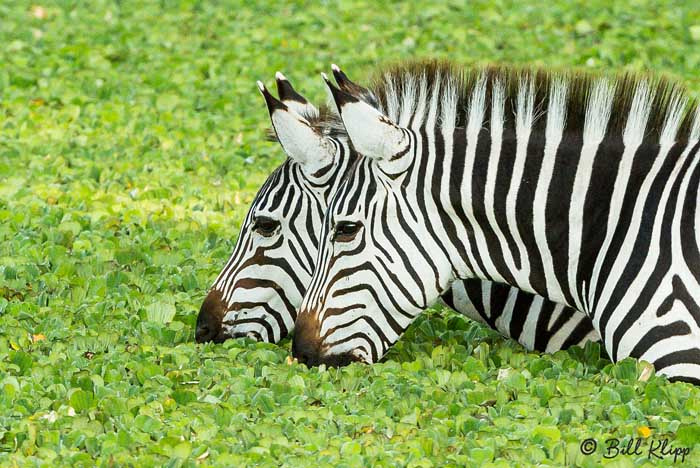 Its hot, dry and dusty as we bounce along the sun baked tracks traversing Tarangire for our first safari game drive of our month long African photo adventure. The next two days were designed as a warm up for the adventures to come, and they did not disappoint as one of our vehicles got stuck in the mud at sunset and had to be left behind. Our destination was Chem Chem Safari lodge lying along the shores of Lake Manyara just outside Tarangire Ntl Park.
Day 1 stuck in the mud near Lake Brunge
Stuck in the mud. Click above photo to see short video
For the next two days we will encounter lions mating at night, ostriches with beautiful courtship colors, a cheetah with a kill, large groups of giraffes, zebras, hundreds of wading flamingos and white Pelicans to mention a few of the many creatures we encountered including elusive Honey Badgers. The highlight of course are the many Elephants wandering through the Park's diverse habitats.
Male Ostrich with colorful breeding plumage
Lilac Breasted Roller with Impala in background
Lunch break in the bush
Elephant eating a thousand year+ old Baobab tree
Black Backed Jackal
As we scanned the horizon across the seeming endless savannahs of Tarangire National Park we spotted what looked like a row of giant termite mounds in the distance. But then they appeared to be moving. Not termite mounds but a good sized herd of 20-30 elephants headed to the watery swamps in front of us to escape the midday heat. Led by their Matriarch they walked in a single line with the moms leading their calves alongside adolescents of various ages munching and crunching on trees and vegetation as they Wandered our way. Then as we looked behind us emerging from the forest were dozens and dozens of more Eles on their daily midday migration to the water. Its's all about the water.
"The Elephants' Ball" a time lapse video Click above image to view
Greater and Lesser Flamingos together at Lake Brunge
Cheetah with Zebra kill, note full belly
Cheetah with Zebra kill. Click above photo to see short video
Masai Giraffe
Nice Capture! Marabou Stork eating a rat
Getting in close for the White Pelicans along Lake Manyara
A refreshing drink of water
A false charge
On day 2 we began a routine that would be our norm for the next 4 weeks. Up at 5:00am, some coffee and hot chocolate then we load into our private safari vehicles and out into the bush for sunrise and unknown animal encounters. Today's plan after a few sunrise shots was to find a good watering hole to hang out near and hopefully watch nature unfold, and boy did we get our wish. With a beautiful lush watering hole as our foreground surrounded by classic Acacia trees with blue skies and puffy clouds, today would be our most productive photo session of the trip with us each shooting well over a thousand images.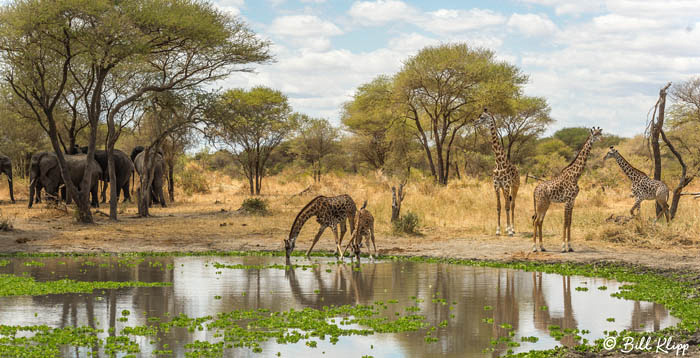 Over 20 giraffes came in for a drink
Our tent at Chem Chem Safari Lodge
Not too shabby
Lunch-time at Chem Chem Safari Lodge
Von Derdecken's Hornbills ( Male & female )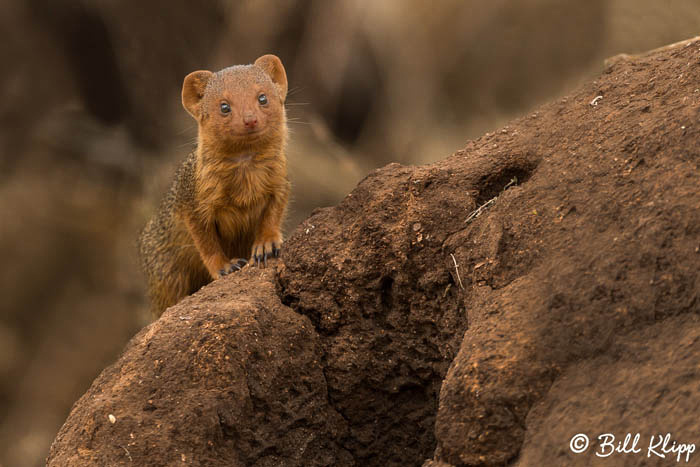 Curious Dwarf Mongoose
Marabou Stork picking thru a fisherman's net, ugly but smart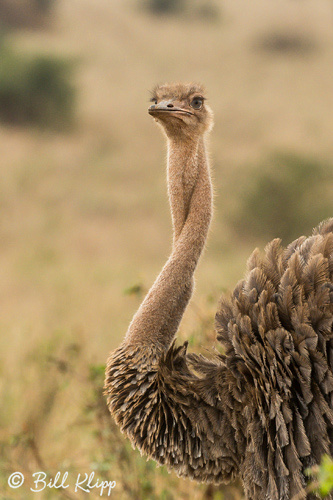 Female Ostrich
Malachite Kingfisher on the hunt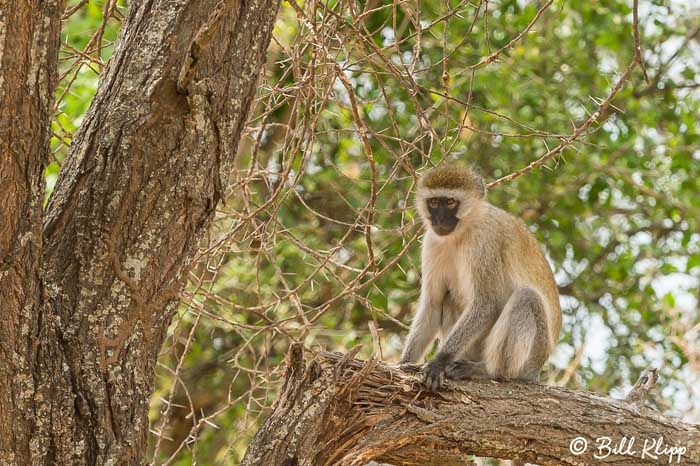 Vervet Monkey
Sundowner along the shores of Lake Manyara
Got to like this portable bar
Masai tribe giving us a show
Local Masai Tribe dance. Click above photo to see video
Dueling Impalas
Seeking the cleaner water mid-pond
Busy watering hole short video. Click above image to see video.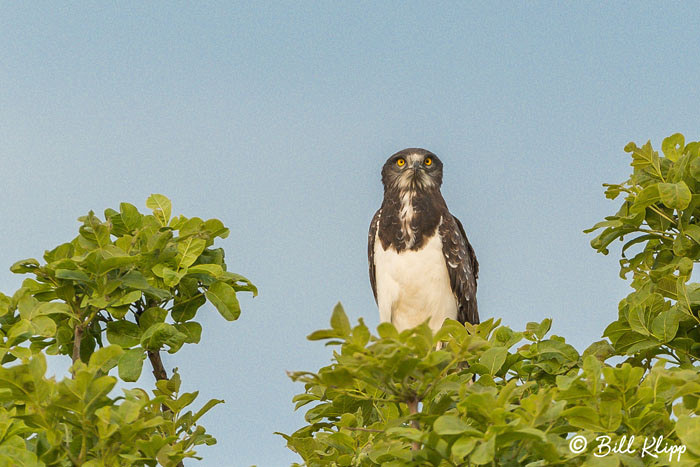 Snake Eagle on the lookout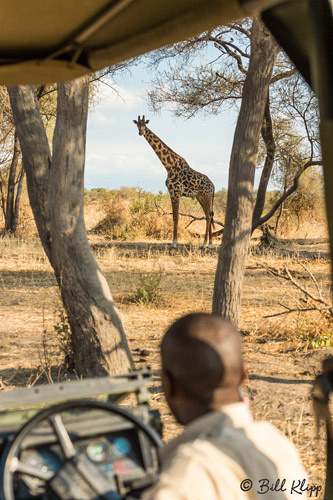 Giraffes practicing fighting. Click image above to see video
Playful Elephants
Black Hooded Love Birds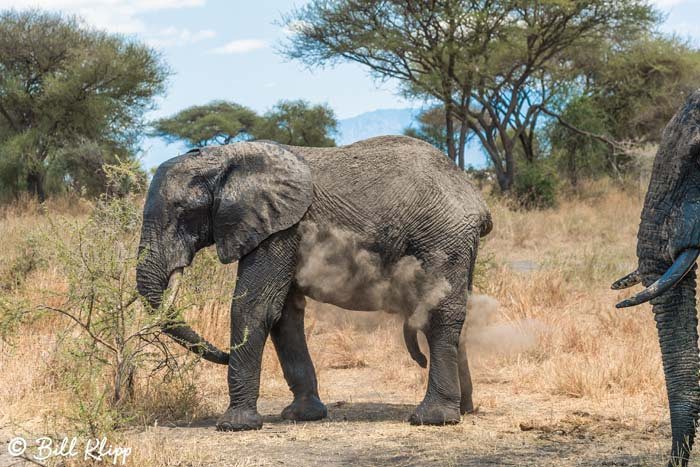 Five legged Elephant taking a dust bath
Marabou Stork one of the "Ugly Five"
Breakfast at Chem Chem Safari Lodge
Lake Manyara Sunset Flamingos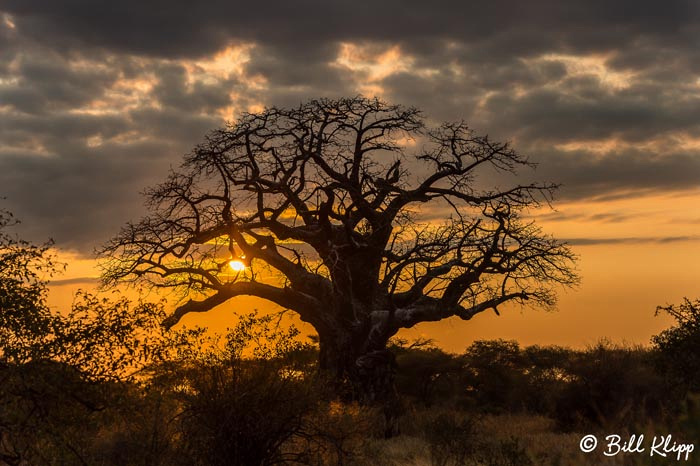 Sunrise Baobab Tree
Off to the Serengeti for the Great Migration
Stay tuned for the next installment of African Wanderings II - "Wildebeest Buffet" – All you can eat
For more photos visit Bill & Linda's photography website: http://www.WildlifePhotos.me
© Bill & Linda Klipp 2016
Check out my online Photo Website at: http://www.wkimages.net
http://www.videos.wkimages.net / All Rights Reserved Bill Klipp
* Any use of these images requires the prior written permission of Bill Klipp the photographer, no other uses of any kind including print or electronic are permitted without the prior written permission of the photographer.