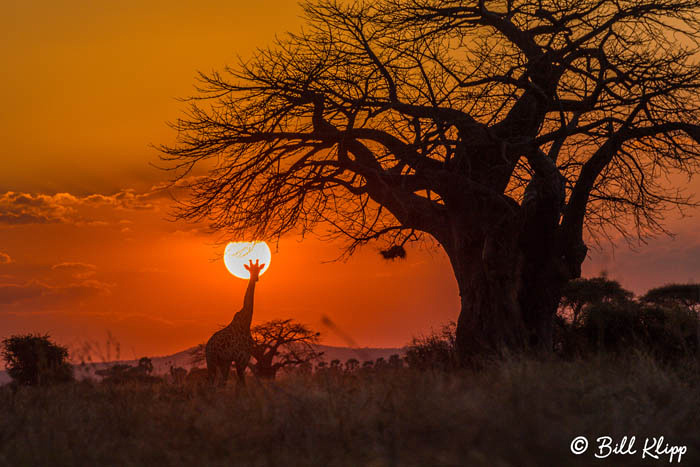 A night drive across remote Ruaha National Park can take on a magical or even mystical feel as the giant Baobab trees reach into the night sky with their root like naked branches silhouetted against the backdrop of a glowing Milky Way. Traversing through the Baobab forests truly gives one a sense of our own smallness in a world of expansive natural wilderness and giant trees that have been observing our planet for thousands of years
(A photo blog of our recent African Photo Safari by Bill & Linda Klipp)
Night sky with Milky Way
Click above photo for my Baobab Milky Way time lapse video:
Baobabs are widely distributed in belts across Africa, also growing in Madagascar, India, Ceylon and Australia. Baobabs (Adansonia Digitate) are also known as 'bottle tree', 'tree of life', 'tree of souls', 'upside-down tree', and 'monkey bread tree'. The trees reach heights of 100 feet with trunk diameters of 23 to 36 feet, and the largest known tree being 155 feet in circumference. For most of the year, the tree is leafless, and looks very much like it has its roots sticking up in the air, hence the name 'Upside-down Tree'. The oldest Baobab was carbon dated at over 6,000 years old although many trees are thought to be several thousand years old.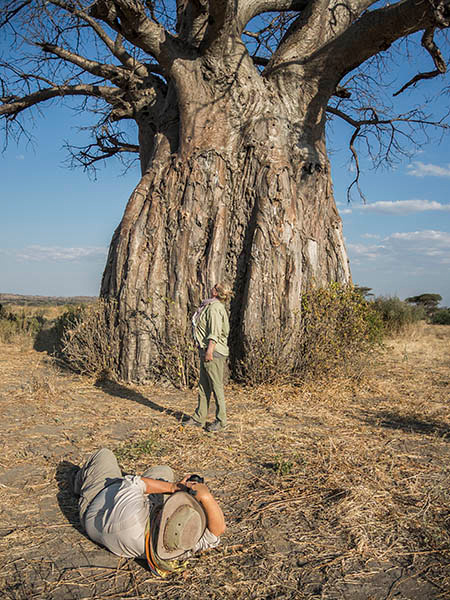 We came across some Baobabs that had pegs and / or holes in the trunk some dating back hundreds of years. Local tribesman / hunters will make wooden pegs which they hammer into the trunk to climb the tree, sometimes to harvest honey from bee hives or to seek shelter overnight.
Lilac Breasted Roller
Baby Yellow Baboons do what all little kids do, they play
Female Yellow Baboon, males are larger and have long sharp upper canines
The Baobab tree is known as the 'Tree of Life', as it provides shelter, clothing, food, and water for many of the residents of the African Savanna, both animal and human. The leaves can be boiled and eaten and can be used as condiments and medicines to treat kidney and bladder disease, asthma, insect bites, and several other maladies. The fruit, called "monkey bread", is edible, and full of vitamin C. The pollen when mixed with water can be made into glue. The trunk is fire resistant and the cork-like bark is used for making rope, mats, baskets, paper and cloth. Its trunk and bark can hold over 100,000 liters of water and can be tapped to drink or chewed as Elephants and Eland do for water in the dry season.
Elephant eye
The Nile Crocodile is an opportunistic apex predator which ambushes it's prey consisting of fish, reptiles, birds and mammals. Adult males range from 12-16 feet and weigh in at 500-1,700 lbs. Although some have been recorded to reach 20 feet and 2,400 lbs.
Male Ostriches are black and white while females and young are usually grayish, brownish and white
Baobabs naturally hollow out after 1,000 years and a living tree in Limpopo South Africa has hollowed to such a point that the owners of the land created a small pub inside the space. This hollowing though has created a natural habitat for both humans and animals in the bush for thousands of years. Weaver birds build their nests in the huge branches and animals like baboons and warthogs eat the seedpods, while barn owls, and ground hornbills and other birds roost in the many hollows.
Baobab sunrise
Chameleon
The Rock Hyrax sort of resembles a Guinea Pig with short ears and tail although it's closest living relative surprisingly is the Elephant
Male Impala
Cape Buffalo often travel in herds and are considered to be highly dangerous to humans due to their unpredictable and often aggressive behavior.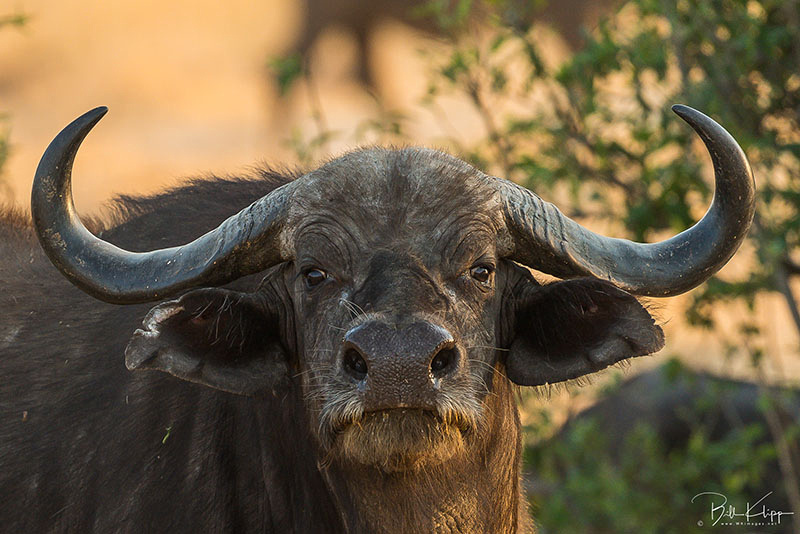 Cape Buffalo like Elephants have excellent memories
This was not playful behavior
Our journey to Ruaha National Park from the Masai Mara began with a short ride from Alex Walker's Serian Camp to the airstrip where we loaded onto our private charter for a short 30 minute flight, followed by a van ride to the Tanzania's Isabanya border town where we rechecked into Tanzania got back in our van for a 30 minute drive to another airstrip and another private flight to Ruaha National Park in central Tanzania. At 5.7 million acres the Park is Tanzania's largest park and due to it's isolation its' one of wildest and least visited parks. We landed on the far end of the Park so we had a long game drive to Kigelia Ruaha our next Camp. The camp is pretty isolated with six tents overlooking the banks of the nearly dry Ifuguru river bed, which acts as a highway for herds of elephants, antelopes and of course various predators. Kigelia is the name of the African Sausage Tree which frames the entrance into the Camp. For the next 5 days this will be our home under the Milky Way and among the giant Baobabs.
Arriving in Ruaha National Park
Our modest home while at Kigelia Ruaha Camp
Classic bush bucket shower
Open air dining palapa
Grey Headed Parrots feasting on the fruit of a Sausage Tree (a.k.a Kigelia Africana)
Young male Elephant showing us he is a tough guy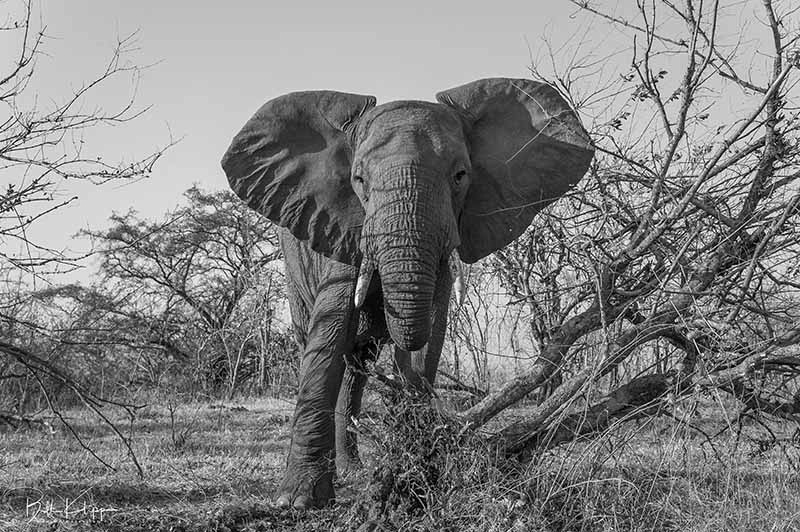 Its amazing how these guys seem to enjoy munching on branches, roots and logs in the dry season when there is no greenery
Click above photo for Ruaha Elephant video: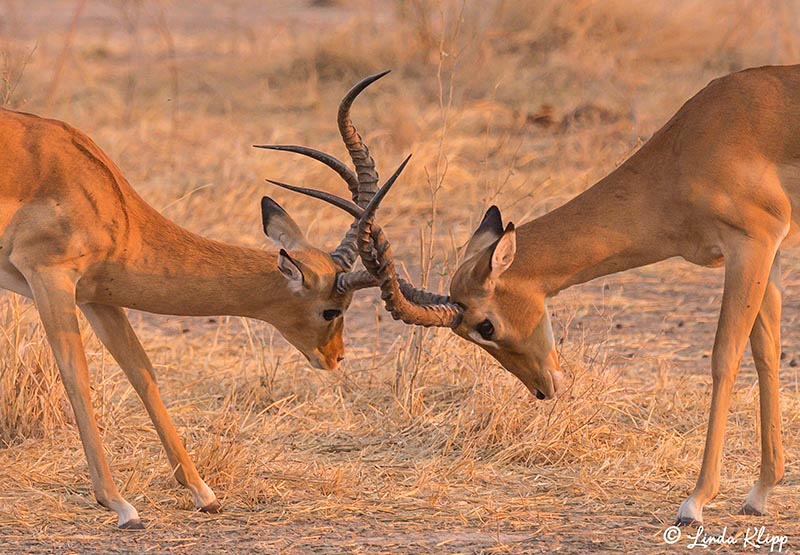 A pair of male Impalas practice dueling
Fish Eagle surveying a pond
Pied Kingfisher with his catch. Amazingly he ultimately swallowed it whole
Little Bee-eaters, one coming in with guess what? A bee!
A Coucal in the foreground with a Red-Billed Hornbill
The park is characterized by semi-arid type of vegetation, Baobab trees, Acacia and over 1500 other plants. With 571 species of birds, Ruaha is great spot for birders, but is also known for its large herds of Elephants, Buffalo and diversity of Antelopes such as Roan, Sable, Kudu (Lesser & Greater), Eland, Zebra, Waterbuck, Zebra, Impala, Grants Gazelle and Giraffes to name a few. With lots of prey of course, the Park has its share of predators including Lions, Leopards, Cheetah, Jackals, Foxes as well as endangered Wild Dogs.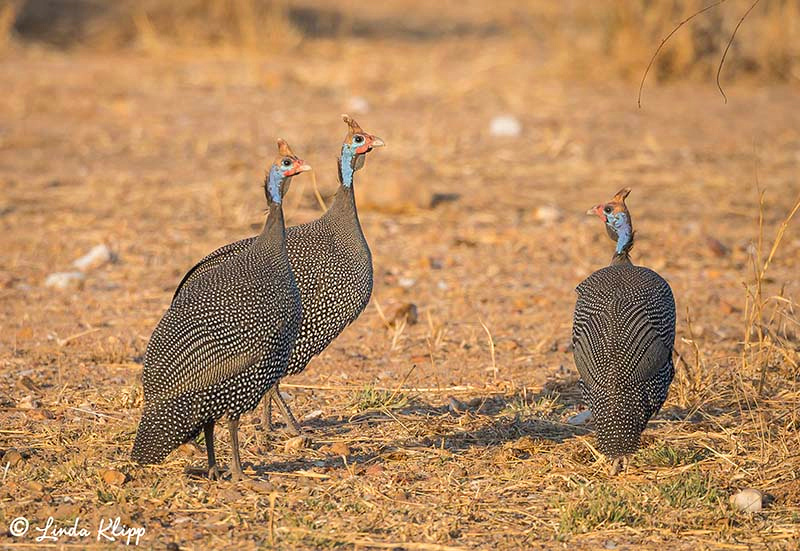 Guinea Fowl
African Grey Crowned Cranes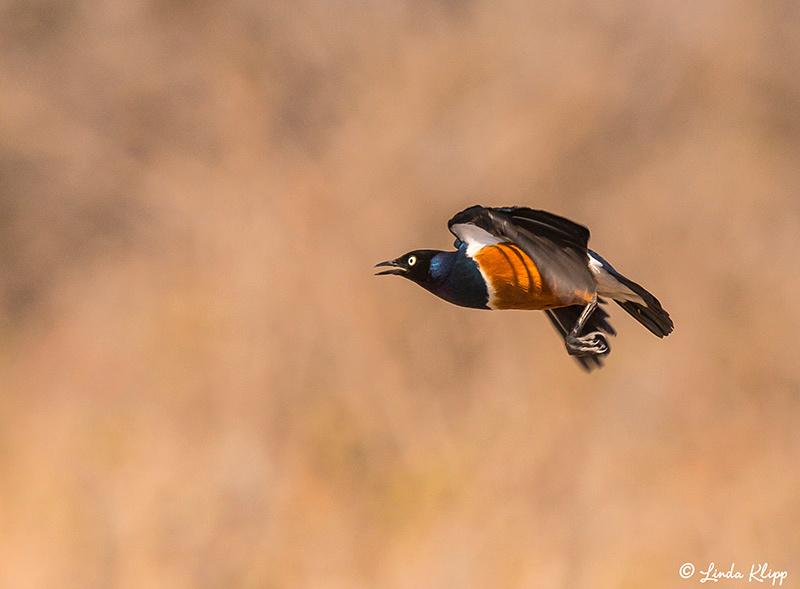 Magnificent Starling
Lesser Kudu with Red-billed Oxpeckers
Black-Backed Jackals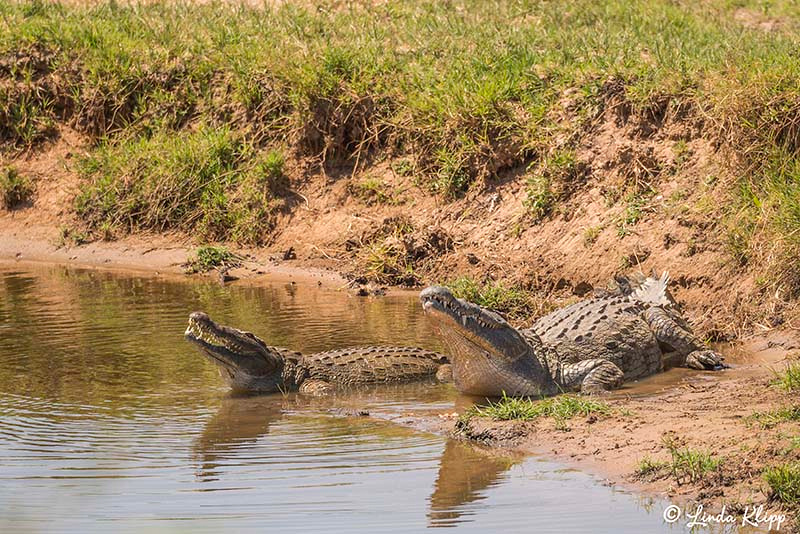 Nile Crocodiles cooling off in the afternoon heat
Vervet Monkey
Our routine at Kigeli Camp was up before sunrise, coffee, hot cocoa and cookies in our tent then in the dark we load into the vehicles grab a blanket as the mornings were chilly then off we go, first to find a good sunrise foreground before heading deeper into the Park. By mid-morning our guides would find a nice shady safe spot to unveil an elaborate bush breakfast.
One of the so called "Little Five" the elusive Elephant Shrew. This little guy was outside our tent each morning
At Kigeli Camp we typically had breakfast (really a feast) mid-morning in the bush
Every morning we found a different breakfast spot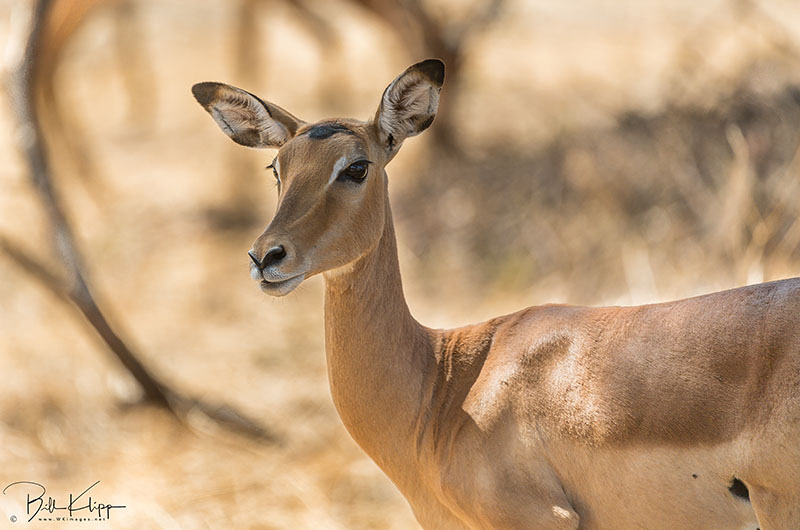 Female Impala
Male Agama Lizard
Time for an afternoon dust bath
Yellow Baboons get their name from their yellowish brown fur. Their scientific name "Papio Cynocephalus" means "Dog Face" due to their elongated muzzle. They live in mixed gender social groups of up to 200 animals and when they are on the move you will see the dominate males leading the group with the females and young ones safely in the middle and the less dominate males bringing up the rear. They spend most of the day on the ground foraging, grooming, playing and doing what Baboons do. At night they retreat into the trees to sleep and avoid predators. Adult males grow to 2-4 feet tall and can weigh up to 60 lbs, females are a little shorter and weigh half that of males. While they are opportunistic omnivores they prefer fruits, plants and insects. While the females are the primary care givers to the young males often help out.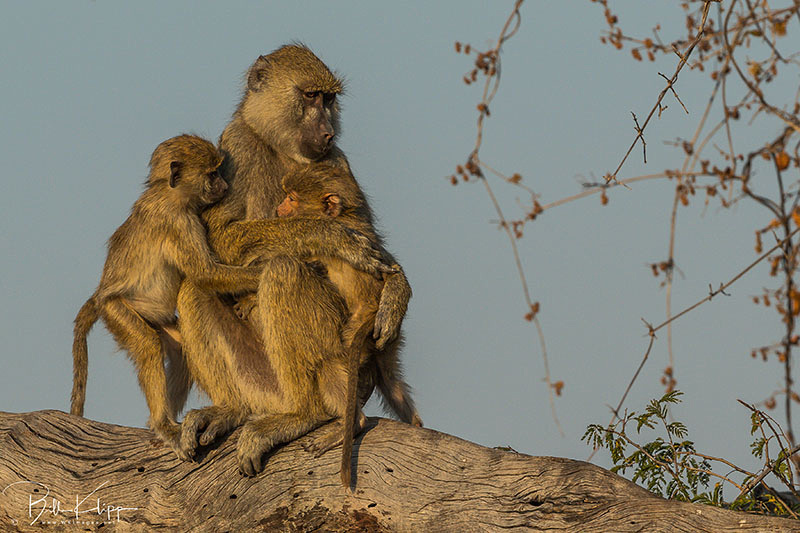 Early in the morning they can still be found hanging out in the safety of the trees
Hey! You Looking at Me!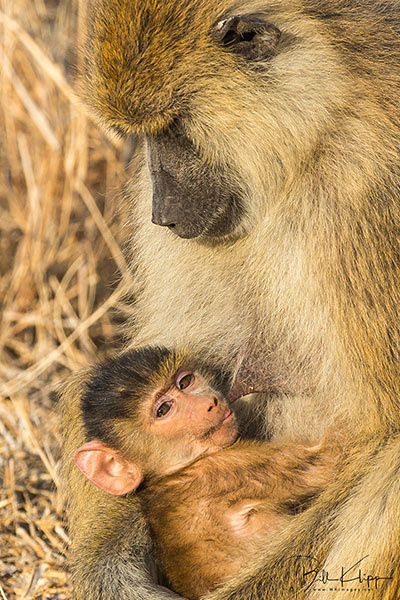 Playful little ones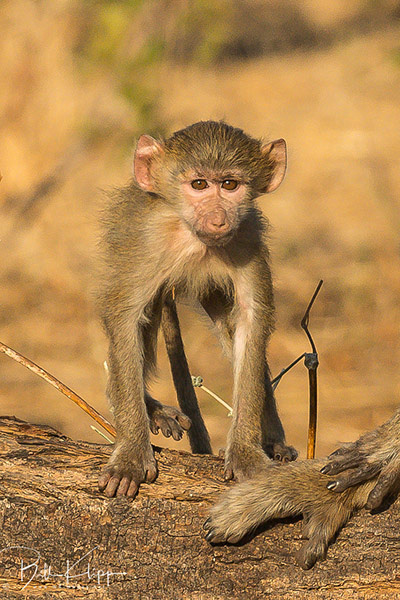 A rare old Yellow Baboon with white fur, not an albino but with a condition called Leucism which only affects the pigment in its skin and fur


Practice, practice, practice makes perfect
Click above photo for my Yellow Baboon Video:
Bye for now. Our next and last African Wandering trip blog will take you to the wet and wild Okavango Delta of Botswana. Stay tuned
PS: In case you missed our previous African Wanderings Blogs:
African Wanderings I -- "The Elephants' Ball" -- This ain't no Circus: http://www.billklipp.zenfolio.com/blog/2016/10/african-wanderings-i----aug-2016----the-elephants-ball
African Wanderings II --- "The Wildebeest Buffet" – All you can eat: http://billklipp.zenfolio.com/blog/2016/10/African-Wanderings-II-aug-2016--Wildebeest-Buffet
African Wanderings III --- "The Predators Playground" – Enter at your own risk: http://billklipp.zenfolio.com/blog/2017/1/african-wanderings-III--predators-playground
Stay tuned for the next installment of African Wanderings V --- "Africa's Last Eden " – The swamps of Botswana
For more photos visit Bill & Linda's photography website: http://www.WildlifePhotos.me
© Bill & Linda Klipp 2016
Check out my online Photo Website at: http://www.wkimages.net
http://www.videos.wkimages.net / All Rights Reserved Bill & Linda Klipp